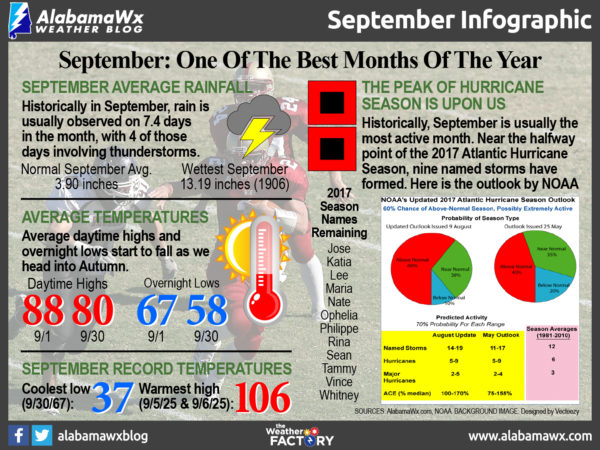 September is probably considered one of the better months of the year in Alabama weather-wise, as the sky is clear 27% of the time, only surpassed by the months of April, November, and October. The average high temperature in Birmingham is 85.1º and the average low is a much more comfortable 63.4º. Both of these averages are five to six degrees cooler than those of August.
The days are considerably shorter than they were at the Summer Solstice back in June and gradually the energy budget of the atmosphere is shrinking as the sun makes less in the way of deposits and the atmosphere takes more in the form of withdrawals.
Now with that being said, it can get really hot during the month of September in Central Alabama. September 1925 is the hottest ninth month ever, with a sizzling average high of 96.1º. That month featured one of the worst hot spells in Central Alabama history and the hottest reading ever recorded in the state, 112º at Centreville on September 5. There were 14 100º+ days in Birmingham that September, a record that still stands. It has been 105º or hotter eighteen times in Birmingham since 1900, and four of them occurred that month including September's hottest reading of 106º (9/5 & 9/6).
It can also get pretty chilly during the month of September in Central Alabama. The coldest September low (37º) occurred on the 30th in 1967. September 1967 also recorded the coldest average low temperature, with an average of 57.6º.
Rainfall picks up a bit in September, generally thanks to tropical systems moving in from the Gulf. We average 3.90 inches of rain in the month. 13.19 inches fell in September 1906, the most ever in the month. 9.75 inches of rain fell on September 16, 2004 as Hurricane Ivan moved across the area; a record for any date. Summer thunderstorms are on the way out, so we generally only see storms on four days on average, and it rains on 7.4 days on average.
Comments
Powered by Facebook Comments
Category: Alabama's Weather
Scott Martin is a meteorologist, graphic artist, musician, husband, and a father. Scott is a member of the National Weather Association and the Central Alabama Chapter of the National Weather Association. Scott is also the co-founder of Racecast Weather, which provides accurate forecasts for many racing series across the USA.