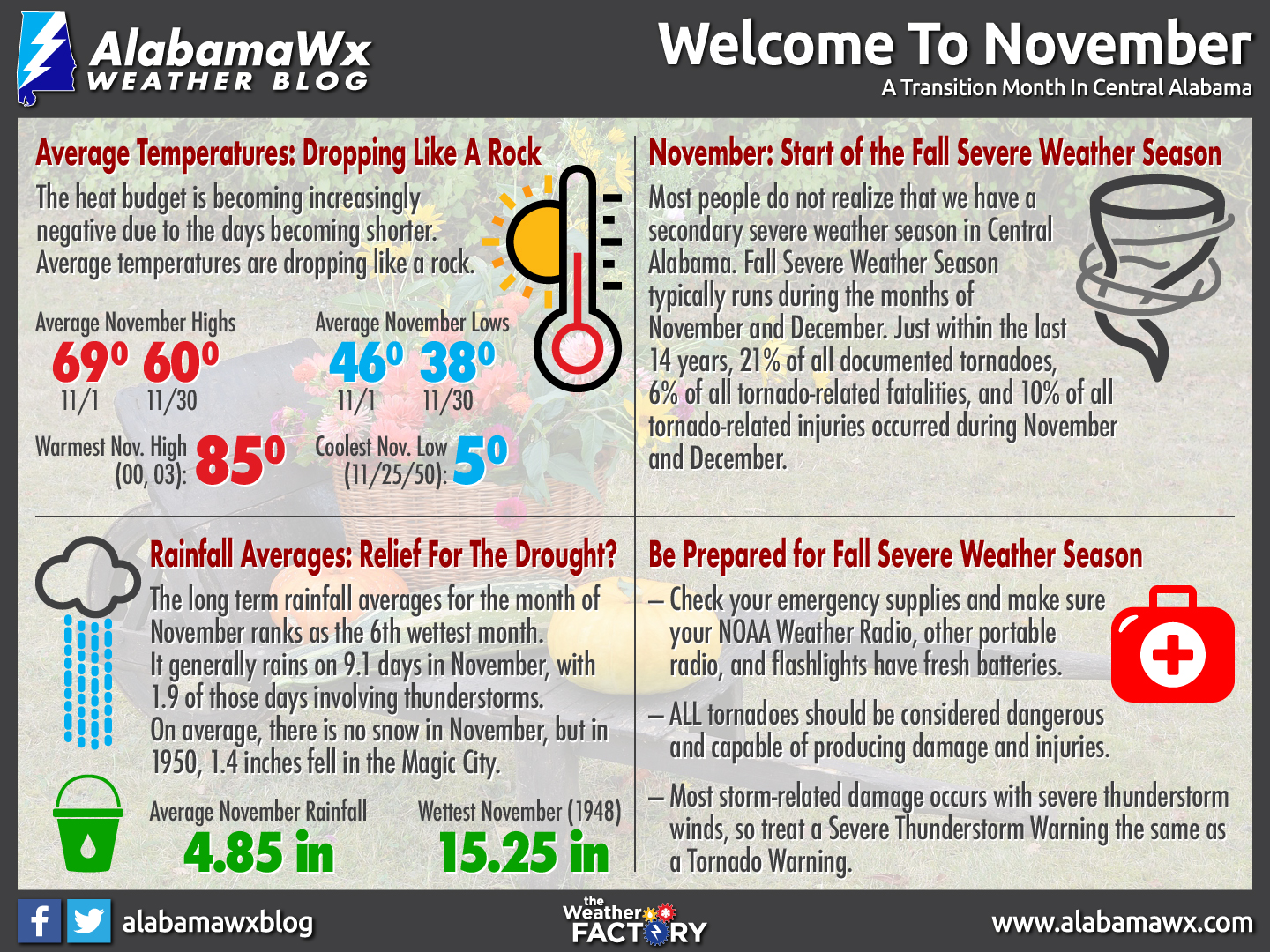 November is considered a "transition month" between fall and winter across much of the country, and Central Alabama is no different. The heat budget is becoming more negative as the days are becoming shorter, and that makes the average temperatures drop like a rock.
At the start of the month, the average high in Birmingham is 69 degrees, while the average low is 46 degrees. By the time we reach the end of the month, the average high in Birmingham is 60 degrees, while the average low has fallen to 38 degrees. The warmest high ever recorded in November in Birmingham was at 85 degrees, and this happened on three different occasions (1998, 2000, 2003). The coolest low of 5 degrees was recorded on November 25, 1950.
The month of November rates second, just behind October, in percentage of clear skies in the Magic City. The sky is cloudy only 33% of the month. Rainfall is observed usually on 9.1 days throughout the month, with only 1.9 of those involving thunderstorms.
November is also known as the sixth wettest month of the year. Average rainfall for November in Birmingham is 4.85 inches. The wettest November on record for Birmingham occurred in 1948, when 15.25 inches fell in the official rain gauge. There is no average for snowfall for November, but it can happen. 1.4 inches of the white stuff fell in the city back in 1950.
Finally, November is also the start to Fall Severe Weather Season. The storm track becomes more active and precipitation totals begin to increase. Back on November 10th, 2002, during an unusually strong outbreak, 12 people were killed on a day that saw 10 tornadoes across North Alabama, with two of those rated F3. I posted an infographic along with information on Fall Severe Weather Season in Alabama. Click here to visit that post.
Comments
Powered by Facebook Comments
Category: ALL POSTS, Met 101/Weather History
Scott Martin is a meteorologist, graphic artist, musician, husband, and a father. Scott is a member of the National Weather Association and the Central Alabama Chapter of the National Weather Association. Scott is also the co-founder of Racecast Weather, which provides accurate forecasts for many racing series across the USA.