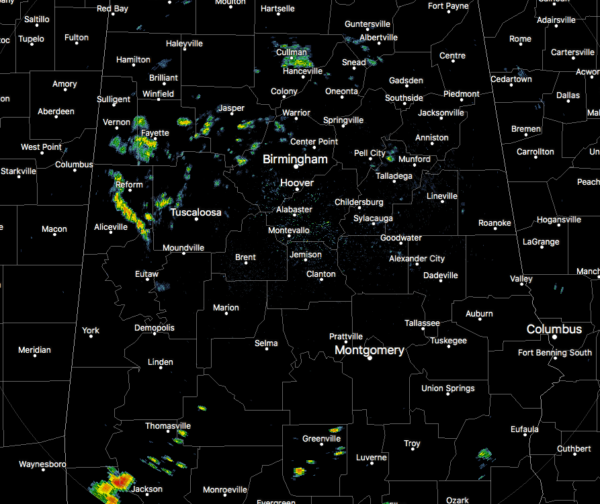 Weather Check at 11:00 AM
We only have a few scattered showers in the Central Alabama area as we approach the 11 o'clock hour, with only light to moderate rainfall in those showers.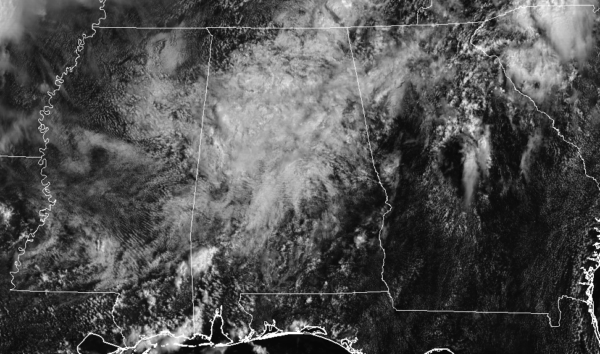 Much of the area has a decent amount of cloud cover overhead, with the exception of the southeastern parts. Temperatures are reflective of that at this time as well, with temperatures in the lower 80s in that part of the area, while the rest of Central Alabama is currently in the mid to upper 70s for the most part.
Today's Almanac For Birmingham
Sunrise: 6:07 AM ….. Sunset: 7:37 PM
Normal High: 91º ….. Normal Low: 71º
Record Maximum High: 102º (2007) ….. Record Minimum High: 75º (1967)
Record Maximum Low: 77º (2016) ….. Record Minimum Low: 58º (1969)
Normal Daily Rainfall: 0.13 in ….. Record Daily Rainfall: 1.21 in (2001)
For The Rest Of Your Friday
This moist and muggy airmass over Central Alabama, with impulses moving through every 12 or so hours, will keep our scattered shower and storm chances elevated throughout the remainder of the day and well into the evening hours. Rain will probably continue into the late night hours before starting to dissipate after midnight. A few storms could be strong, but the main threat for today will be from heavy rainfall.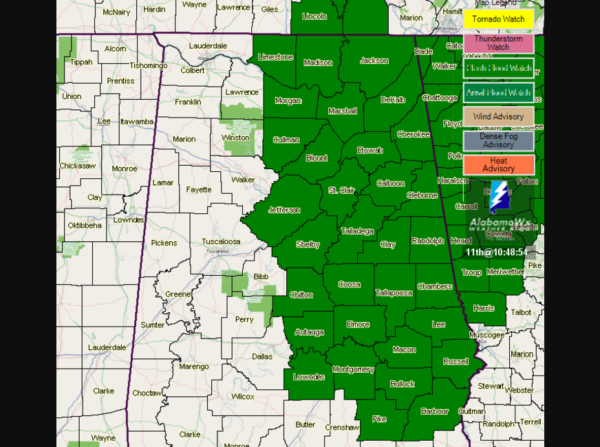 A Flash Flood Watch is in effect for the eastern half of North and Central Alabama until midnight. Afternoon highs will be in the lower to mid-80s, with overnight lows in the lower to mid-70s.
The Central Alabama Weekend Forecast
Showers and storms will be less in coverage throughout the weekend as our airmass will become a little more stable. We'll have a mix of sun and clouds each day with a risk of mainly afternoon scattered showers and thunderstorms. Highs will be in the upper 80s to the lower 90s, with lows in the lower to mid-70s.
Got Beach Plans?
For a detailed look at the weather from Fort Morgan over to Panama City Beach, click here to see the AlabamaWx Beach Forecast Center page.
The Beach Forecast is partially underwritten by the support of Brett/Robinson Vacation Rentals in Gulf Shores and Orange Beach. Click here to see Brett/Robinson's "Own Your Summer" specials now!
Taking A Peek At The Tropics
Stay up-to-date with "The Latest On The Tropics…" running post in the Tropical Weather category on the AlabamaWx Weather Blog home page.
Advertise With Us!
Now is the time to set your marketing campaign on AlabamaWX. The site has enjoyed a 71% jump in page views this year! The website has already enjoyed 10,157,915 page views this year. We can customize a creative, flexible and affordable package that will suit your organization's needs. Contact Bill Murray at (205) 687-0782.
E-Forecast
Get the AlabamaWx seven-day forecast delivered directly to your inbox by email twice daily. It is the most detailed weather forecast available in Central Alabama. Click here to subscribe. It's free!
Today In Weather History
August 11, 1989 – One of the most severe convective outbreaks of record came to a climax in southern California after four days. Thunderstorms deluged Benton CA with six inches of rain two days in a row, and the flooding which resulted caused more than a million dollars damage to homes and highways. Thunderstorms around Yellowstone Park WY produced four inches of rain in twenty minutes resulting in fifteen mudslides. Thunderstorms over Long Island NY drenched Suffolk County with 8 to 10 inches of rain. Twenty-three cities in the southeastern U.S. reported record low temperatures for the date. It was, for some cities, the fourth straight morning of record cold temperatures.
WeatherBrains
Check out the show at www.WeatherBrains.com. You can also subscribe on iTunes. You can watch the show live at live.bigbrainsmedia.com on Monday nights starting at 8:30 PM CDT. You will be able to see the show on the James Spann 24×7 weather channel on cable or directly over the air on the dot 2 feed.
Comments
Powered by Facebook Comments
Category: Alabama's Weather, ALL POSTS
Scott Martin is a meteorologist, graphic artist, musician, husband, and a father. Scott is a member of the National Weather Association and the Central Alabama Chapter of the National Weather Association. Scott is also the co-founder of Racecast Weather, which provides accurate forecasts for many racing series across the USA.