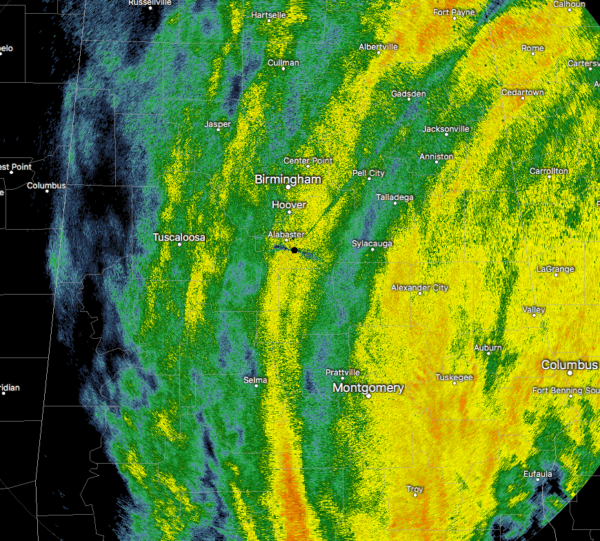 Latest check on radar shows that much of Central Alabama is now experiencing rainfall from Tropical Storm Irma. Currently, the heaviest rainfall in the circular bands at this point will be found in the southeastern part of the area, mainly along and east of a line from Alexander City to Troy. The rest of the area at this point are experiencing light to moderate rainfall.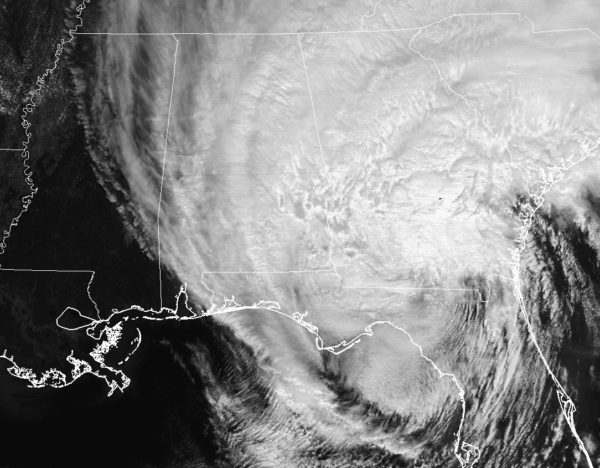 Taking a look at the satellite image, a good bit of the southern half of Irma is losing its cloud cover as drier air is being pulled into the rotation. Much of the moisture-rich part of Irma is located over the north and central parts of Georgia and on up into the Carolinas. That moisture will be pulled over to the west side of the rotation, but with the drier air trying to take over, some of that moisture will evaporate before reaching the ground.
Winds at this point across the area are not too bad, with winds averaging 10-20 MPH can be found over much of the area at this point, especially in the east. We have already starting seeing peak wind gusts up to 40-45 MPH across parts of Barbour and Russell counties. Gusts up to 25 MPH have been recorded in Montgomery, up to 31 MPH in Alexander City, up to 33 MPH in Troy, and up to 42 MPH in Eufaula.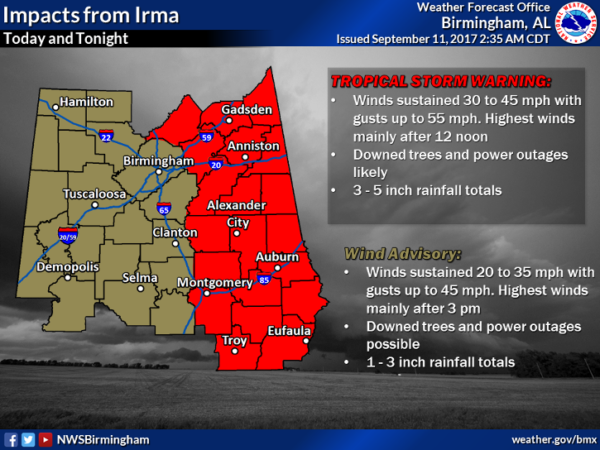 Tropical Storm Warning remains in effect until further notice for much of the eastern half of Central Alabama including Barbour, Blount, Bullock, Calhoun, Chambers, Cherokee, Clay, Cleburne, Coosa, Elmore, Etowah, Lee, Macon, Montgomery, Pike, Randolph, Russell, St. Clair, Talladega, and Tallapoosa counties.
Wind Advisory remains in effect until 1:00 AM CDT on Tuesday for the western half of Central Alabama including Autauga, Bibb, Chilton, Dallas, Fayette, Greene, Hale, Jefferson, Lamar, Lowndes, Marengo, Marion, Perry, Pickens, Shelby, Sumter, Tuscaloosa, Walker, and Winston counties.
The first power outage was reported earlier in the Southside community in Etowah County due to power lines being downed by wind gusts of 35-40 MPH. Multiple neighborhoods in Southside are without electricity.
We'll keep you posted throughout the day and through the evening on the AlabamaWx Weather Blog.
Comments
Powered by Facebook Comments
Category: Alabama's Weather, ALL POSTS
Scott Martin is a meteorologist, graphic artist, musician, husband, and a father. Scott is a member of the National Weather Association and the Central Alabama Chapter of the National Weather Association. Scott is also the co-founder of Racecast Weather, which provides accurate forecasts for many racing series across the USA.