A 1008 millibar low near the coast of Honduras is interacting with a stationary front over the western Gulf of Mexico. Convection increased overnight, but until there is a well-defined circulation, the system will not be designated as a tropical depression or tropical storm.
It is currently designated as disturbance 93L. If it becomes a tropical depression, it will be number 18. If it becomes a tropical storm, it will be named Phillippe. The chance that it could reach hurricane intensity seems very low.
The NHC puts the probability of development into a tropical cyclone at 60 percent now. We will be getting a new Tropical Weather Outlook shortly.
Most of our models predict that the system will become a tropical storm by tomorrow as it is over warm water with decreasing shear. Sea surface temperatures are between 29C and 30C, which is high octane for a developing tropical cyclone. And oceanic heat content values are very high, at 200-250 kj/cm2. Shear values are running 10-15 knots over the western Caribbean now and are expected to decrease a bit through tomorrow. By the time the storm reaches Cuba late Saturday night, shear will be increasing and tropical development should cease.
The system will affect the Caymans and western and Central Cuba tomorrow and tomorrow night. It will affect the Keys and South Florida into the Bahamas Saturday night and early Sunday.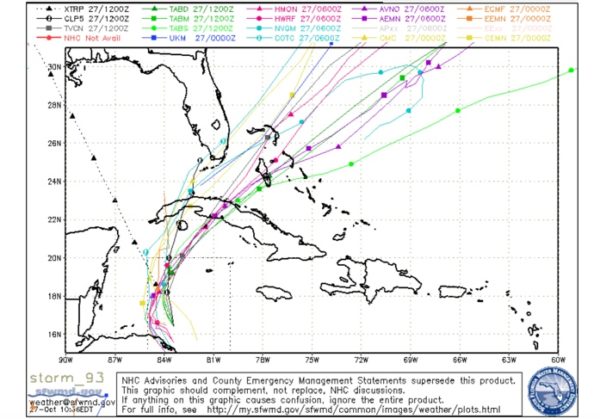 There are slight differences in the global models, with the European taking a more western track across Southwest Florida. The GFS seems to be the preferred guidance now and is in good agreement with some of the other hurricane models like the HWRF and HMON. They focus on a track to the Central Cuban coast by midnight Saturday night with a track across Andros Island and through the Abasocs in the Bahamas early Sunday.
The GFS keeps it well off the East Coast, but the European shows more of an impact from the Outer Banks to New England late Sunday into Monday. Interests from Southwest Florida and the Keys to North Carolina through the Mid-Atlantic states into New York and New England need to pay attention to the evolution of the storm.
One place that it will not affect is the beautiful beaches of Alabama and Northwest Florida.
Comments
Powered by Facebook Comments
Category: Tropical
Bill Murray is the President of The Weather Factory. He is the site's official weather historian and a weekend forecaster. He also anchors the site's severe weather coverage. Bill Murray is the proud holder of National Weather Association Digital Seal #0001
@wxhistorian