The wedge became a slightly bigger factor in the weather for Alabama yesterday as low level moisture and clouds reached about two counties deep into Alabama. This morning, low clouds extend westward across much of the state with a persistent easterly flow. But those clouds helped to hold temperatures up this morning with readings ranging from 54 at Tuscaloosa to 49 at Anniston. The surface pattern with the wedge produced by strong surface high over New England will stick with us today as a short wave trough moves through the 500 millibar flow to our north. Guidance continued to produce some low pops, around 20 to 25 percent, and radar even showed some splotchy areas of very light rain in East Central Alabama. Without some better forcing to get more lift, we should stay cloudy today with a small chance for a rain shower as most of us stay dry. Anyone who does get rain is likely to see just a couple of hundredths with very dry air above the relatively shallow moisture as see on the Shelby County Airport sounding from last night. Clouds and the wedge should keep our highs around 60 degrees.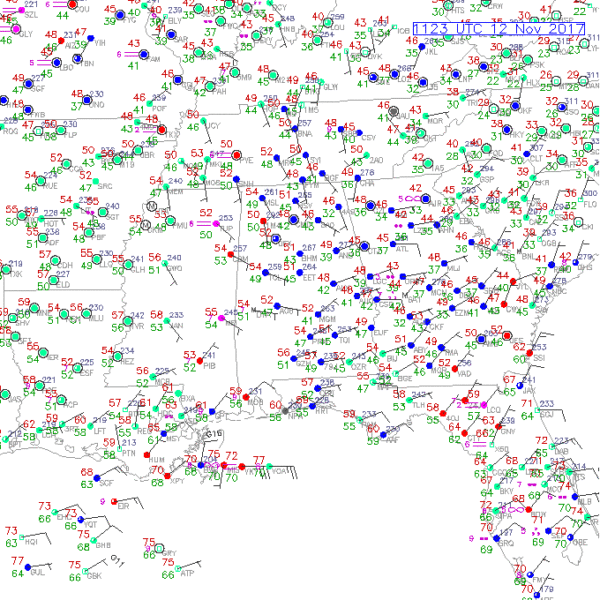 That upper trough moves quickly this evening and early Monday reaching the East Coast at midday Monday. Drier air in the lower levels will end the low clouds during the early afternoon Monday allowing sunshine to boost highs into the middle and upper 60s.
Much of the week ahead will remain dry and mild with a gradual warming trend as the upper air pattern maintains ridging across the eastern half of the country. We should see our highs move gradually higher each day until we reach near 70 by Friday.
By Friday, however, we will be watching a strong short wave over eastern Nebraska that may bring us chances for showers late Friday and early Saturday. The models, GFS and ECMWF, have both trended slower with the arrival of this system by 6 to 12 hours. Looks like the better chance for rain will come along a surface front that will be moving through Central Alabama around 1 am Saturday. While rain chances will be the best from Friday evening into early Saturday morning, there remains a question of how much moisture we'll have available. Precipitable water values ahead of the front appear to reach upward to about 1.6 inches, so we'll have enough moisture to generate some showers but not everyone will see measurable rain. Severe weather chances also appear to be minimal with CAPE values that are nearly nonexistent. The upper flow turns strongly northwesterly Saturday, so Saturday may be one of those days where the temperatures go the wrong way with our high in the very early morning hours and the low coming closer to midnight Saturday. For now it looks like temperatures Saturday will by holding or falling through the 50s.
The trough moves to the East Coast by Sunday midday, so with strong cold air advection you can expect to see morning lows in the 30s and afternoon highs in the upper 50s.
Looking further into week 2, or voodoo country, a short-lived upper ridge promises a quick warm up for the 20th and 21st of November. Another strong upper closed low moving through the Great Lakes promises a cold front for Thanksgiving Day. But much like the current two systems, moisture seems to be somewhat limited, so showers could once again be isolated to scattered. Another short wave crossing the Mississippi River on November 25th will bring some clouds, but the prospects of any showers are very low due to limited moisture. By November 27th, we have a closed low over Florida with the primary westerlies along the Great Lakes keeping us between systems in dry air.
Tropical Atlantic: The Atlantic basin is quiet as the 2017 hurricane heads toward the final wire in just three weeks, but there is one area of disturbed weather about 700 miles southwest of the Azores. There is only small prospects for this area to develop into a non-tropical low over the next five days.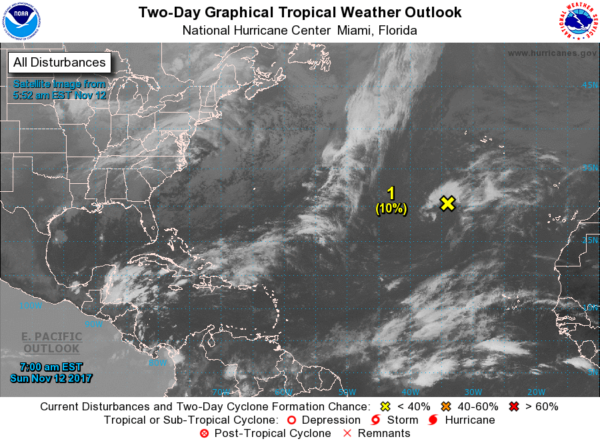 Beach Forecast: Click here to see the AlabamaWx Beach Forecast Center page. The Beach Forecast is partially underwritten by the support of Brett/Robinson Vacation Rentals in Gulf Shores and Orange Beach. Click here to see Brett/Robinson's Hot Deals now!
WEATHER BRAINS: Don't forget you can listen to our weekly 90 minute netcast anytime on the web, or on iTunes. This is the show all about weather featuring many familiar voices, including our meteorologists here at ABC 33/40.
James Spann returns on Monday with the next edition of the Weather Xtreme Video. Check back here often for updates on the Alabama weather scene. If you have an interest in learning more about severe weather, be sure to take advantage of a storm spotter training event on Thursday, November 16th, being held by the Bald Rock Amateur Radio Club in Pell City. See the information in the graphic below. Have a great day and God speed.
-Brian-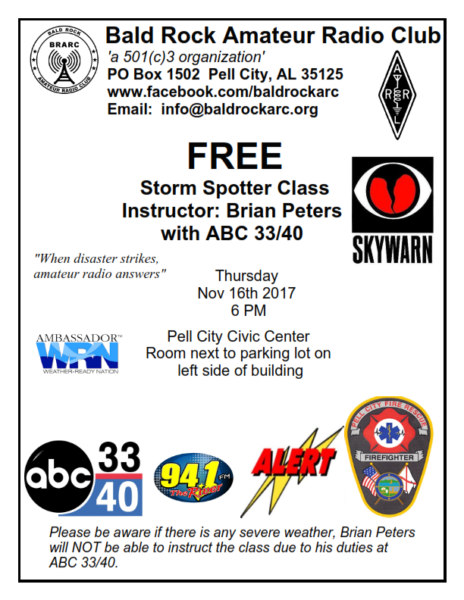 Comments
Powered by Facebook Comments
Category: Alabama's Weather, ALL POSTS, Weather Xtreme Videos
Brian Peters is one of the television meteorologists at ABC3340 in Birmingham and a retired NWS Warning Coordination Meteorologist. He handles the weekend Weather Xtreme Videos and forecast discussion and is the Webmaster for the popular WeatherBrains podcast.