All through the past couple of days, there has been good agreement between the Euro and GFS that a freezing rain/sleet event would develop on the northern edge of a rain area that would push across the ArkLaMiss into Central and South Alabama late tonight and Sunday morning.
The two global models have consistently pushed the freezing and frozen precipitation southeastward, keeping it out of the Birmingham Metro. But the NAM has consistently painted a slightly different scenario, with the precipitation further north.
Now this morning, the Euro has broken ranks just a tad and does put more freezing rain potential up into the Tuscaloosa and Birmingham areas, including Shelby County on Sunday morning.
Here is the Euro for 12z (6 a.m. CST) Sunday morning: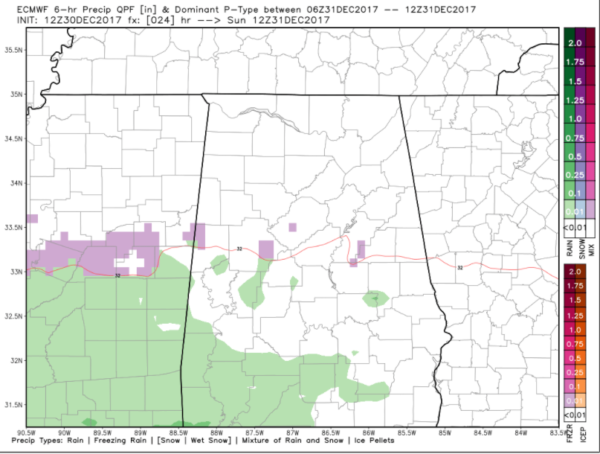 It shows the rain over southern Mississippi and Southwest Alabama during the predawn hours, changing over to freezing rain along the northern edge as temperatures drop below freezing.
So we could see scattered reports of freezing rain and icing between 3-6 a.m. in spots across the area from Lamar, Pickens, Fayette, Tuscaloosa, Jefferson and Shelby Counties over into Talladega and Coosa Counties.
Here is the Euro for 18Z (noon) showing the precipitation type from 6 a.m. until noon: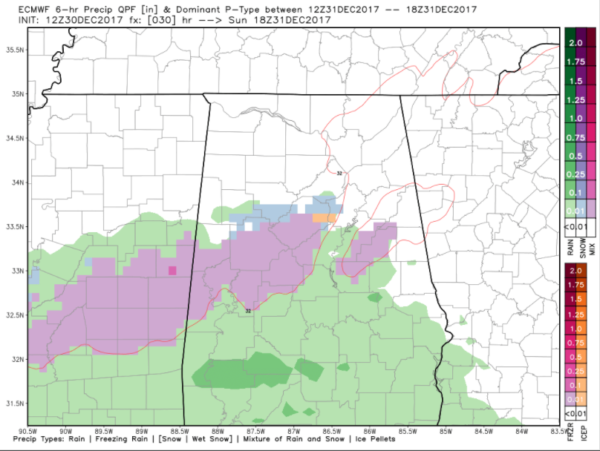 The freezing rain will become more widespread after sunrise, affecting more of the area from Pickens and Sumter Counties through Greene, Tuscaloosa, Lamar, Fayette, Walker, Jefferson and Shelby Counties as well as some counties like St. Clair, Talladega, Coosa, and Clay.
The winter weather advisory could be extended into these counties later.
Here is a series of 3km NAM precipitation type images. 6 a.m. CST first:
9 am: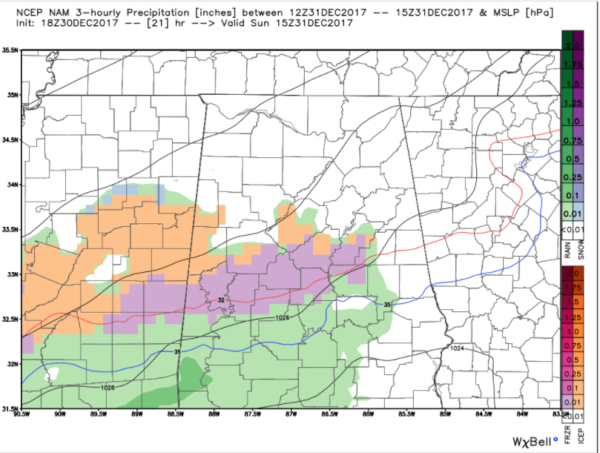 Notice the widespread light freezing rain across Sumter, Greene, Hale, Bibb, Perry, Chilton, Shelby, Talladega and Coosa Counties.
Noon: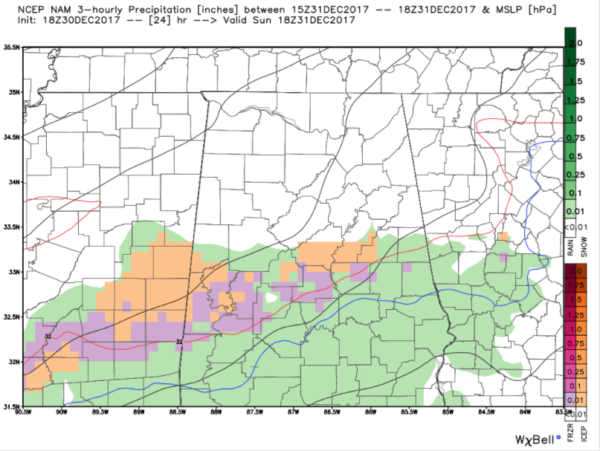 The precipitation shield is edging southward by noon and the freezing/frozen precip area is shrinking slowly.
By 3 p.m., the freezing rain continues to push southeastward as the colder air spills into the area: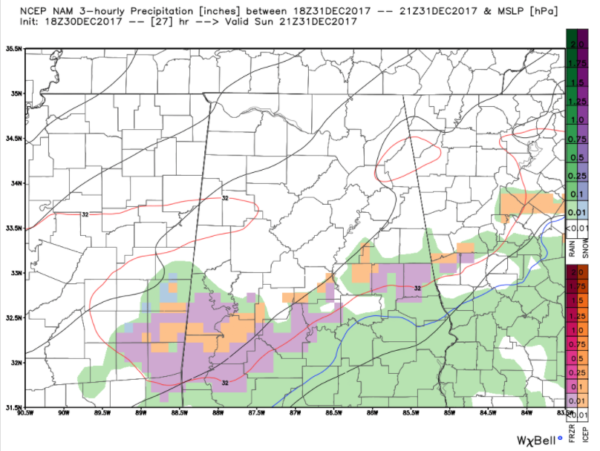 By 6 p.m., it has worked into the I-85 corridor, including Macon, Elmore and Lee Counties up into Georgia. This could impact Auburn fans heading to Atlanta for the Peach Bowl. The moral of the story for Tiger fans is leave early tomorrow!
For Alabama fans, if at all possible, leave tonight. Hotel rooms are at a premium in New Orleans tonight of course, but you might could stay outside the city. Leaving Monday is going to be questionable if icing develops along your route since temperatures are going to day below freezing all day Monday.
BOTTOM LINE
The threat for wintry precipitation including freezing rain and sleet has increased across the Birmingham area over into East Central Alabama for Sunday morning.
Hazardous travel conditions could develop early Sunday morning and with temperatures not expected to rise above freezing, they could remain with us through the afternoon and into the evening. Check weather conditions carefully and adjust plans accordingly.
A bitterly cold airmass will be moving into Alabama. It will be with us much of the week ahead.
Here are temperatures for Birmingham from the NWS National Blend of Models: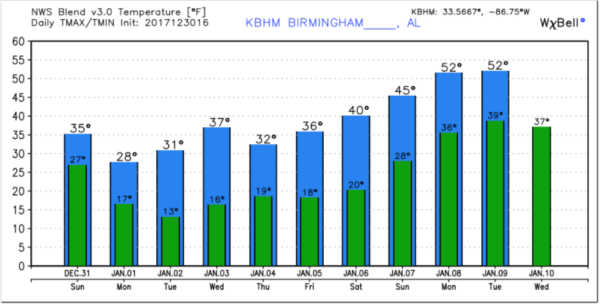 Many spots could be in the single digits Tuesday morning. Highs won't make it much above freezing on any day this week before Saturday.
Comments
Powered by Facebook Comments
Category: ALL POSTS, Winter Weather
Bill Murray is the President of The Weather Factory. He is the site's official weather historian and a weekend forecaster. He also anchors the site's severe weather coverage. Bill Murray is the proud holder of National Weather Association Digital Seal #0001
@wxhistorian