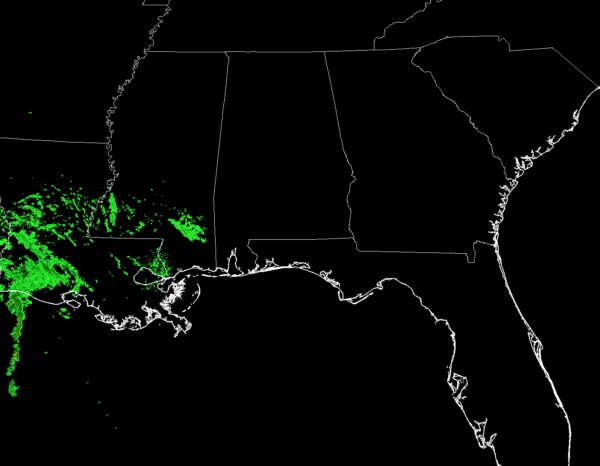 As we look across the southeastern United States at 6:30 PM, all of North and Central Alabama is free from any precipitation, while scattered showers are slowly progressing to the east across southern Mississippi and the central and southern parts of Louisiana.
NWS Birmingham has issued a Winter Weather Advisory that goes into effect at 3:00 AM Sunday to 6:00 PM Sunday for Autauga, Bibb, Chilton, Dallas, Fayette, Greene, Hale, Lamar, Marengo, Perry, Pickens, Sumter, and Tuscaloosa counties, and from 6:00 AM to 6:00 PM for Jefferson, Shelby, and Walker counties.
There may be a few sprinkles or very light shower that move into the western parts of Central Alabama later tonight and into the beginning of the overnight hours, but the air is so dry at this point that those may evaporate before hitting the ground. It looks like the main precipitation will enter the western portions of the state around the 3:00 AM-5:00 AM time frame. As the moisture moves eastward throughout the morning, everything should stay along and south of the US-278 corridor (or south of a line stretching from Hamilton to Double Springs to Cullman).
During this time, sleet and freezing rain will fall over the northern periphery of the activity, while south of that will be mainly rain. As this falls, temperatures will still be below freezing and some icing could occur on roadways and elevated surfaces. Some accidents may occur due to black ice or slick spots on bridges, so please be extra cautious if you have to drive Sunday morning and into the early afternoon hours.
All of the frozen precipitation should dissipate by the time we reach the 6:00 PM hour and everything left over should be all rain, as the shower activity will be along and south of the I-85 corridor. Behind the rainfall, temperatures will begin to quickly fall into the 20s at first, then down into the mid to upper teens for the northern half of the area, with 20s in the south.
With Monday through Wednesday's temperatures expected to be very cold, with lows less than 15 degrees likely across at least the northern half of Central Alabama, NWS Birmingham has issued a Hard Freeze Watch that goes into effect late Sunday night through Wednesday morning. Take proper precautions to protect against these extreme temperatures.
NWS Huntsville has also issued a Wind Chill Advisory that goes into effect at 12:00 AM Sunday to 11:00 AM Monday due to the extreme cold expected in North Alabama.
This is still a developing situation, so please stay informed by checking the blog throughout the night. We'll have frequent updates throughout the day on Sunday as well. I'll have another update by 10:00 PM tonight.
Comments
Powered by Facebook Comments
Category: Alabama's Weather, ALL POSTS
Scott Martin is a meteorologist, graphic artist, musician, husband, and a father. Scott is a member of the National Weather Association and the Central Alabama Chapter of the National Weather Association. Scott is also the co-founder of Racecast Weather, which provides accurate forecasts for many racing series across the USA.