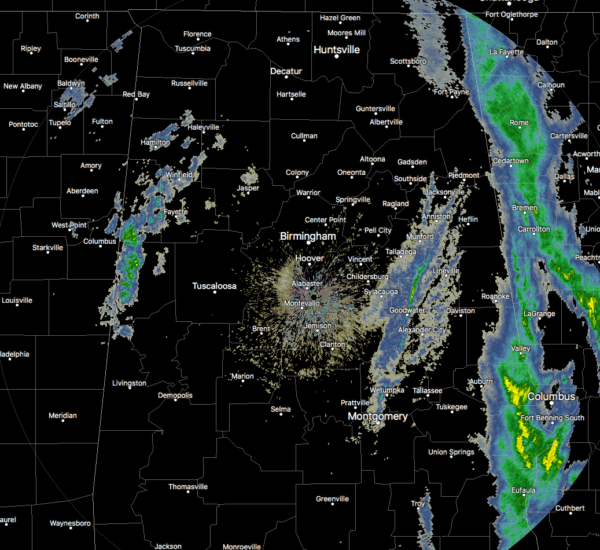 As we have reached 10:40 AM in North/Central Alabama, the main rain band associated with the cold front has mostly pushed across the state line into Georgia with a few showers lingering in the southwestern parts of the area. There is a small band of sprinkles to light showers behind that stretching from Piedmont down to Sylacauga to Montgomery. In the west and northwestern parts of the area, we have some light snow mixed in with light rain stretching from Hackleburg to Winfield to Fayette to Aliceville. So far at this point, no travel issues or accumulations have been reported.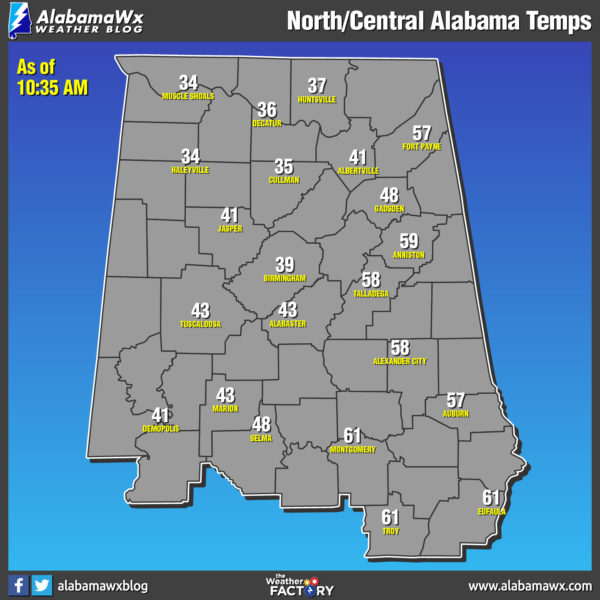 There is a big difference in temperatures at this point as the cold front continues to make its way through the area. We see readings as high as the lower 60s down in the southeastern parts of Central Alabama, and as low as the mid-30s in the northwestern parts. These temperatures will continue to drop throughout the remainder of the day throughout the area, and all of the area will be at or below the freezing point by midnight… ranging from the mid-20s in the north to the lower 30s in the south.
Ice accumulations look to be lower than expected due to the dry slot that has moved into the area at this point. The highest chance for any accumulations (ice or snow) will be over the northwestern parts of the state. The latest NAM3k model run is showing that the wintry precipitation will stay over those general areas before moving northeast into Tennessee. Travel issues could still occur in that part of the area, so NWS Huntsville is keeping the Winter Weather Advisory in place, but could make some adjustments later today.
For Central Alabama, we may have a few light flurries or light sleet move through the area mainly along and north of the I-20 corridor, perhaps mixed in with a little drizzle throughout the rest of the morning and into the afternoon hours. No issues are expected, and we should be dry after 4:00-5:00 PM this evening.
Comments
Powered by Facebook Comments
Category: Alabama's Weather, ALL POSTS
Scott Martin is a meteorologist, graphic artist, musician, husband, and a father. Scott is a member of the National Weather Association and the Central Alabama Chapter of the National Weather Association. Scott is also the co-founder of Racecast Weather, which provides accurate forecasts for many racing series across the USA.