Issued on January 26, 2018, by NWS Birmingham.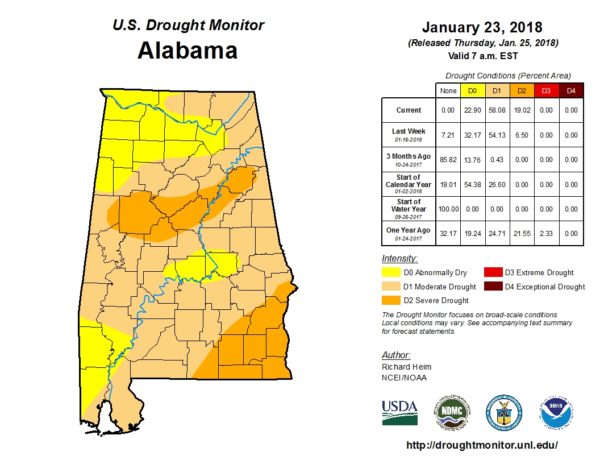 Synopsis…
The latest U.S. Drought Monitor indicates that drought conditions have returned to much of Central Alabama. Severe Drought has developed from eastern Pickens County east across Tuscaloosa, northern Bibb, southern Jefferson, Shelby, southern St. Clair, northern Talladega and Calhoun Counties…and across southern Pike, Barbour and southern Russell Counties. Elsewhere, Moderate Drought is found across most of Central Alabama except for Lamar, Marion, Winston and northwest Fayette Counties…and over most of Autauga and Elmore Counties which are indicated as Abnormally Dry.
The Drought Monitor classifies drought within one of these five categories:
D0…Abnormally Dry
D1…Moderate Drought
D2…Severe Drought
D3…Extreme Drought
D4…Exceptional Drought
Climate Summary…
Although there have been periodic frontal passages and associated precipitation this winter…precipitation totals have been relatively light. As a result, most locations are running below normal for this year extending into the latter part of 2017. Cold arctic air masses have periodically brought very dry air into the area during the past few weeks…and these dry air masses have aided in depleting soil moistures across the area.
Some precipitation amounts for Central Alabama from January 1st through January 25th:
Birmingham… 0.94 in
Montgomery… 3.70 in
Anniston… 0.92 in
Tuscaloosa… 1.31 in
Calera… 1.24 in
Troy… 0.42 in
Average precipitation expected from January 1st through January 25th:
Birmingham… 3.85 in (-2.91 in)
Montgomery… 3.52 in (+0.08 in)
Anniston… 3.54 in (-2.62 in)
Tuscaloosa… 4.17 in (-2.86 in)
Calera… 4.18 in (-2.94 in)
Troy… 3.56 in (-3.14 in)
Hydrologic Impacts…
Soil moisture values, in general, are now running below normal following the recent below normal rainfall and are in the 20 percentile bracket or less of their normal values over most of the area. Perio, ic rainfall will be needed to return soil moisture values to their normal levels.
Agricultural Impacts…
There are not any known widespread agricultural problems at this time due to the current drought conditions. However, if the current drought conditions persist or worsen agricultural concerns could arise as we head through the winter and spring seasons.
The fire danger risk is generally low across Central Alabama with Keetch-Byram Drought Indices (KBDI) currently running at or below 200. Values above 500 indicate a severe fire danger.
Despite the fact that there are currently no burn bans issued by the Alabama Forestry Commission, the State Forester continues to urge people that are doing any outside burning to follow safety precautions such as not leaving any fire unattended and having the proper equipment and personnel to control the fire.
Hydrologic Summary and Outlook…
The latest USGS stream gauge data indicates that stream flows are currently running well below normal across much of Central Alabama. Periodic rainfall will be needed for stream flows to return to near normal or above normal levels as we continue through the winter season into spring.
Most of the major reservoir pool levels are near their winter pool levels and have remained fairly steady during the past week.
Social Impacts…
Reservoir levels are near their winter pool levels. There are no know mandatory water restricitions currently in effect. However, normal water conservation methods are encouraged to be followed in the event that the drought conditions persist or worsen during the next few weeks.
Precipitation & Temperature Outlook…
A high pressure system centered near the Mid-Atlantic regioin is providing dry conditions to Central Alabama today. The high will begin to move away from the region today and allow a cold front to approach the area late tonight and gradually move across Central Alabama this weekend. This will bring a good chance of rain to the area by Saturday continuing into Sunday. As the front moves east of the area by Monday, colder and drier air will return into mid week next week. However, another cold front approaching the area should bring another chance for rainfall by next Thursday. Cumulative rainfall totals through next Friday are expected to average between one and two inches.
The Two Week Outlook…from January 31st through February 8th…calls for near normal temperatures and above normal precipitation chances.
The Longer-Range Outlook for the remainder of February through April is for above normal temperatures and near to below normal precipitation chances.
The latest Seasonal Drought Outlook through April indicates that drought conditions are expected to persist across much of Central Alabama.
Update Statement…
This next statement will be issued around Thursday February 1st.
Scott Martin is a meteorologist, graphic artist, musician, husband, and a father. Scott is a member of the National Weather Association and the Central Alabama Chapter of the National Weather Association. Scott is also the co-founder of Racecast Weather, which provides accurate forecasts for many racing series across the USA.