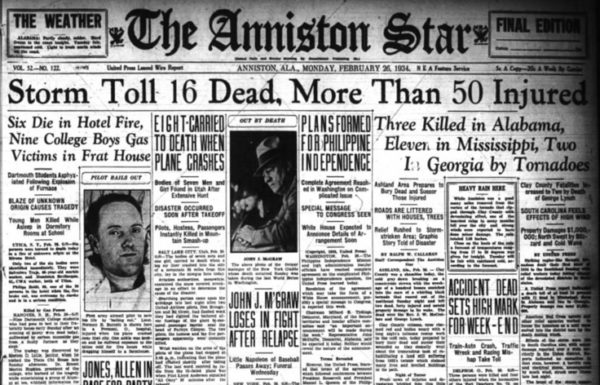 Weather dominated the headlines on Sunday, February 25, 1934, as a major storm system affected much of the United States. The nation was mesmerized by the Wyoming search for a United Air Lines plane that was missing after taking off two days prior from Salt Lake City bound for San Francisco. Blizzard conditions hampered the search. The plane would be found later that Sunday, all eight people on board were killed.
In other news, the New Deal policies of the Roosevelt administration were being debated hotly in all corners. Baseball legend John McGraw's illness had taken a turn for the worse. He would die later that day. In Europe, there was great concern as the Enabling Act came to be law. It allowed Hitler to declare himself Emperor of Germany.
On weather maps produced by the U.S. Weather Bureau, low pressure was over eastern Texas and southern Arkansas. It was 52F early that morning at Birmingham and raining, as an apparent warm front was lifting across the area. It was in the 70s over southern Mississippi. The pattern would lead to a significant tornado outbreak across Mississippi, Alabama, and Georgia that afternoon.
Nineteen people were killed in at least six significant tornadoes. The hardest hit communities were Bowden, Georgia and Shady Grove, Alabama. One person died in a tornado near Calera. One home in Lauderdale County Mississipi was picked up, thrown four hundred feet and blown to bits. Six family members were killed in the house.
Category: ALL POSTS, Met 101/Weather History
Bill Murray is the President of The Weather Factory. He is the site's official weather historian and a weekend forecaster. He also anchors the site's severe weather coverage. Bill Murray is the proud holder of National Weather Association Digital Seal #0001
@wxhistorian