After a few quick hours of shut-eye, I was hoping that somehow I would wake up and that the situation would have turned for the better.
But just one look at the satellite and the Google Earth recon display shot that down.
Michael is stronger than when we went to bed. It now has top winds of 140 mph, which makes it a category four hurricane. There has never been a category four hurricane that has made landfall on the Florida Panhandle. There have been several threes, but no four.
The central pressure is down to 943 mb and it continues to fall quickly. The strengthening will continue it appears with strong outflow noted on satellite. The central core of the hurricane is solid and intense. The hurricane has a circular eye that is 20 nautical miles in diameter.
The eye of the powerful hurricane is now clearly visible on coastal radars.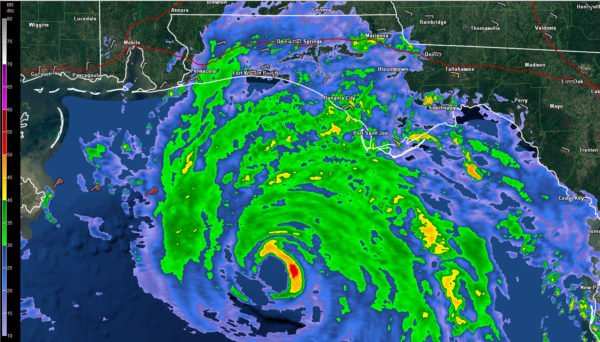 Michael is now 145 miles south-southwest of Panama City, Florida. FOrward speed is 13 mph and that is expected to increase slightly to 14-15 mph before landfall.
The hurricane has made the expected north-northeast turn. It is expected to continue on this course for the next 12 hours according to the NHC before turning northeast. This will bring it near the coast somewhere between Walton, Bay, Gulf Counties or Franklin Counties, between the 30A Communities like Seaside, Alys or Rosemary and Apalachicola. Landfall is anticipated to come around 1-3 p.m. this afternoon.
Tides are already running 2.5 feet above normal at Pensacola, 3.3 feet above normal at Cedar Key, nearly 3 feet above normal at Panama City, and 3.5 feet above normal at Apalachicola. Tides will be 9-13 feet above normal from Tyndall AFB south of Panama City to Keaton Beach in the Florida Big Bend area. They will run 6-9 feet from Sandestin to Panama City. And they will run 6-9 from Keaton Beach to Cedar Key with 2-6 foot tides south to Tampa Bay.
The outer bands of the hurricane are now impacting the Northwest Florida coast, all the way from the Big Bend through Panama City and over to Pensacola. A few reports from the coast:
Gulf Shores: 78/72F, Cloudy, Pressure 1003 mb, wind ENE 13 G 20 mph
Pensacola NAS: 79/75F, Light Rain, Pressure 1002 mb, wind ENE 14 G 27 mph
Destin/Fort Walton Beach Airport: 77/75F, Partly Cloudy, Pressure 1003 mb, Wind E 14 mph
Tyndall AFB Panama City: 75/75F, Rain, Pressure 1003 mb, wind ENE 15 G 22 mph
Apalachicola: 81/79F, Pressure 1002 mb, Wind ESE 20 G 34 mph
Tropical storm force winds will overspread South Alabama this morning starting around 10 a.m. from Baldwin County over to Dothan, including places like Evergreen, Andalusia, Florala, and Enterprise.
Hurricane conditions will overspread parts of Geneva, Houston, Dale and Henry Counties between 2-7 p.m.
A few tornadoes are possible over extreme southeastern counties from Eufaula to Dothan, but they are more likely over the southern half of Georgia, northern Florida and South Carolina.
Rains of 4-8 inches with isolated amounts to 212 inches will affect Northwest Florida, extreme South Alabama and well into Georgia. Flash flood watches are in effect.
Here are the current watches and warnings: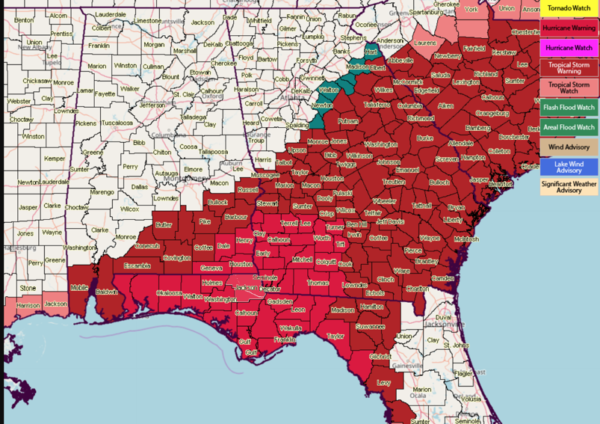 FOR INTERIOR ALABAMA
Rain will overspread the southern half of the state through late morning, reaching Demopolis, Selma and Montgomery by 10-11 a.m. The heaviest rain will move into South Alabama through the late morning hours and turn more northeast, affecting areas generally south of I-85/65 in South Alabama. MOderate rain will reach as far northwest as a line from Montevallo to Birmingham to Albertville. West of that, rain will be sparing.
Winds will average 10-20 mph with occasional gusts as high as 30 mph over Central Alabama.
Bill Murray is the President of The Weather Factory. He is the site's official weather historian and a weekend forecaster. He also anchors the site's severe weather coverage. Bill Murray is the proud holder of National Weather Association Digital Seal #0001
@wxhistorian