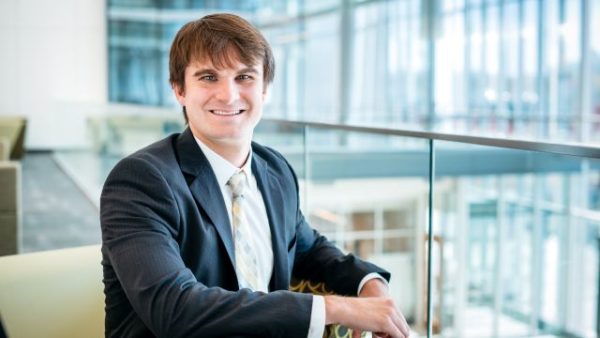 By Alicia Rohan
A two-time childhood cancer survivor, Rusty Duvall will graduate from the University of Alabama at Birmingham with his bachelor's degree in industrial distribution Saturday, Dec. 15, and start his dream job with the United Parcel Service in January.
When Duvall was 7 years old, physicians found a brain tumor that his parents knew would affect his life. At age 11, Duvall was diagnosed with a rare cancer in the bones of his eye socket.
"Sometimes I feel like my childhood was ripped from me in the blink of an eye," said Duvall, a senior in the UAB Collat School of Business from St. Clair County. "I spent a lot of time in the hospital. I didn't get to grow up doing a lot of the things that I wanted to do. When I did get to go home, I was really weak and tired."
Within the first four weeks of his brain tumor diagnosis, Duvall had four surgeries related to the brain tumor and a fifth surgery later that year. At one point, Duvall had fluid leaking from his brain and had to have emergency surgery to place a shunt in order to stop the drainage.
To read the full article, please visit the Alabama NewsCenter website.
Category: ALL POSTS, Partner News Stories