On their new afternoon update, NHC continues to show an 80 percent chance of a tropical depression forming over the northern Gulf of Mexico within 5 days.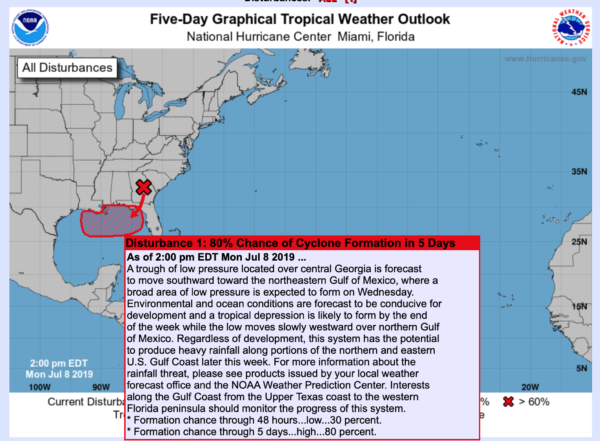 Conditions favor a tropical low forming just off the coast by Wednesday. This will most likely drift westward, and new runs the American (GFS) and European (ECMWF) global models show the system southwest of Morgan City, Louisiana by Friday evening. Please note this is ensemble mean output, which is the best way of depicting a system like this at this stage of the game.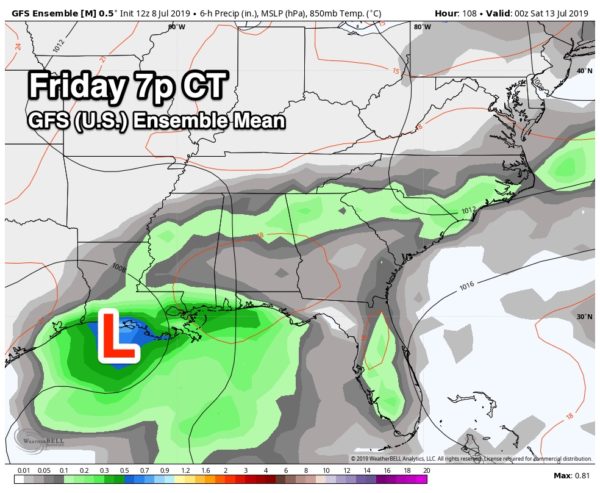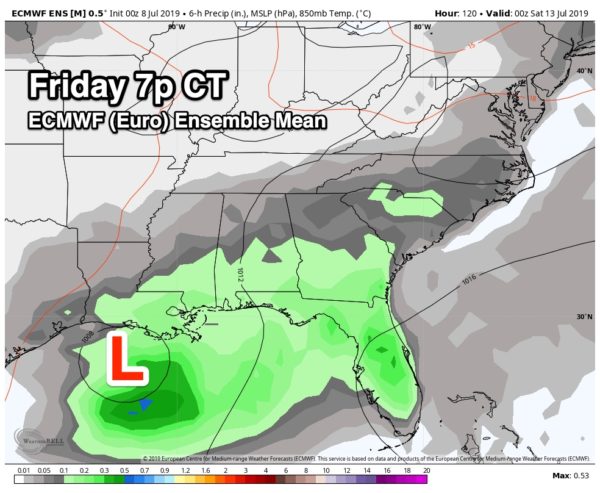 Here are some important notes…
*It is pretty much impossible to forecast the track and intensity of a tropical cyclone until it actually forms a central area of low pressure. The vorticity center that is helping to spin up the system is still over land.
*Odds are high that this will not become a hurricane, but it can't be totally ruled out.
*The main impact, most likely, will be heavy rain, rough surf/rip tides, and gusty winds. An isolated tornado/waterspout or two certainly can't be ruled out.
*The heaviest rain will be along and east of the circulation center, on the onshore flow side. It remains to be seen if or when the system will begin to move northward. It could continue to drift westward into Texas, or turn northward into Louisiana. Accordingly, it is very challenging drawing QPF (Quantitative Precipitation Forecast) maps right now. The latest forecast from WPC is below.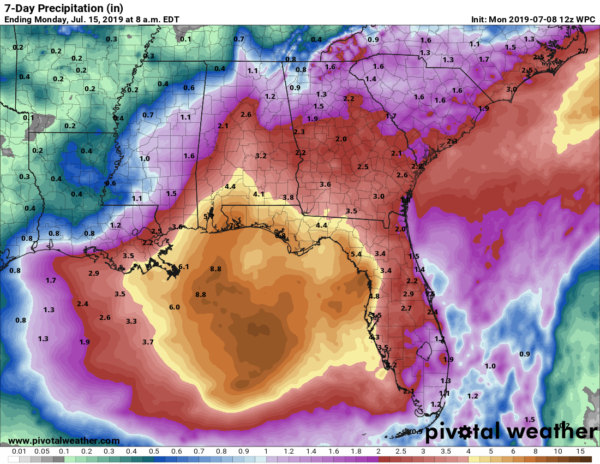 Understand this QPF map can, and probably will change in coming days. Inland parts of the Southeast U.S. could see some beneficial rain, but some states, especially on the "dry side", will see little rain at all.
*If this becomes a tropical storm, the name will be Barry.
*Rain will likely increase along the Central Gulf Coast Wednesday, with periods of rain and a few thunderstorms likely through the weekend. But there will be breaks in the rain, and the sun will peek through at times. Please understand it still too early to define the impact for any one given point on the coast…. we can't do that once we have an established center in the Gulf.
*Most likely, this system will be well inland in 6-7 days and weather improves along the coast.
We will be posting frequent blog updates through the week… stay tuned…
Category: Alabama's Weather, Tropical
James Spann is one of the most recognized and trusted television meteorologists in the industry. He holds the AMS CCM designation and television seals from the AMS and NWA. He is a past winner of the Broadcast Meteorologist of the Year from both professional organizations.