At 3 p.m., the center of Tropical Storm Barry appears to be just east of Shreveport in northwestern Louisiana and appears to be making a northeast turn.
Perhaps in response, the feeder band over eastern Mississippi has edged east into western Alabama.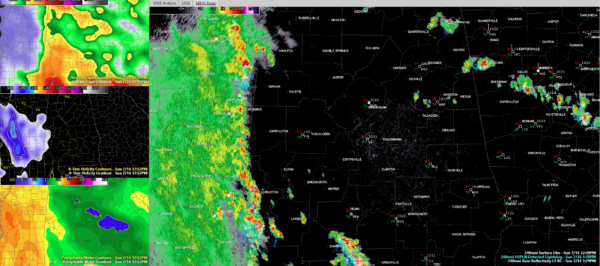 At 3 p.m., heavy showers and storms extended from near Iuka in eastern Mississippi to near Red Bay in western Franklin County, to near SUlligent and Vernon in Lamar County, to east of Aliceville in Pickens County, to along the Sumter/Greene County line, to near Demopolis and Greensboro, on to near Linden. From there, the curved band extends into Washington and Mobile counties. These storms will move into Marion, Fayette, and western Tuscaloosa counties over the next hour.
A secondary band of showers and heavy storms extends from Perry and Chilton Counties southeast through Autauga, Montgomery, eastern Lowndes, Crenshaw, Pike, and Coffee Counties in South Alabama. This activity was pushing north and appeared to be associated with some sort of upper-level disturbance. The leading edge of the storms have pushed out an outflow boundary, so it remains to be seen if they will hold their strength as they push northward parallel to I-65. If they do, they could reach northern Shelby and southern Jefferson County between 3:45 and 4:30 p.m.
An isolated storm was straddling I-20 in East Alabama between Bynum and Munford. A heavy shower was near Ohatchee.
The heavier cells have lightning and gusty winds. All of them can produce heavy rainfall.
The mesoscale models have not had a good handle on this activity until the past couple of runs. Now they show rain across areas west of I-65 through this evening. We will take the rain.
Moderate to heavy rain continues over much of the state of Mississippi this hour, although it is beginning to let up over southwestern sections of the Magnolia State. Their storms have weakened overall over the past couple of hour, but the feeder band that extends from Bay St. Louis to Hattiesburg seems to be on the upswing again.
A citizen reported 7.71 inches of rain in Oak Grove in Lamar County, Mississippi since midnight. Lamar County is where Hattiesburg is located.
Category: Alabama's Weather, ALL POSTS, Tropical
Bill Murray is the President of The Weather Factory. He is the site's official weather historian and a weekend forecaster. He also anchors the site's severe weather coverage. Bill Murray is the proud holder of National Weather Association Digital Seal #0001
@wxhistorian