We will get a new advisory and forecast package at 4 p.m. on extremely dangerous Hurricane Dorian.
There are no planes in the storm right now, so we won't have any realtime intensity measurements for awhile. Mission 30 is getting ready to take off at Keesler AFB in Biloxi.
The storm is certainly impressive on satellite imagery. The clouds tops on the central dense overcast surrounding the nearly clear eye of the powerful hurricane appear to be cooling, indicating they may be more intense. The rapid deepening we noticed during the morning has leveled off, but it is conceivable the hurricane could intensify further.
It is already the second strongest Atlantic hurricane in terms of maximum sustained winds at 185 mph. This ties it with the Labor Day Hurricane of 1935, 1988's Gilbert and 2005's Wilma. Only Hurricane Allen of 1980 had stronger winds (190 mph).
In terms of central pressure, Dorian is tied for 11th on the all-time list with Hurricane Ivan of 2004.
This picture says it all: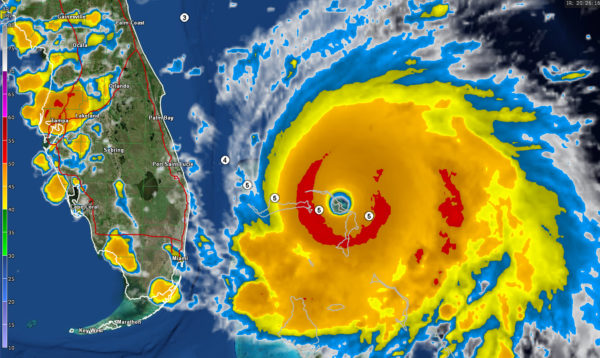 A monster hurricane with its center less than 200 miles from the Florida coast is a petrifying thing. You can see the forecast plots from the NHC with the Saffir Simpson Hurricane Scale forecast.
We are nervously waiting for all of these computer models to be proven right. Here is my checklist:
NAVGEM: Turns it, no landfall
EURO (Operational): Turns it, close call for Wilmington and Morehead City, NC
EURO (Ensemble/Control): Close North Carolina coast, possible landfall over Outer Banks
GFS (Operational): Turns it, no landfall
GFS (Ensemble Mean): Stays offshore
GFS (Control): Landfall on the North Carolina Coast near Wilmington
NAM (12km): Just coming in now, but clearly shows hurricane bouncing up to the north
HWRF: Take center inland as 950 mb hurricane just north of Cape Canaveral Tuesday night (a little worrisome)
HWRF-P: Also takes center onshore near Melbourne.
HMON: Also brings the hurricane onshore near Cape Canaveral
So, the next 18 hours will be nervous ones for the southeastern coast of the United States.
Bill Murray is the President of The Weather Factory. He is the site's official weather historian and a weekend forecaster. He also anchors the site's severe weather coverage. Bill Murray is the proud holder of National Weather Association Digital Seal #0001
@wxhistorian