Update by Meteorologist Johnny Parker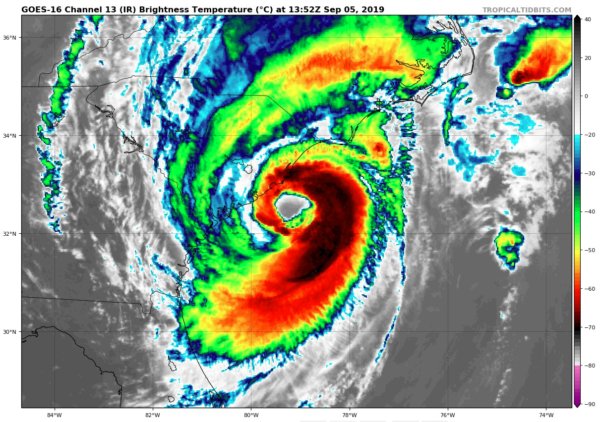 Hurricane Dorian re-intensified into a 115mph late last night making it a category 3 hurricane once again. This morning, Dorian is located 70 miles South-Southeast of Charleston, South Carolina and 170 miles South-Southwest of Wilmington, North Carolina. Central pressure of the storm is 959 mbars with a North-Northeast movement of 8mph.
The track of Dorian will likely include landfall that is centered over the Outer Banks of North Carolina by 7:00 a.m. on Friday morning. Its turn toward the North-Northeast may help to lessen the impact to inland areas of North Carolina, but this system is still capable of producing significant severe storms along its outer bands.
A rare 15% tornado probability along with an upgrade to Enhanced Risk has been issued by the Storm Prediction Center this morning for coastal North Carolina. Typically, the tornado probabilities for landfalling tropical systems are around 5%, however, there have been numerous supercellular and tornadic storms in association with the outer bands from Hurricane Dorian. Currently there is a Tornado Warning in effect for Horry County, South Carolina, and four Tornado Warnings in effect for Carteret, Craven, Jones, Onslow and Duplin Counties in North Carolina. Although these will expire shortly, Dorian will certainly trigger many more tornado warning throughout the day.
Major power outages have already been reported across South Carolina, with more expected as the system slowly skirts the coastline. Flooding has also begun in the Charleston area. Storm surge warnings are advising up to 7 feet above ground level and localized rainfall up to 15 inches is possible for the Coastal Carolinas.
Wind speeds of hurricane-force have extended out to 60 miles from Dorian's center. Just north of the storm center, buoys have reported gusts of 76 mph. Charleston International Airport has seen a wind gust to 61mph this morning.
A front of low pressure has progressed eastward into the Appalachians. As this front moves eastward, its interaction with Dorian will likely cause the hurricane to increase its forward speed by Friday.
Two recon aircraft are currently collecting data from Dorian.

Bill Murray is the President of The Weather Factory. He is the site's official weather historian and a weekend forecaster. He also anchors the site's severe weather coverage. Bill Murray is the proud holder of National Weather Association Digital Seal #0001
@wxhistorian