Update by Meteorologist Johnny Parker
As of the 8 p.m. update from the National Hurricane Center, Hurricane Dorian was 110 miles southwest of Cape Lookout, North Carolina. Top winds are 100 mph.
The Frying Pan Shoals buoy is reporting a 959.8 barometer, making the central pressure in the hurricane 958 millibars, lower than thought.
Dorian's speed has slightly increased to 10mph and it is moving toward the Northeast. Expect this forward speed to increase even more by Friday as a low-pressure trough pushes further eastward and interacts with Dorian as the front moves offshore.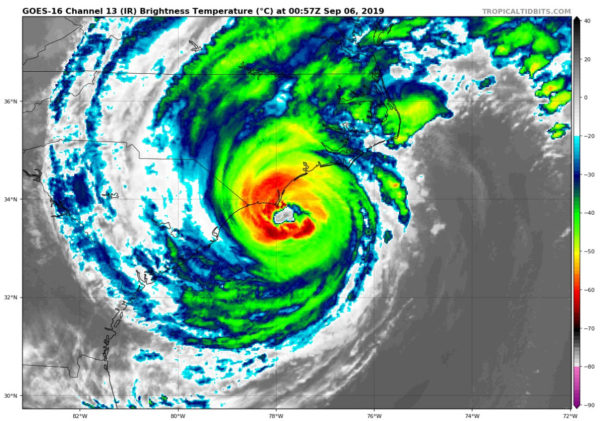 Dorian continues to affect the South Carolina coast. Charleston has experienced localized street flooding. Myrtle Beach along with other locations in Georgetown and Horry Counties are experiencing flash flooding. The National Weather Service in Wilmington has extended the Flash Flood Warning for these areas.
Landfall is expected by Friday morning on the North Carolina Outer Banks region. Heavy rainfall, storm surge, and flooding will likely produce life-threatening conditions in these low lying areas. Hurricane-force winds and an isolated tornado threat will also persist overnight through tomorrow.
Multiple tornado warnings have already been issued for the Carolinas through this afternoon/evening. A new tornado watch has been issued for eastern North Carolina up into southeast Virginia until 7am EDT Friday morning. This watch does include the Outer Banks area. There are currently 12 preliminary tornado reports in association with Dorian. Two tornadoes were confirmed in North Myrtle Beach, SC and another in Emerald Isle, SC.
Additional tornado threats are likely overnight through Friday across North Carolina. Tornadoes from tropical systems are known to spin up rather quickly so if a warning is issued seek shelter immediately.
More than 700 airline flights have been cancelled due to Hurricane Dorian and the system has left 250,000 people without power in Charleston, SC.
Observations:
North Myrtle Beach Grand Strand Airport: Heavy rainfall with sustained winds out of the North-Northeast at 23mph gusting to 35mph.
Buoy 41013 located nearly due south of Wilmington, North Carolina: reporting sustained Southeast winds of 54mph with gusts to 78mph.
Charleston Air Force Base: Light rain with sustained winds out of the Northwest at 31mph with gusts to 41mph.

Bill Murray is the President of The Weather Factory. He is the site's official weather historian and a weekend forecaster. He also anchors the site's severe weather coverage. Bill Murray is the proud holder of National Weather Association Digital Seal #0001
@wxhistorian