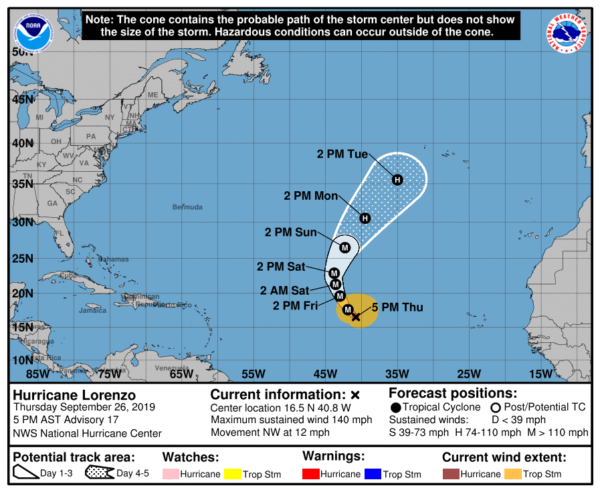 SUMMARY OF 400 PM CDT INFORMATION
LOCATION…16.5N 40.8W
ABOUT 1095 MI…1765 KM W OF THE SOUTHERNMOST CABO VERDE ISLANDS
MAXIMUM SUSTAINED WINDS…140 MPH…220 KM/H
PRESENT MOVEMENT…NW OR 310 DEGREES AT 12 MPH…19 KM/H
MINIMUM CENTRAL PRESSURE…943 MB…27.85 INCHES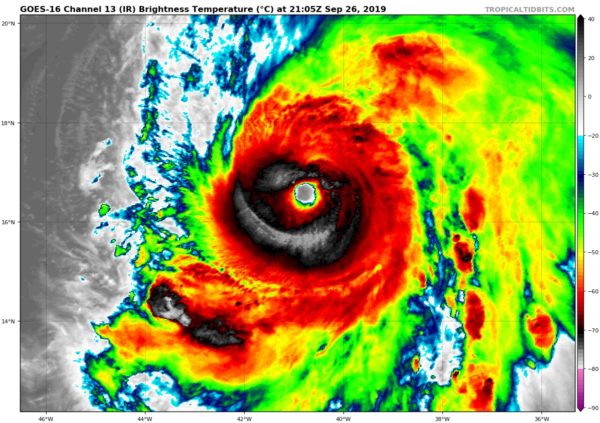 Lorenzo has continued to intensify this afternoon, as the 20 n mi wide eye has become better defined and the cloud tops in the eyewall have gotten colder. Various subjective and objective satellite intensity estimates are now in the 115-125 kt range, so the initial intensity is increased to a possibly conservative 120 kt. The hurricane has excellent outflow in all directions except to the west, where it is starting to interact with an upper-level trough.
The hurricane has turned toward the northwest since the last advisory, with the 12-h average motion now 310/10 kt and the shorter-term motion is even more toward the north. Lorenzo is approaching a break in the subtropical ridge caused by a series of mid-latitude troughs to the northwest of the hurricane, and the track guidance models remain in excellent agreement that Lorenzo should recurve through the break during the forecast period. After 24-36 h, the guidance has shifted a little more to the right, and this part of the new track forecast has been nudged a little to the right.
Data from the SHIPS model suggest that Lorenzo will be in an area of maximum potential intensities of 125-135 kt for the next 3-4 days. This suggests that the current intensification should end soon as the actual intensity approaches or reaches those speeds. Fluctuations in strength due to eyewall replacement cycles are expected during the 12-24 h period. The global models suggest that Lorenzo's interaction with the aforementioned upper-level trough should increase during recurvature, which should cause increased shear and a gradual weakening of the cyclone. As Lorenzo subsequently moves northeastward in the mid-latitude westerlies, increased shear and cooler sea surface temperatures should lead to at least a continued slow weakening. The new intensity forecast has only minor changes from the previous forecast.
While its exact ranking will be determined later, Lorenzo is one of the largest and most powerful hurricanes of record for the central tropical Atlantic, with the only comparable hurricane in recent times near there being Gabrielle of 1989.
Scott Martin is an operational meteorologist, professional graphic artist, musician, husband, and father. Not only is Scott a member of the National Weather Association, but he is also the Central Alabama Chapter of the NWA president. Scott is also the co-founder of Racecast Weather, which provides forecasts for many racing series across the USA. He also supplies forecasts for the BassMaster Elite Series events including the BassMaster Classic.