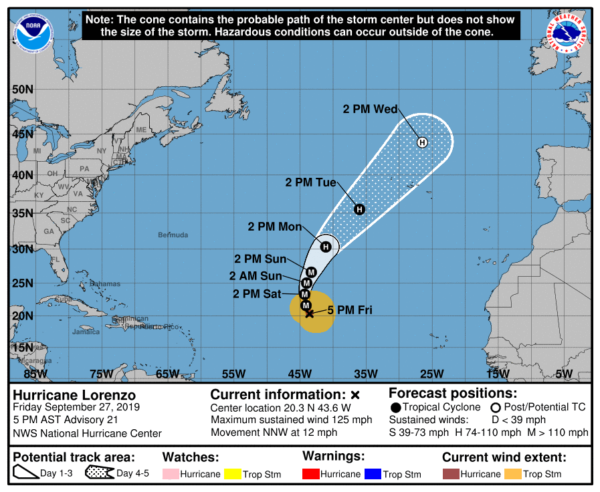 SUMMARY OF 400 PM CDT INFORMATION
LOCATION…20.3N 43.6W
ABOUT 1575 MI…2535 KM SW OF THE AZORES
MAXIMUM SUSTAINED WINDS…125 MPH…205 KM/H
PRESENT MOVEMENT…NNW OR 330 DEGREES AT 12 MPH…19 KM/H
MINIMUM CENTRAL PRESSURE…948 MB…28.00 INCHES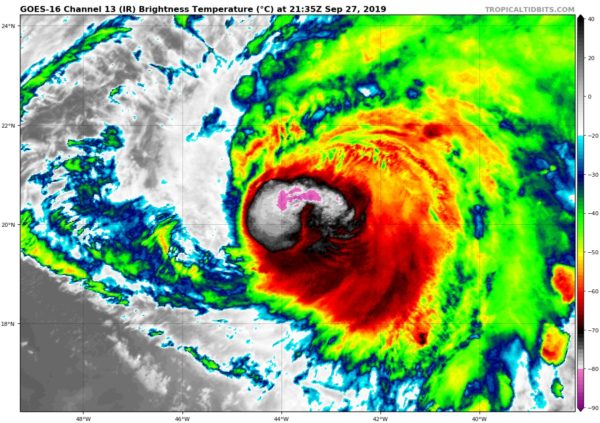 The satellite appearance of Lorenzo has degraded further since the last advisory, with only a hint of an eye still apparent in visible imagery and the cold cloud tops in the eyewall becoming very asymmetric in infrared imagery. A recent SSMI/S overpass shows that the southern portion of the eyewall has eroded, possibly due to shear or dry air intrusion. The microwave imagery also suggests an outer convective band is forming, but it is not yet well enough defined to call it an outer eyewall. Satellite intensity estimates have continued to decrease, and the initial intensity is lowered to 110 kt as a blend of the various estimates. The hurricane continues to have excellent outflow in the northern semicircle.
The initial motion remains 330/12 kt. There is no change in the track forecast philosophy or the forecast confidence, as Lorenzo should turn northward and then northeastward during the next few days as it moves around the western edge of a mid-level ridge centered over the eastern Atlantic. Later in the forecast period, the cyclone is expected to accelerate northeastward in the mid-latitude westerlies ahead of a deep-layer trough approaching from the west. The track guidance for this advisory, while it remains tightly clustered in direction, is a little slower than the previous guidance. Based on this, the new forecast track is just a little slower than the previous forecast.
Lorenzo will be passing over sea surface temperatures of 27-28C for the next 48-72 h. However, it will be in an environment of moderate vertical shear due to an upper-level trough not far to the west. The intensity guidance responds to this by showing gradual weakening during this time, and the new intensity forecast follows the trend of the guidance. There is a possibility of fluctuations in intensity caused by eyewall replacement cycles superimposed on this weakening trend. After 72 h, the hurricane should encounter stronger mid-latitude westerlies, move over cooler sea surface temperatures, and eventually merge with the above-mentioned deep-layer trough. As this occurs, Lorenzo is forecast to undergo extratropical transition, with this being complete by 120 h. Current indications from the global models are that Lorenzo will retain hurricane strength through the transition.
Scott Martin is an operational meteorologist, professional graphic artist, musician, husband, and father. Not only is Scott a member of the National Weather Association, but he is also the Central Alabama Chapter of the NWA president. Scott is also the co-founder of Racecast Weather, which provides forecasts for many racing series across the USA. He also supplies forecasts for the BassMaster Elite Series events including the BassMaster Classic.