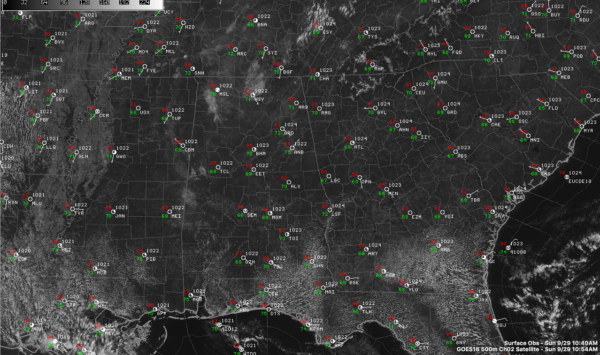 Another hot September day is in progress across Alabama. Temperatures are climbing through the 80s at 11 a.m. Highs today will range from near 90F to the lower 90s over Northeast Alabama, to the lower 90s over North Central Alabama, to near 95F across the I-20 Corridor, to mid and upper 90s over South Central Alabama. Heat indices will be approaching 100F in many locations, so remember your heat precautions. Take it easy, stay hydrated, and dress appropriately.
MORE RECORDS AHEAD: A strong ridge of high pressure in the middle and upper atmosphere will continue across the eastern United States into midweek. With 500 millibar heights reaching 597 dkm this week, the heat will be raging. Highs will continue in the middle 90s through next Thursday and possibly Friday. The temperatures will threaten to tie or break record highs each day.
Here are predicted highs and records for this week:
BIRMINGHAM
Sunday 96/96
Monday 97/95
Tuesday 95/94
Wednesday 95/93
Thursday 96/93
ANNISTON
Sunday 96/95
Monday 97/94
Tuesday 94/93
Wednesday 95/93
Thursday 96/92
TUSCALOOSA
Sunday 96/96
Monday 96/96
Tuesday 96/95
Wednesday 95/95
Thursday 96/95
MONTGOMERY
Sunday 97/96
Monday 98/97
Tuesday 95/95
Wednesday 95/95
Thursday 97/94
ALL-TIME OCTOBER RECORDS MAY FALL AS WELL: The all-time record October high at Birmingham is 94F. That may be surpassed on Tuesday, Wednesday, and Thursday.
THE WEEK AHEAD: The ridge builds on Monday and the heat is on. Almost no chance of rain and highs reaching the upper 90s. Tuesday we could see an isolated storm in the high heat of the afternoon, as temperatures again reach the middle and upper 90s. Wednesday and Thursday are mostly dry and hot again. A cool front approaches Alabama on Thursday, but don't look for much relief in the rainfall department. Rainfall amounts right now look like they will be around a quarter of an inch, and the best chances for that are over the Tennessee Valley. Increasingly drought-affected Central Alabama may get less than that, especially depending on the timing of the front.
COOL DOWN? It's hard to call it a cool down, but we will take what we can get. Highs will back off into the 80s starting over the weekend. Lows will fall back into the 60s Saturday and Sunday. Next week temperatures will be in the 80s. Highs the following weekend and week will be in the 70s. Be ready for it.
Category: Alabama's Weather, ALL POSTS
Bill Murray is the President of The Weather Factory. He is the site's official weather historian and a weekend forecaster. He also anchors the site's severe weather coverage. Bill Murray is the proud holder of National Weather Association Digital Seal #0001
@wxhistorian