Definitely a frigid start to the day with many locations below the freezing mark, but WOW, as head through the afternoon, it is a gorgeous day across the state.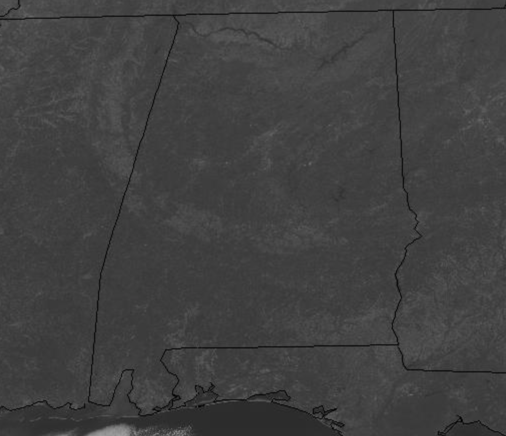 We are seeing sunshine in fully supply, with hardly cloud in the sky and temperatures have made their way into the 50s this afternoon.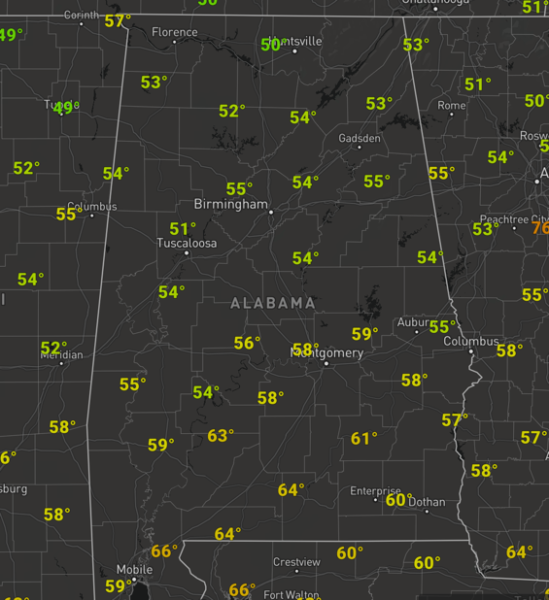 FOOTBALL WEATHER: Alabama is hosting LSU in Tuscaloosa this afternoon at Bryant-Denny Stadium (2:30p CT kickoff); the weather could not be any better for the biggest college game of the year. A sunny sky, temperatures will fall from near 60 at kickoff, into the mid 50s by the final whistle. Sunset this evening in Tuscaloosa comes at 4:52p CT, so the fourth quarter will be played under the lights.
COLD NIGHT: The clear sky tonight will set the stage for another cold night for sure, but not as cold as this morning, we will see lows in the 30s for most of North/Central Alabama, and there will be some areas of frost tomorrow morning.
SENSATIONAL SUNDAY: Tomorrow will be another day that will feature a mainly sunny sky, with warmer temps as our winds will become more southerly. Highs tomorrow should be in the mid to upper 60s by the afternoon.
IN THE TROPICS: All is quiet with no signs of any tropical storm formation this week. However, hurricane season runs through the end of November, so we will keep an eye on the things, but typically as sea surface temperatures cool down we don't see much tropical activity this time of year.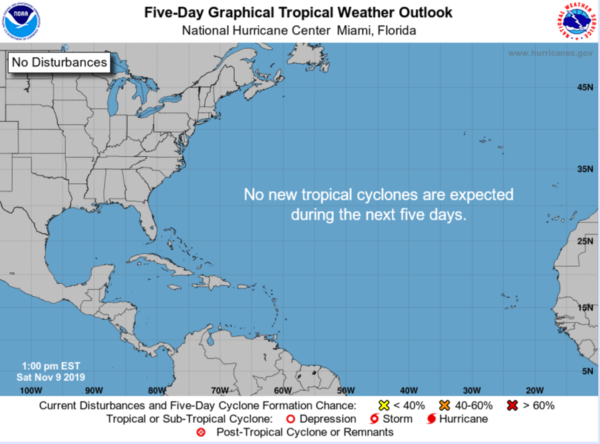 BEACH FORECAST CENTER: Get the latest weather and rip current forecasts for the beaches from Fort Morgan to Panama City on our Beach Forecast Center page. There, you can select the forecast of the region that you are interested in visiting.
WORLD TEMPERATURE EXTREMES: Over the last 24 hours, the highest observation outside the U.S. was 113.0F at West Roebuck, Australia. The lowest observation was -60.0F at Dome A, Antarctica.
CONTIGUOUS TEMPERATURE EXTREMES: Over the last 24 hours, the highest observation was 95F at Thermal, CA. The lowest observation was -2F at Mount Washington, NH.
WEATHER ON THIS DATE IN 1996: The Veteran's Day storm of November 9-14, 1996 may be the most severe early season lake effect snow (LES) storm the Great Lakes has witnessed in the past fifty years. At the height of the storm, over 160,000 customers were without power in Greater Cleveland alone, as the storm produced isolated snowfall tallies approaching 70 inches. As usual with these LES events, the Veteran's Day storm battered snowbelt communities downwind of each of the Great Lakes while nearby towns went unscathed.
Category: Alabama's Weather, ALL POSTS
Montgomery Television Meteorologist and long time Contributor on AlabamaWX. Stormchaser. I did not choose Weather, it chose Me. College Football Fanatic.
@Ryan_Stinnet