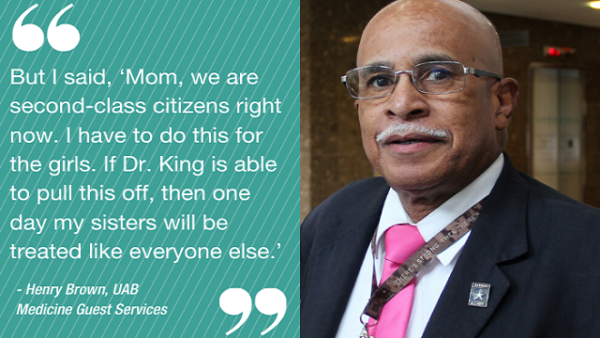 By UAB Medicine News
People who visit or work in the Whitaker Clinic of UAB Hospital likely have crossed paths with UAB Medicine Guest and Hospitality Services representative Henry Brown. He's usually at the second-floor information desk or the first-floor guard station, always ready to assist patients and quick with a smile and a greeting.
Brown, 76, joined UAB Medicine five years ago as his "post-career" career. The Alabama Power Company retiree and U.S. Army veteran says his earlier work as an electrician ran "neck and neck" with his service in both the Alabama National Guard and the U.S. Army Reserve. Considering his remarkable experiences, you could say that Brown's entire life has run neck and neck with major events in American and Birmingham history.
Please CLICK HERE to finish reading the article on the Alabama NewsCenter website.
Category: ALL POSTS, Partner News Stories