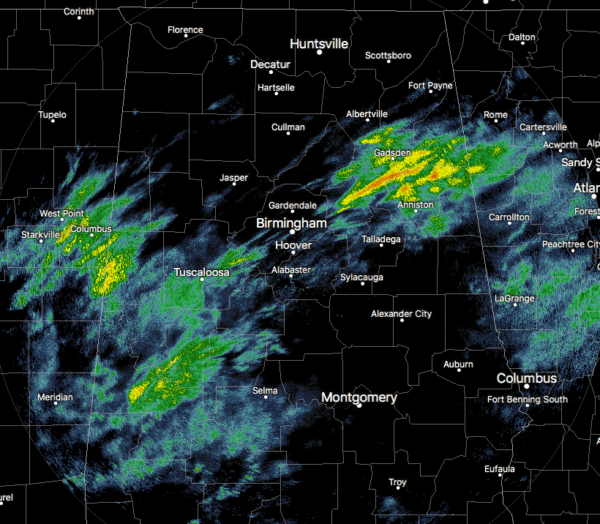 As of 1:45 pm, skies are cloudy across Central Alabama and we have shower activity over the western and southwestern parts of the area and over the east and northeastern parts. The heaviest activity at this time was located between Gadsden and Anniston affecting the cities of Southside, Piedmont, and Alexandria. No lightning with these showers, just plain old rain.
Temperatures as of 1:00 pm were in the mid-40s to the lower 50s. Birmingham was at 46 degrees while several locations were tied as the cold spots at 44 degrees. The warm spot was Tuscaloosa at 50 degrees.
We'll continue to have a chance of rain across all of Central Alabama, especially for the northeastern parts and the west and southwestern parts of the area, throughout the remainder of the daylight hours. Highs are expected to top out in the upper 40s to the lower 50s. Rain chances will continue throughout the late night and overnight hours, with the highest chances being along and south of I-59. Rain will begin tapering off from the northwest to southeast as we get closer to sunrise. Lows will be in the mid-30s to the lower 40s.
Category: Alabama's Weather, ALL POSTS
Scott Martin is a meteorologist, graphic artist, musician, husband, and a father. Scott is a member of the National Weather Association and the Central Alabama Chapter of the National Weather Association. Scott is also the co-founder of Racecast Weather, which provides accurate forecasts for many racing series across the USA.