It's a mostly cloudy day across North and Central Alabama. There has been more sunshine over the Central part of the state, that has pushed temperatures to above 60F mostly. The North is experiencing temperatures in the 50s. Montgomery has reached 67F. Mobile is at 73F this hour, while Evergreen and Andalusia are at 71F.
A southerly low-level flow is increasing moisture levels over southern Alabama, where dewpoints have climbed into the upper 50s mostly. Moisture levels will continue to increase overnight, which will limit overnight lows to the lower and middle 50s over North and Central Alabama.
Everyone should be mostly dry overnight. A few showers will work into Northwest Alabama after midnight.
A few showers will break out during the morning hours across Central Alabama. There will be a little instability, so I guess we can't rule out a little lightning from an elevated storm. But any morning activity won't amount to anything.
Moisture levels will continue to increase all day, and dewpoints will be in the 60-65F range by late afternoon across much of the state. Temperatures will rise into the 70s across much of the area. This will generate sufficient instability, which will combine with strong low level wind fields, to produce strong to severe thunderstorms.
Not much has changed in the thinking. Storms will push into western parts of Alabama around 4 p.m. Monday and will exit the southeastern part fo central Alabama around 6-7 a.m. Tuesday morning.
The main threats will be damaging winds to around 60 mph, a few tornadoes, large hail to quarter size. Some heavier rain could produce a little flooding.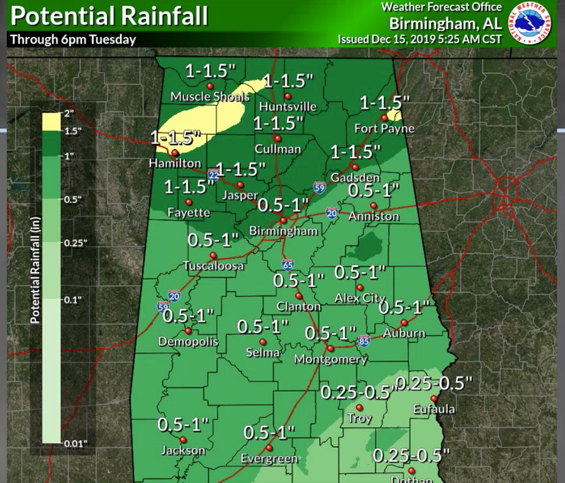 Winds will be gusty starting Monday during the day, and lasting through much of the day on Tuesday.
We will have another update this evening as the 0z model data rolls in and frequent updates on Monday and Monday night.
Category: Alabama's Weather, ALL POSTS
Bill Murray is the President of The Weather Factory. He is the site's official weather historian and a weekend forecaster. He also anchors the site's severe weather coverage. Bill Murray is the proud holder of National Weather Association Digital Seal #0001
@wxhistorian