The fact that the Storm Prediction Center has issued a rather rare Day 6 and Day 7 severe weather outlooks for the Deep South for this coming Friday and Saturday.
It's not unusual that we would have severe weather in the Deep South in January, but a forecast that far out always raises eyebrows.
BOTTOM LINE
Severe weather is possible across the Deep South on Friday and Saturday. It appears that a well developed warm sector will overspread the South Friday and Saturday ahead of a developing surface low to our west. But there is significant disagreement among the models about the details. It is too early to be specific about types of severe weather, timing windows, and areas impacted. But confidence is high enough to start talking about the threat.
TECHNICAL DISCUSSION
There are significant differences in the solutions offered by our two global models this morning. In fact, the new run of the GFS is nearly 24 hours faster than last night's European at this point. We will be watching to see when then two models come into closer agreement.
Of course, the placement of the surface low is critical to the timing and evolution of the threat.
The morning run of the GFS shows the surface low near Little Rock Friday night at 6 p.m.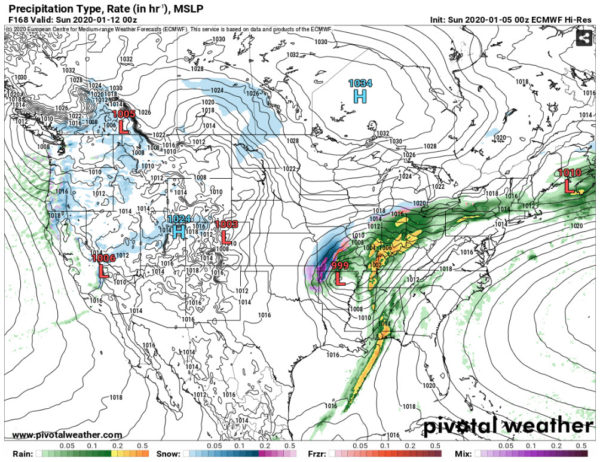 The Euro has what appears to be a weak surface low ejecting northeastward through Arkansas Friday night, but waits until Saturday night to bring the larger surface low northeastward.
The GFS shows an eastward track across Central Alabama, which would limit the northward expansion of the warm sector but increase the backing of the surface wind, enhancing low-level shear and increasing the threat of tornadoes.
INSTABILITY
The GFS has 62F dewpoints into Tennessee, with 65F staying south of US-80 in Alabama. GFS CAPE values are low, around 300-500 joules/kg.
That would make it a low CAPE, high shear event, with bulk shear of around 50 knots.
The European has surface dewpoints of 65F as far north as Nashville Saturday evening.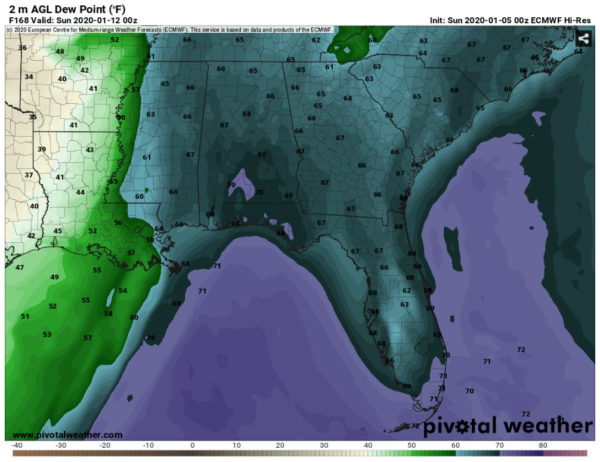 The European solution would be more concerning.
LOW-LEVEL JET
Both models depict a strong low-level jet developing across the state wither Friday night or Saturday night. That greatly enhances the transport of warm, moist, unstable air and increase low-level shear.
STRONG UPPER-LEVEL JET
Both models depict a strong upper-level trough. The European shows it taking on a negative tilt, leaning backward, which can enhance severe weather.
TIMING FOR STORMS
The European shows the storms pushing through Alabama Saturday evening. The GFS shows the storms pushing into Alabama Friday evening and lasting through the overnight.
WAITING FOR THE MORNING RUN OF THE EUROPEAN
We will be interested to see how the European morning run interprets the latest data. We will keep you posted.
IT WILL BE INTERESTING TO WATCH ALL WEEK
This event is still five to six days away. We will be looking for model consistency to develop to increase our confidence and start allowing us to be more specific with potential threats and timing.
WILL THIS BE LIKE APRIL 27TH?
No. That was a generational severe weather outbreak. This system does not have that kind of look. But if a tornado hits your home or neighborhood, it is your April 27th.
ACTIONS TO TAKE
None. Just be aware that there is a threat of severe weather in Alabama sometime between Friday night and Saturday night. Pay attention to forecasts throughout the week. It is never a bad idea to review (or develop) your severe weather safety plan, so that would be one thing you can do now.
Category: Alabama's Weather, ALL POSTS, Severe Weather
Bill Murray is the President of The Weather Factory. He is the site's official weather historian and a weekend forecaster. He also anchors the site's severe weather coverage. Bill Murray is the proud holder of National Weather Association Digital Seal #0001
@wxhistorian