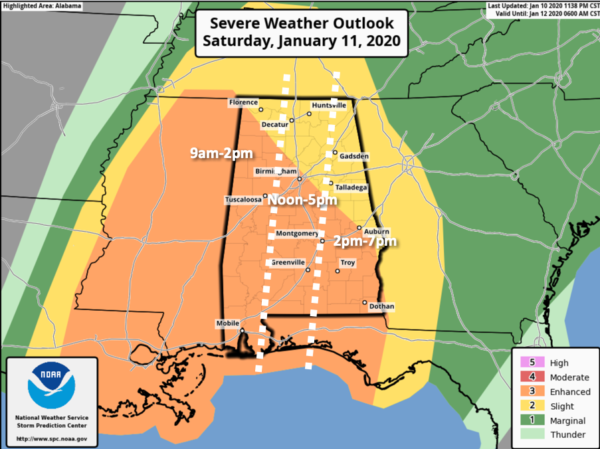 A few light showers continue across Alabama tonight, but they are light and not covering much territory at this hour.
To the west, we continue to monitor a long line of thunderstorms across western Louisiana and southeastern Arkansas. The line of storms is pushing east at about 35 mph. On this track, it will reach the Mississippi River before 6 a.m. and be into West Alabama between 9-10 a.m.
Most of the mesoscale model depictions still put the timing at between 11 a.m. and noon, but we will be watching the timing closely. The WRF does put it into West Alabama as early as 9 a..m.
A strong low-level jet should keep the line of storms supplied with warmth and moisture as it barrels eastward overnight.
Not much change in thinking at this hour. The greatest threat for severe weather, including tornadoes, is along and southwest of US-78/280 in Alabama today. But all of the state has the potential for damaging winds and a few tornadoes, it's just that the greatest threat is southwest of a line from Tuscumbia to Leeds to Auburn.
You will want to stay alert today and pay attention to the weather. Know when the windows of time severe weather is expected at your location. Have a couple of reliable ways to receive warnings. Have a plan for what to do when a warning is issued for your location.
TIMING: Westernmost counties of Alabama, like Marion, Lamar, Pickens, Greene, and Sumter will experience the storms most likely beginning between 9 a.m. and 2 p.m. Locations from Decatur to Jasper/Cullman and Tuscaloosa will experience them starting between noon-2 p.m. They should reach the Birmingham-Selma areas between 1-3 p.m. and the Gadsden and Anniston areas between 2-4 p.m. The storms should exit Central Alabama between 6-8 p.m. Your times may vary, so check the latest updates until the storms are past your area.
Category: Alabama's Weather, ALL POSTS, Severe Weather
Bill Murray is the President of The Weather Factory. He is the site's official weather historian and a weekend forecaster. He also anchors the site's severe weather coverage. Bill Murray is the proud holder of National Weather Association Digital Seal #0001
@wxhistorian