For the first half of our Saturday, it's been a tale of two states with clouds for the northern half of the state, while it's sunshine in full supply to the south. What you see is what you get through the afternoon, as for most of North/Central Alabama, we are going to see more clouds than sun, but we should see more and more sun by later this afternoon.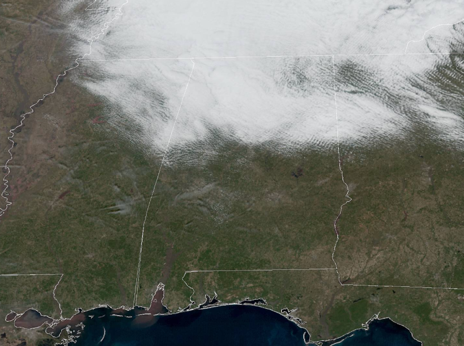 It's a cool day with temps in the 40s and lower 50s, plus winds are brisk as times out of the west.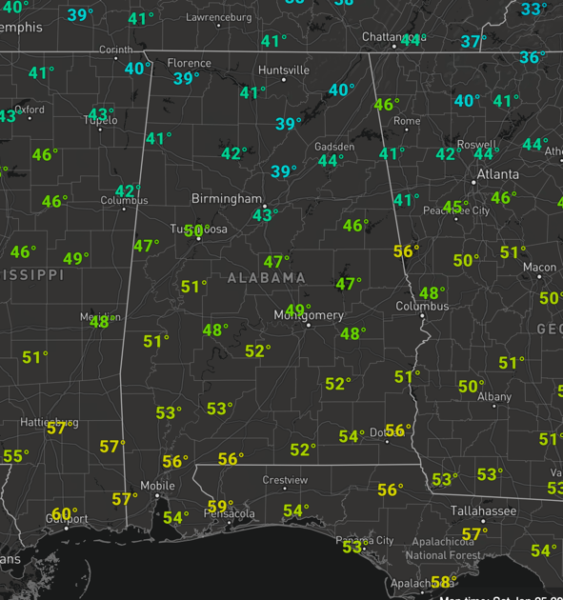 Tonight will feature partly cloudy conditions with temperatures in the lower to mid 30s by first thing tomorrow morning.
FOR OUR SUNDAY: We should start tomorrow off with more sun, but through the day clouds will be increasing as an area of low pressure tracks across the northern Gulf of Mexico. There could be a stray shower across the area late tomorrow afternoon, but we should see more scattered showers overnight Sunday. Highs tomorrow will be in the lower to mid 50s.
FIRST HALF OF WEEK: Some light rain is possible Monday morning due to the system to the south, but for the most part, Monday will be mostly cloudy with a high in the mid 50s. Tuesday we will be in between systems with a mainly sunny sky expected. Tuesday night and into Wednesday, more showers are back in the forecast with another low tracking across the Gulf, but the better rain chances will be to the south. Highs Tuesday and Wednesday will range from the mid to upper 50s.
THURSDAY/FRIDAY: Thursday will be another in between day with sunshine and dry conditions, while yet another low heads across the Northern Gulf Thursday night and Friday, meaning rain is back in the forecast during the time frame. So yes, and active weather pattern over the next week, with rain in the forecast every couple of days, but no threat of severe weather or winter weather mischief and I will take that. Rainfall totals over the next seven days across generally less than one inch for much of the state. Highs Thursday and Friday, will be in the 54-59 degree range.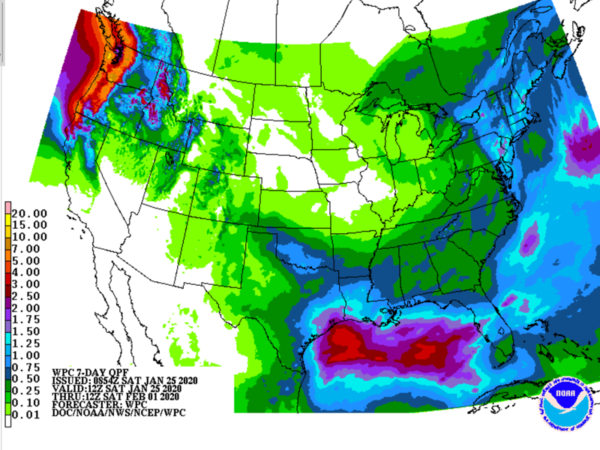 BEACH FORECAST CENTER: Get the latest weather and rip current forecasts for the beaches from Fort Morgan to Panama City on our Beach Forecast Center page. There, you can select the forecast of the region that you are interested in visiting.
WORLD TEMPERATURE EXTREMES: Over the last 24 hours, the highest observation outside the U.S. was 108.7F at Paraburdoo Aero, Australia. The lowest observation was -70.4F at Delyankir, Russia.
CONTIGUOUS TEMPERATURE EXTREMES: Over the last 24 hours, the highest observation was 83F at Florida Panther National Wildlife Refuge West, FL. The lowest observation was -3F at Copper Basin, ID and Fox Brook ME.
WEATHER ON THIS DATE IN 1988: High winds created blizzard conditions in the mountains of Colorado. Winds gusted to 109 mph at Echo Lake, and a wind gust to 193 mph was reported atop Mount Evans. A "nor'easter" moving up the Atlantic Coast spread heavy snow from the Carolinas to New England, with as much as 16 inches reported in the Poconos of eastern Pennsylvania.
ABC 33/40's Storm Spotter Training
The Annual ABC 33/40 Storm Spotter Training will take place at the Hoover Met on Saturday, February 8th starting at 9:30 am, with doors opening as early as 8:45 am. There is no cost and no need to register. Just show up with a curious mind. There will be a basic class and an advanced class. James Spann will even be speaking during the downtime between classes. A complete schedule will be coming out soon. Keep an eye on Spann's Facebook page for updates.
NWS Birmingham SKYWARN Storm Spotter Training
The National Weather Service office in Birmingham will be offering several online Basic Spotter Courses and a single Advanced Spotter Course over the next few months. These online courses are FREE and are open to anyone who would like to learn more about what it takes to be a spotter and what to look for. More information can be found on the NWS Birmingham's website, just CLICK HERE to visit the site.
Category: Alabama's Weather, ALL POSTS
Montgomery Television Meteorologist and long time Contributor on AlabamaWX. Stormchaser. I did not choose Weather, it chose Me. College Football Fanatic.
@Ryan_Stinnet