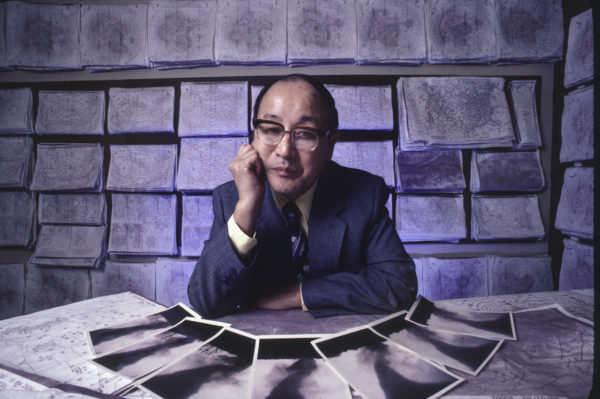 PBS will be airing an amazing episode of American Experience that will feature the story of Dr. Ted Fujita, the pioneering Japanese-American scientist who revolutionized our understanding of severe weather. Mr. Tornado, written, directed, and produced by Michael Rossi and executive produced by Mark Samels and Susan Bellows, will premiere on Tuesday evening, May 19, 2020, starting at 8:00 pm CDT on APT, PBS.org, and on the PBS Video App.
And we have a special treat for you the night before on WeatherBrains, with the filmmaker Michael Rossi and Dr. Greg Forbes appearing as the Guest WeatherBrain. WeatherBrains alum Jen Henderson will be a Guest Panelist as well. She is writing a book on Dr. Fujita as well.
While not a trained meteorologist, Dr. Ted Fujita is probably one of the most well-known names in the weather enterprise. He created the Fujita Scale, famously known as the F-Scale, of tornado damage intensity, and later discovered the weather phenomenon known as a microburst.
After the atomic bombs were dropped on Nagasaki and Hiroshima, he used his findings from the damage surveys to later influence his work on studying tornadoes on a forensic-scale and soon created the F-Scale to categorize the various intensities of tornadoes.
Fujita's first weather breakthrough occurred when he released his analysis of the massive tornado that struck Fargo, North Dakota in 1957. By using nearly 200 photos from witnesses of the twister and damage, he took measurements from the images and was able to give incredible insights about the anatomy of tornadoes and the life-cycle of their parent rotating supercell. His defining moment occurs 17 years later.
After the April 3-4, 1974 tornado outbreak, Fujita surveyed over 10,000 miles of damage and destruction and presented a hand-drawn map of each tornado path stretching across 13 states, from as far south as southeastern Mississippi to as far north as southwestern New York. He gave the event the name "Super Outbreak" as 148 tornadoes were confirmed killing 315 people and injuring 5,484 more. Each one of those tornadoes was given an F-Scale rating. After this event, he would be known as "Mr. Tornado" and the F-Scale became the accepted method of determining tornado intensity.
Fujita is also known as the one who made the discovery of microbursts while studying the crash of Eastern Airlines Flight 66 while on approach to New York City's JFK Airport in 1975. Using his knowledge of the atomic bomb blasts of Hiroshima and Nagasaki, along with his damage surveys of the Super Outbreak, he was able to determine that a short-lived, violent downburst of air from a thunderstorm caused the deadly accident. He proved his work by using the latest technology available, including Doppler radar.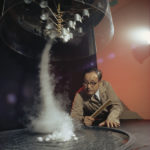 While Fujita was known for presenting new and unorthodox methods of studying the weather, his work continues to inspire the meteorological and scientific community to this day and also contributes to the safety of all of those who fly. We still use a modified version of his work, called the EF-Scale, to determine the intensity of tornadoes.
Participants who took place in this production include:
Robert F. Abbey, Jr. – served for 30 years in the federal government, first as Director of Meteorology research for the Nuclear Regulatory Commission (originally the Atomic Energy Commission) from 1972-1983, then in a similar position with the Office of Naval Research from 1983-2002. He has authored over 80 publications and several book chapters, primarily on the application of extreme value theory to natural phenomena.
Greg Forbes – former The Weather Channel's long-time severe weather expert and has a significant research background in the areas of severe convective storms and tornadoes. He studied tornadoes and severe thunderstorms under Dr. Fujita at the University of Chicago, where he obtained his M.S. and Ph.D.
Mark Levine – author of F5: Devastation, Survival, and the Most Violent Tornado Outbreak of the 20th Century.
Nancy Mathis – author of Storm Warning: The Story of a Killer Tornado.
Roger Wakimoto – UCLA Vice Chancellor for Research and an accomplished atmospheric scientist specializing in research on mesoscale meteorology, particularly severe convective storms, and radar meteorology. Studying under Dr. Fujita, he earned his Ph.D. in geophysical sciences from the University of Chicago.
Be sure to tune in to your local APT or PBS channel on May 19th at 8:00 pm CDT to watch American Experience: Mr. Tornado.
And make sure to listen to this week's WeatherBrains wherever you get your podcasts, including iTunes and Sticher. You can watch live Monday night at 8 at live.bigbrainsmedia.com or on the ABC3340 dot 2 channel over the air or on many cable systems. You will also find the show Tuesday morning on WeatherBrains.com.
ABOUT AMERICAN EXPERIENCE
For over 30 years, American Experience has been television's most-watched history series. Hailed as "peerless" (The Wall Street Journal), "the most consistently enriching program on television" (Chicago Tribune) and "a beacon of intelligence and purpose" (Houston Chronicle), the series brings to life the incredible characters and epic stories that have shaped America's past and present. American Experience documentaries have been honored with every major broadcast award, including 30 Emmy Awards, four DuPont-Columbia Awards, and 17 George Foster Peabody Awards; the series received an Academy Award® nomination for Best Documentary Feature in 2015 for Last Days in Vietnam. American Experience also creates original digital content that uses new forms of storytelling to connect our collective past with the present. Visit pbs.org/americanexperience and follow American Experience on Facebook, Twitter, Instagram, and YouTube to learn more.
Major funding for American Experience provided by Liberty Mutual Insurance, Consumer Cellular, and by the Alfred P. Sloan Foundation. Additional funding provided by the Robert David Lion Gardiner Foundation, The Documentary Investment Group, the Corporation for Public Broadcasting, and public television viewers. American Experience is produced for PBS by WGBH Boston.
Category: ALL POSTS, WeatherBrains
Scott Martin is an operational meteorologist, professional graphic artist, musician, husband, and father. Not only is Scott a member of the National Weather Association, but he is also the Central Alabama Chapter of the NWA president. Scott is also the co-founder of Racecast Weather, which provides forecasts for many racing series across the USA. He also supplies forecasts for the BassMaster Elite Series events including the BassMaster Classic.