NEW DAY, SAME MUGGY AIR MASS: The moisture-rich, unstable air mass remains in place over Alabama allowing for occasional showers and thunderstorms remaining in the forecast today and likely tomorrow. Again today, the SPC maintains a "marginal risk" (level 1/5) of severe thunderstorms for areas along and south of Interstate 59, but as of late this morning have upgraded much of South/Central Alabama, to a "slight risk" (level 2/5) for severe storms. Small hail, gusty winds, and an isolated tornado will be possible for the rest of today and tonight, mainly across southern Alabama.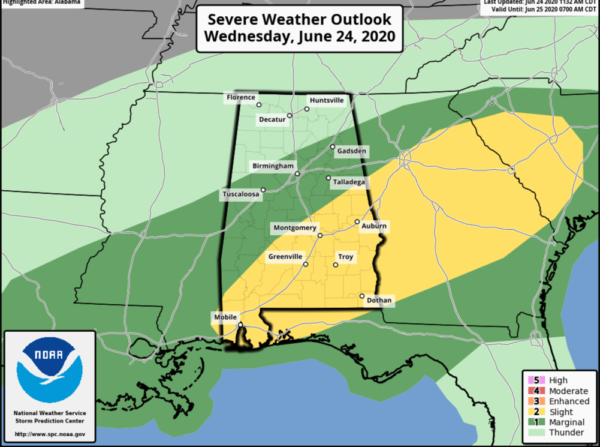 Like recent days, a few severe thunderstorms warnings are possible across Central Alabama this afternoon and evening as stronger storms could produce small hail and strong, gusty winds. Also loads of lightning and intense tropical downpours are likely, which could produce some isolated flash flooding issues. There is also growing concern about flash flooding across South Alabama the rest of today.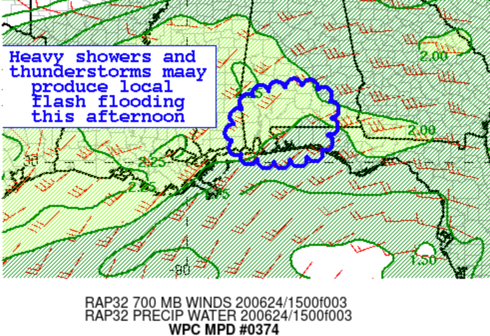 Thunderstorms will produce locally heavy rainfall in far southern Mississippi across southern Alabama and the Florida panhandle.Through 22Z localized amounts of 2-4″ are expected and some instances of flash flooding are possible. A band of heavy showers and thunderstorms progresses across southern Mississippi and southeast Louisiana. Up to 3 inches of rain has been reported in suburban New Orleans. Ahead of this band, there continues to be very warm/moist air pooling characterized by dewpoints in the middle 70s, PWs around 2″, and mixed layer CAPE near 3000 J/kg. Recent radar images show bands of clusters of showers and thunderstorms moving northeast from southeast Louisiana and southern Mississippi, and these bands and clusters should cross southern Alabama and the FL Panhandle this afternoon.
For the rest of Alabama, when it is not raining, it remains very warm and muggy with temps in the low 80s, with more clouds than sun.
A quick look at the radar at midday, we've are seeing a couple of clusters of rain and storms tracking across the Tennessee Valley of the state. In Central Alabama, just some scattered showers, while across South Mississippi and Southwest Alabama more rain and storms are ongoing, where some tornado warnings have been issued through the morning hours.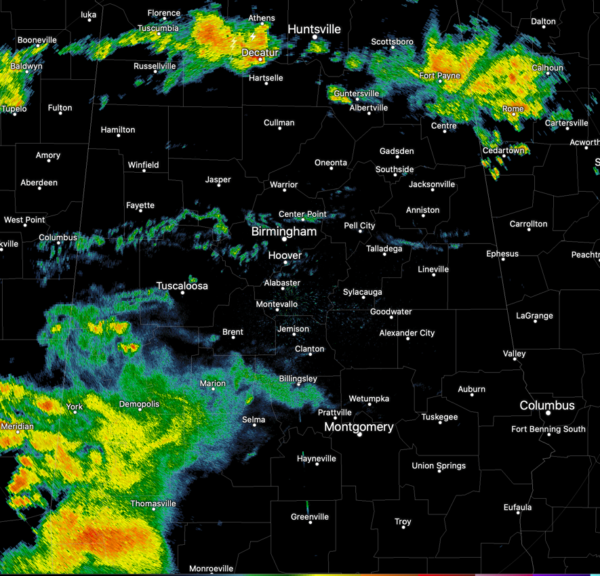 Through the rest of today, the radar will continue to become more and more active across North/Central Alabama as numerous showers and storms are in the forecast.
SO LONG DOLLY: DOLLY BECOMES A POST-TROPICAL REMNANT LOW……THIS IS THE LAST ADVISORY…At 11 AM AST, the center of Post-Tropical Cyclone Dolly was located near latitude 42.5 North, longitude 57.8 West. The post-tropical cyclone is moving toward the northeast near 16 mph and this general motion is expected to continue through tonight. Maximum sustained wind s are near 35 mph with higher gusts. Gradual weakening is expected, and Post-Tropical Cyclone Dolly is expected to dissipate by Thursday morning. The estimated minimum central pressure is 1007 mb (29.74 inches). Elsewhere in the Atlantic Tropical Basin, all is quiet.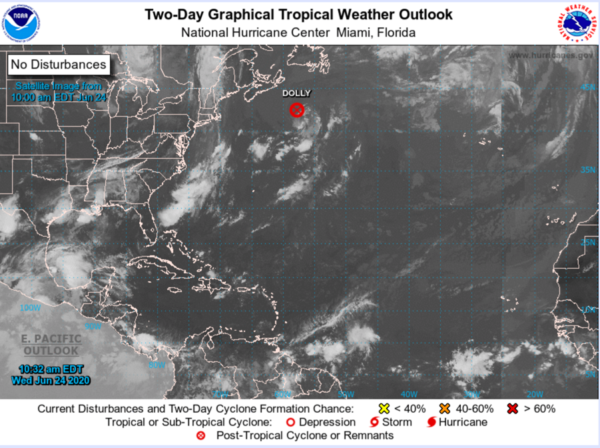 SAL LAYER: The dry, dusty Saharan Air Layer (SAL) coming off the African continent is moving up into the Gulf Coast region, it will be place across the Deep South for a few days giving us potential for some vivid sunrise/sunset views due to the scattering of sunlight. The dry air also means no risk of tropical storms or hurricanes over the Gulf for the next week or so. There could be some reduction in air quality, but most of the dust is several thousand feet aloft and most folks won't even notice it. It happens just about every summer… nothing unusual.
BEACH FORECAST CENTER: Get the latest weather and rip current forecasts for the beaches from Fort Morgan to Panama City on our Beach Forecast Center page. There, you can select the forecast of the region that you are interested in visiting.
WORLD TEMPERATURE EXTREMES: Over the last 24 hours, the highest observation outside the U.S. was 120.0F at Omidieh, Iran. The lowest observation was -89.1F at Dome A, Antarctica.
CONTIGUOUS TEMPERATURE EXTREMES: Over the last 24 hours, the highest observation was 120F Death Valley, CA. The lowest observation was 31F at Angle Fire, NM and Peter Sinks, UT.
WEATHER ON THIS DATE IN 1952: Thunderstorms produced a swath of hail 60 miles long and 3.5 miles wide through parts of Hand, Beadle, Kingsbury, Miner and Jerauld counties in South Dakota. Poultry and livestock were killed, and many persons were injured. Hail ten inches in circumference was reported at Huron SD.
Category: Alabama's Weather, ALL POSTS
Montgomery Television Meteorologist and long time Contributor on AlabamaWX. Stormchaser. I did not choose Weather, it chose Me. College Football Fanatic.
@Ryan_Stinnet