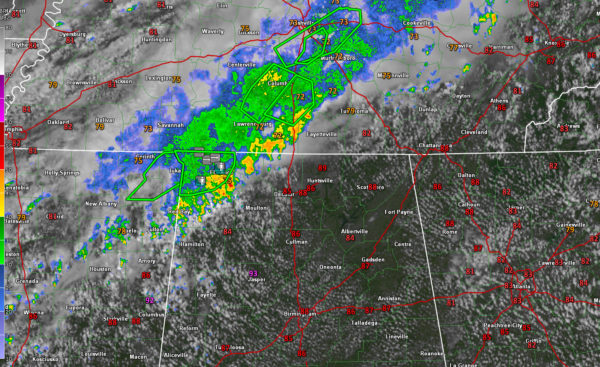 It has been a beautiful September morning across most of Central and North Alabama with a good supply of sunshine and warm temperatures. The exception has been the far northwest corner of the state, where showers and storms have been affecting that area.
It is part of a convergence zone ahead of a trough and frontal system just too our northwest. A flash flood warning is in effect for parts of Colbert and Lauderdale Counties until mid-afternoon.
Water was flowing over US-72 near Cherokee in Colbert County. Three northbound lanes of Cloverdale Road were underwater near Underwood in Lauderdale County. Trees were reported down in northern Lauderdale County.
Multiple flash flood warnings are in effect from north of Lawrenceburg through eastern parts of the Nashville area up to Gallatin. 2-4 inches of rain has fallen across a wide area of Middle Tennessee. 5.25 inches of rain in Brentwood since 7 a.m. There have been multiple water rescues in northern Lawrence County north of Lawrenceburg TN.
At 1:30, the rain and storms extended from eastern Lauderdale and Colbert Counties through Franklin County, into western Marion, and northern Lamar Counties. It is trying to propagate southeastward.
This activity should dissipate this afternoon as it tries to sink southward and runs into a little upper-level ridge of high pressure over Alabama, some drier air over North and Central Alabama, and some subsidence from the tropical storm to the south.
Tropical storm Sally is located 240 miles east southeast of the Mouth of the Mississippi River. Moving west-northwest at 12 mph with top winds of 60 mph, it will make landfall near or just west of the mouth of the river near Grand Isle late Monday evening and turn northward through southeastern Louisiana and southern Mississippi.
It will curve into northwestern Alabama on Thursday, bringing heavy rain, gusty winds, and the possibility of brief tornadoes to parts of West Central Alabama starting late Wednesday into Thursday. It will be out of our state by Friday morning setting the stage for a beautiful weekend.
Category: Alabama's Weather, ALL POSTS
Bill Murray is the President of The Weather Factory. He is the site's official weather historian and a weekend forecaster. He also anchors the site's severe weather coverage. Bill Murray is the proud holder of National Weather Association Digital Seal #0001
@wxhistorian