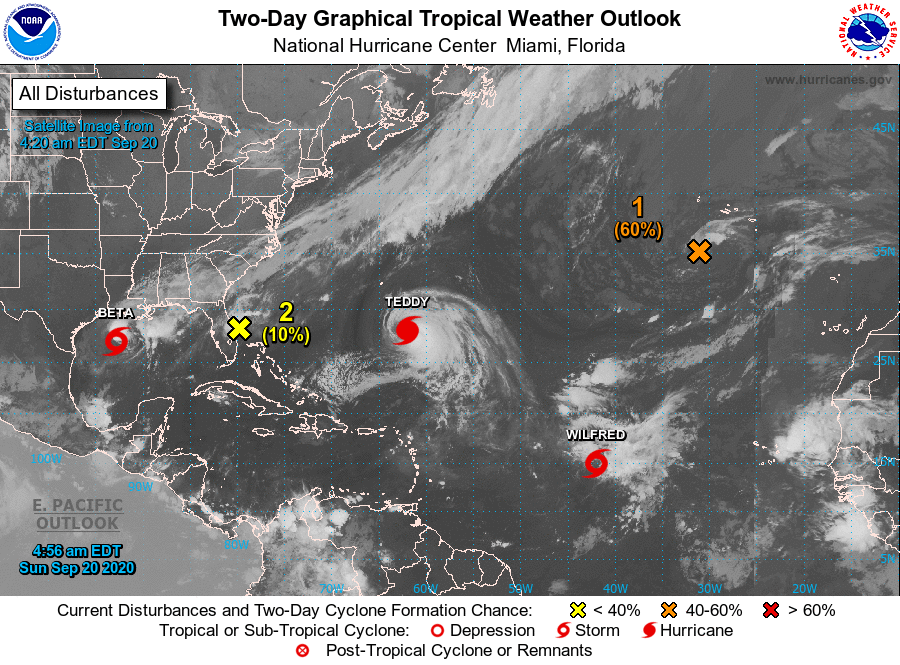 FIRST, HURRICANE TEDDY: One week ago, Bermuda was bracing for a direct hit from Hurricane Paulette. It appears that the beautiful island nation will be spared that outcome this week, but they still will experience tropical storm force winds. Tropical storm force winds out of the northeast should begin affecting the island tonight around 8 p.m. Atlantic Daylight Time. Peak winds should occur around sunrise, when northerly winds could reach 50-55 mph with gusts to near 65 mph. Tropical storm force winds won't abate until early evening, and those winds will be out of the west as the storm moves away. There will be some minor wind damage on the island.
Beyond this, it looks like Teddy will continue moving quickly due north and will make landfall in eastern Nova Scotia and Newfoundland on Tuesday night. For Nova Scotia and Prince Edward Island in Atlantic Canada, it looks quite possible that Teddy could cause very strong winds on Tuesday afternoon, Tuesday night and Wednesday morning, especially across eastern Nova Scotia and across Prince Edward Island. Wind gusts to 60-90 mph are possible across parts of eastern Nova Scotia and Prince Edward Island.
In addition, very heavy rainfall looks very likely across much of Nova Scotia and Prince Edward Island beginning Tuesday morning and continuing until early Wednesday morning. In fact, some of this heavy rainfall may also impact eastern New Brunswick during Tuesday night.
TEDDY ALSO AFFECTING A WIDE AREA WITH HUGE SWELLS: Teddy is expected to continue to produce large swells, large surf and the threat for rip currents across the Leeward Islands, the Greater Antilles, the Bahamas, Bermuda, and much of the US East Coast today into the first half of next week. In fact, some minor coastal flooding is possible at the time of high tide this weekend into early next week across many beaches along the US East Coast.
ELSEWHERE…Tropical Storm Wilfred is about 1,200 miles east of the Lesser Antilles this morning. The storm is expected to dissipate over the next couple of days as it heads westward. The remnants of Hurricane Paulette are moving southward over warmer waters today and it could reacquire tropical or subtropical characteristics.
Bill Murray is the President of The Weather Factory. He is the site's official weather historian and a weekend forecaster. He also anchors the site's severe weather coverage. Bill Murray is the proud holder of National Weather Association Digital Seal #0001
@wxhistorian