OUTSTANDING: That is the best way to describe the weather over Alabama this weekend. Sunshine and blue sky from one end of the state to the other.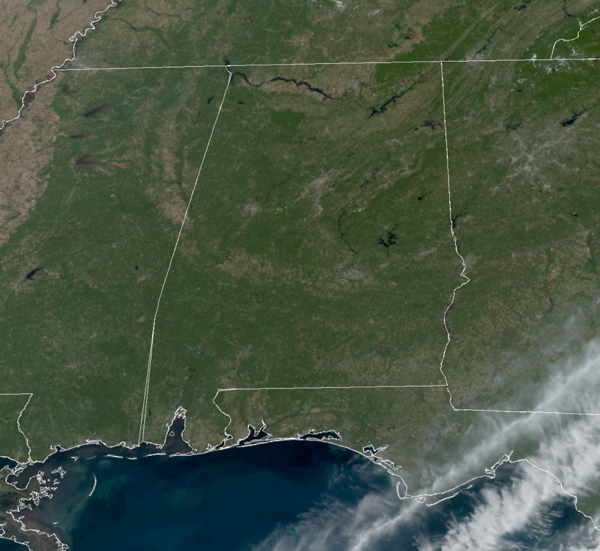 After the chilly start to the day, we are seeing temperatures climb into the low and mid 70s this afternoon. Tonight, expect another clear and chilly one with 40s and and 50s. Then tomorrow, expect a repeat performance with a sunny sky and highs in the mid to upper 70s.
RACE WEEKEND: For the YellaWood 500 tomorrow at Talladega, expect a mostly sunny sky with a high in the mid 70s.
GAMMA GAINING STRENGTH: Latest update from NHC has the center of Tropical Storm Gamma was located near latitude 20.0 North, longitude 87.3 West. Gamma is moving toward the northwest near 9 mph, and this motion should continue at a slower forward speed today. A turn toward the north-northwest is expected on Sunday, followed by a turn to the west or west-southwest Sunday night or Monday. On the forecast track, the center of Gamma should move inland over the eastern Yucatan Peninsula later today, and be near the north coast of the Yucatan Peninsula on Sunday.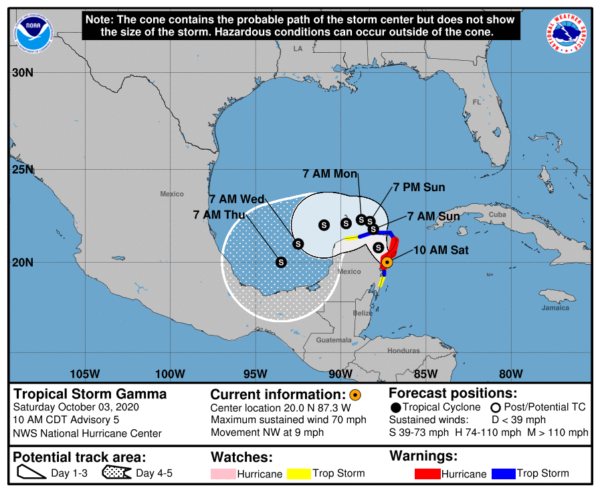 Maximum sustained winds have increased to near 70 mph with higher gusts. Gamma is likely to be near or at hurricane strength when it makes landfall in the eastern Yucatan Peninsula. Some weakening is expected after landfall.
Tropical-storm-force winds extend outward up to 80 miles from the center. A station at Cancun, Mexico, reported a sustained wind of 46 mph with a gust to 55 mph within the past few hours. A station at Xcaret Park near Playa del Carmen recently reported a sustained wind of 39 mph and a gust to 54 mph. The minimum central pressure estimated from Hurricane Hunter observations is 983 mb (29.03 inches).
Gamma will move into the Bay of Campeche and go no where fast as steering currents are weak. We are going to be talking about this system for the next week or so, but we will mention the models do show the system being drawn back across the Gulf by next weekend, and possibly threatening the northern Gulf Coast, but again this is a week away.
ELSEWHERE IN THE TROPICS: Three other areas of interest: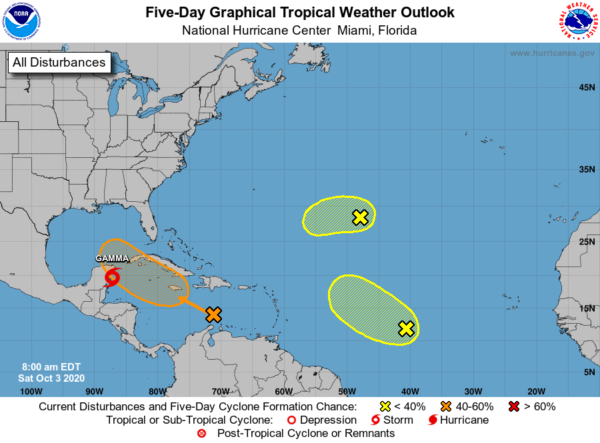 1. A tropical wave is producing widespread cloudiness, showers, and thunderstorms over the eastern and central Caribbean Sea, with locally heavy rainfall and gusty winds affecting portions of the Lesser Antilles, the Virgin Islands, Puerto Rico, and portions of the coasts of Colombia and Venezuela. Environmental conditions are expected to become a little more conducive for development, and a tropical depression could form next week while the system moves westward or west-northwestward at about 15 mph across the central and western Caribbean Sea and then into the southern Gulf of Mexico. Formation chance through 5 days…medium…50 percent.
2. A tropical wave located over the central tropical Atlantic is producing disorganized showers and thunderstorms. This system is expected to move toward the west-northwest or northwest at 10 to 15 mph, and some development is possible during the next couple of days before it encounters strong upper-level winds. Formation chance through 5 days…low…20 percent.
3. An area of disorganized showers and thunderstorms over the central Atlantic more than 1000 miles east-southeast of Bermuda is associated with a surface trough of low pressure. Some slow development of this system is possible during the next couple of days before it too encounters strong upper-level winds. Formation chance through 5 days…low…10 percent.
Next names up are Delta, Epsilon, and Zeta.
THE WEEK AHEAD: The fine fall weather continues all week. Expect sunny, mild says with 70s and 80s for highs. Nights will be clear and refreshing with 50s for most locations. It will remain dry as well, but next weekend, we will have to keep an eye on the Gulf as our rain chances could be on the rise.
BEACH FORECAST CENTER: Get the latest weather and rip current forecasts for the beaches from Fort Morgan to Panama City on our Beach Forecast Center page. There, you can select the forecast of the region that you are interested in visiting.
WORLD TEMPERATURE EXTREMES: Over the last 24 hours, the highest observation outside the U.S. was 111.6F at In-Salah, Algeria. The lowest observation was -87.3F at Amundsen-Scott South Pole Station, Antarctica.
CONTIGUOUS TEMPERATURE EXTREMES: Over the last 24 hours, the highest observation was 112F at Palm Springs, CA. The lowest observation was 17F at Grand Lake, CO.
WEATHER ON THIS DATE IN 1986: Remnants of Hurricane Paine deluged Oklahoma and southeastern Kansas with 6 to 10 inch overnight rains. Hardy, OK, was drenched with 21.79 inches. Heavy rain between September 26th and October 4th caused 350 million dollars damage in Oklahoma.
Category: Alabama's Weather, ALL POSTS
Montgomery Television Meteorologist and long time Contributor on AlabamaWX. Stormchaser. I did not choose Weather, it chose Me. College Football Fanatic.
@Ryan_Stinnet