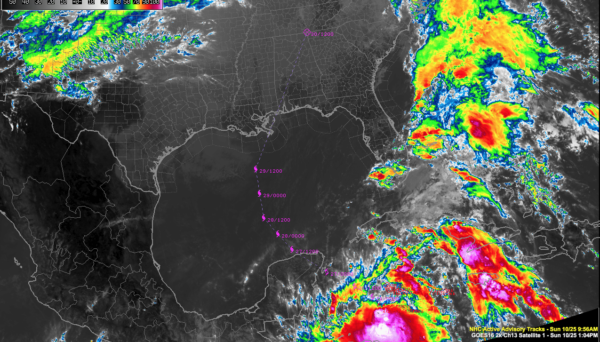 Tropical Storm Zeta remains disorganized on satellite imagery early this afternoon. There is powerful convection on the southern side of the circulation, however, and outflow is good. Given that oceanic heat content over the western Caribbean is very high and wind shear is low, strengthening is forecast and Zeta is forecast to be near hurricane strength when it approaches the Yucatan Monday night.
NOAA Hurricane Hunters are enroute to the storm now.
It is taking a very similar path towards the Yucatan as Gamma did. Like Gamma, it will not lose intensity while making its short crossing of the Peninsula, but may even attain hurricane intensity during the traversal. It will emerge into the southern Gulf of Mexico Tuesday morning around 4 a.m.
High pressure developing over Florida should become the primary steering agent.
The global models are in good agreement, although there is still considerable spread among the ensemble members.
This scenario is based on the official track from the NHC:
On Tuesday, Hurricane Zeta should turn northward around the 90th parallel. By 4 a.m. Wednesday, it will be 250 miles south of New Orleans, at or just below hurricane intensity. It should begin turning to the north northeast, passing near the Mouth of the Mississippi River around 1 p.m. and making landfall near the Alabama/Mississippi border around 4 p.m.
Tropical storm force winds will reach the southeastern Louisiana Parishes Wednesday morning around 9 a.m. They will reach New Orleans, the Mississippi Gulf Coast, and Dauphin Island on the Alabama coast before noon. They will overspread the rest of Mobile and Baldwin Counties during the early afternoon hours.
Strong tropical storm force winds will overspread Mobile and Baldwin Counties between 4-8 pm. with peak winds of 60-70 mph with higher gusts possible.
Tropical storm force winds will spread across Southwest Alabama before 5 p.m., as far north as Butler, Camden, Greenville, and Andalusia. Places like Evergreen, Monroeville, Grove Hill, and Chatom could see winds to 45-55 mph with gusts to 60 mph.
The center will make its second landfall near the Alabama/Mississippi border around 5 p.m. and track north-northeastward paralleling I-65 just to its west. Here is the current NHC official track with the wind forecast added in. Maximum winds of over 70 mph are shown in darkest blue, with 58-70 mph winds in the medium blue, and 46-57 mph winds shown in the lightest blue.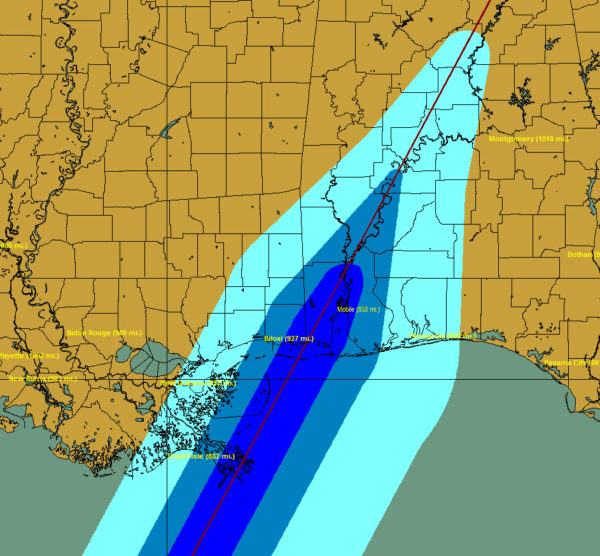 Tropical storm force winds of 35-45 mph with gusts to 50 mph will spread northward with the weakening system, reaching parts of South Central Alabama including Marengo, Bibb, Perry, Dallas, Chilton, Autauga, Lowndes, Montgomery, Coosa, Talladega, and Shelby Counties before weakening to a depression.
The rest of the area will experience winds of 30-35 mph with gusts to 45 mph at times Wednesday night into early Thursday.
The center should exit Northeast Alabama near Chattanooga before noon on Thursday.
Of course, the path can shift right or left substantially in future forecasts. The current cone of uncertainty has narrowed the landfall possibilities to between Vermillion Bay, Louisiana and Panama City.
Rainfall amounts will average 1-2 inches across Central Alabama, but could turn out to be much higher along and to the east of the track, perhaps as high as 3-5 inches as shown by the GFS. The GFS track is slightly east of the official track.
Category: Alabama's Weather, ALL POSTS, Tropical
Bill Murray is the President of The Weather Factory. He is the site's official weather historian and a weekend forecaster. He also anchors the site's severe weather coverage. Bill Murray is the proud holder of National Weather Association Digital Seal #0001
@wxhistorian