Wednesday… The Calm Before the Storms
The cold front and associated surface low will be getting their act together of to our west through the day, but Central Alabama will stay dry with a mix of sun and clouds. There is a small chance of a couple of showers during the overnight hours, but those are not likely. Afternoon highs will range from the lower 60s in the northwestern parts of the area to right around 70 degrees in the southeast.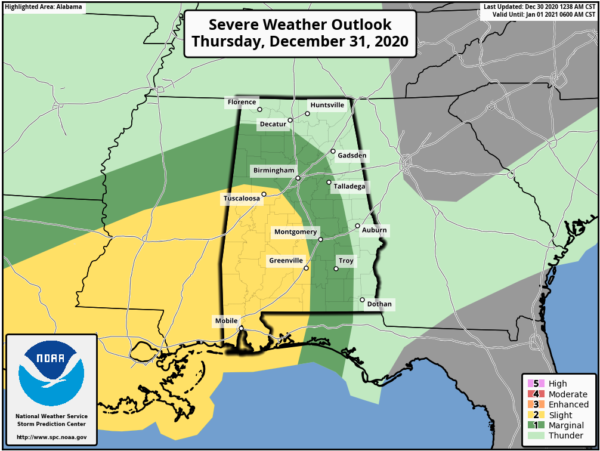 2020 Ends & 2021 Begins on a Stormy Note
New Year's Eve will actually start off dry during the morning hours, but scattered showers will begin to build throughout the late morning and into the afternoon. For now, the heavier rain and thunderstorms will begin to move into the area from the southwest during the evening and late-night hours. At that time, a few storms may become strong to severe.
The latest update from the SPC has the southwestern quarter of Central Alabama in a level 2 Slight Risk for severe storms, including locations west of a line from Reform to Brookwood to Billingsley to Fort Deposit. A level 1 Marginal Risk stretches outside of that and includes locations west of a line from Russellville to Falkville to Steele to Tuskegee to Clio.
For now, the timing for the potential for severe storms looks to start around 9:00 pm Thursday night and persist until at least 8:00 am on Friday morning. Damaging winds up to 60 mph and a few tornadoes will be possible in those risk areas. To go along with that, pressure gradient winds may gust as high as 35-40 MPH, so a Wind Advisory may be issued at some point before the storms get fired up on Thursday.
As I mentioned on Tuesday, this appears to be a low instability/high shear event, but with these wintertime systems, it does not take that much instability to get severe storms started. There will be plenty of wind shear in place, and models are showing a good bit of helicity, so there will be the potential for some rotating updrafts.
Locations in the western parts of the area will start to dry out before midday on Friday as the activity continues to march eastward, and eventually leaving the state by Friday evening. We do note that the SPC has the southeastern parts of Central Alabama in a Marginal Risk on Friday. Highs will be in the lower 60s to the lower 70s on Thursday and into the upper 60s to the lower 70s on Friday.
The Central Alabama Weekend
Saturday will be a much cooler day with a mix of sun and clouds. Afternoon highs will be in the lower 50s to the lower 60s. Sunday will be even cooler as skies will be mainly sunny with highs in the upper 40s to the upper 50s.
A Nice Start to the First Work Week of 2021
We do start a warming trend on Monday as skies will be mainly sunny with highs reaching the lower 50s to right around 60 degrees across the area from northwest to southeast. And we'll end off the forecast period with Tuesday as we'll have a few more clouds move across the area, but there will be more sun than clouds. Highs will be in the mid-50s to the lower 60s.
Today In Weather History
1983: Record cold temperatures once again hit the Gulf States where the temperature at Tupelo, Mississippi was 7 degrees. This was the coldest week on record at Baton Rouge, Louisiana and the coldest December on record at Corpus Christi, Texas. Some areas broke their old temperature records by as much as 12 degrees.
Beach Forecast Center
Get the latest weather and rip current forecasts for the beaches from Dauphin Island, AL, to Panama City Beach, FL, on our Beach Forecast Center page. There, you can select the forecast of the region that you are interested in.
Advertise On The Blog!
We had another fantastic year in 2019 with just over 17 million page views! That brings our total for the last two years close to 37 million page views! At this point, we are already close to eclipsing the 2019 total. Don't miss out! We can customize a creative, flexible, and affordable package that will suit your organization's needs. Contact Bill Murray at (205) 687-0782.
E-Forecast
Get the Alabama Wx Weather Blog's Seven-Day Forecast delivered directly to your inbox by email twice daily. It is the most detailed weather forecast available in Central Alabama. Subscribe here… It's free!
Connect With The Blog On Social Media
You can find the AlabamaWx Weather Blog on the major social media networks:
Facebook
Twitter
WeatherBrains
There are several ways to watch or listen to the podcast that is all about the weather. Watch live starting at 8:00 pm CT on Monday nights at live.bigbrainsmedia.com, James Spann's YouTube Channel, or on one of ABC 3340's digital weather channels (17.2, 40.2, 68.3). Listen to the recorded audio podcast at WeatherBrains.com or on your favorite podcast platform (Apple Podcasts, Stitcher, Spotify, etc.), or watch the recorded video on James Spann's YouTube channel.
Category: Alabama's Weather, ALL POSTS, Severe Weather, Weather Xtreme Videos
Scott Martin is an operational meteorologist, professional graphic artist, musician, husband, and father. Not only is Scott a member of the National Weather Association, but he is also the Central Alabama Chapter of the NWA president. Scott is also the co-founder of Racecast Weather, which provides forecasts for many racing series across the USA. He also supplies forecasts for the BassMaster Elite Series events including the BassMaster Classic.