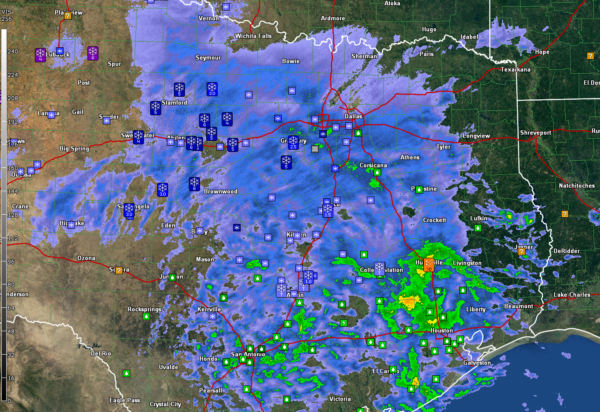 Heavy snow has been falling across parts of West Texas this morning as an upper-level disturbance sweeps southeastward into the area. The core of the upper disturbance is near San Angelo now.
The system has been overperforming so far.
1 to 2 inches was reported in the areas around Amarillo in the Texas Panhandle on the northern fringe of the precipitation shield this morning.
The snow has been heavier further south toward Lubbock. 3-9 inches of snow has fallen across a wide area around Lubbock this morning as the system has been moving a little slower than anticipated. 9 inches was reported near Denver City, in Yoakum County, northeast of Hobbs, NM. Lubbock has picked up around 4 inches, which is half of their annual average snowfall total.
The heaviest snow is now falling around Abilene. Some reports around that area:
…4 inches near Sweetwater TX
…6 inches near Haskell and still snowing
…8 inches at Clyde TX, just east of Abilene
…5 inches at Moran in Shackleford TX, also east of Abilene
…6 inches at Coleman, southeast of Abilene
Moderate snow still continues in the Abilene area.
The heaviest precipitation is now in the Dallas/Fort Worth area.
…Heavy snow at Fort Worth now.
…Rain and snow at Dallas that will be changing to all snow shortly
…Up to one inch is expected in the Fort Worth and Dallas areas, with 1-2 inches in the areas just to the south
…Just southwest of the Metroplex, 5 inches at Chalk Mountain in Erath County
…2.5 inches on the ground at Granbury southwest of Fort Worth
Closer to Austin, the precipitation is falling as snow in Waco, Austin, and Killeen.
…Snow covered roads in Williamson County near Hutto
…Some amounts less than 0.5 inch near and west of Austin
…Near Waco, Woodway has picked up 1.5 inches in just 2 hours
The rain/snow line is about 70 miles northwest of Houston.
…Snow is falling in Bryan, TX now
It is sleeting in Huntsville, TX now
The precipitation will spread into the rest of northeast Texas, northern Louisiana, northern and Central Mississippi, and northwestern Alabama later today, tonight, and Monday morning.
Winter storm warnings are now in effect for areas from eastern New Mexico across much of North Central Texas, northern Louisiana, southeastern Arkansas, and Central Mississippi, including:
NORTHEAST TEXAS: Tyler, Longview, and Lufkin
LOUISIANA: Shreveport, Ruston, Monroe, Talluluah, and areas northwest of Alexandria including Nacogdoches
ARKANSAS: Eldorado
MISSISSIPPI: Vicksburg, Greenville, and Yazoo City
2-5 inches of snow will fall in the warning areas.
Winter weather advisories cover parts of the following states:
EAST TEXAS: Texarkana, Jasper,
LOUISIANA: Fort Pol, Alexandria
ARKANSAS: Arkadelphia, Camden
MISSISSIPPI: Cleveland, Greenwood, Grenada, and Starkville
Snowfall amounts will generally be up to an inch in the advisory areas.
In Alabama, the system will arrive after midnight tonight. Our forecast thinking remains the same for our state. Precipitation will likely begin as snow or sleet before sunrise on Monday morning across our western and northwest counties, then gradually mix with rain, becoming all rain towards noon on Monday as temperatures rise across the area.
Where and when:
Midnight through 3 am Monday morning: Generally along and west of a line from Selma (Dallas County) to Clanton (Chilton County) to Gadsden (Etowah County)
3 am through 9 am Monday morning: Generally along and northwest of a line from Autaugaville (Autauga County) to Goodwater (Coosa County) to Lafayette (Chambers County)
9 am through noon Monday morning: Generally along and northwest of a line from Carrollton (Pickens County) to Jasper (Walker County)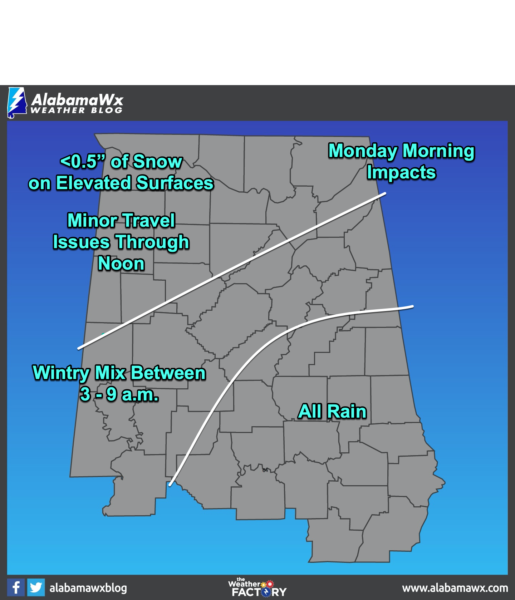 Impact Areas:
A trace to one-half inch of accumulated winter precipitation is possible along and northwest of a line from Vernon (Lamar County) to Jasper (Walker County) to Fort Payne (DeKalb County). Some locally higher amounts will occur in higher elevations of North and Northeast Alabama.
Areas with the best potential for accumulating wintry precipitation and potential impacts include Marion County, Winston County, Lamar County along with most of Fayette County and portions of Northwest Pickens County and the northwest half of Walker County up into the Tennessee Valley Counties, including Colbert, Lauderdale, Franklin, Cullman, Limestone, Lawrence, Madison, Jackson, Marshall, and DeKalb.
Minor travel impacts will be felt across Northwest and North Alabama where mostly snow falls and those half-inch snow accumulations occur.
Category: Alabama's Weather, ALL POSTS, Headlines
Bill Murray is the President of The Weather Factory. He is the site's official weather historian and a weekend forecaster. He also anchors the site's severe weather coverage. Bill Murray is the proud holder of National Weather Association Digital Seal #0001
@wxhistorian