On this date in 1940, Birmingham lay under a blanket of knee-deep snow after 9.5 inches fell on the city on the 23rd. The Age-Herald proclaimed "Snow Nears All-Time High" as the total came just short of the all-time record of eleven inches for the city. The city was paralyzed and traffic was at a standstill as roads were dangerous and travel without chains was impossible. Schools were closed that day, which was a Wednesday, giving kids the opportunity to frolic in local parks. They would remain closed until the following Monday.
ALABAMA SATURDAY: Yesterday was a nice day across Central Alabama. There was a good supply of sun, especially during the morning, with some high clouds by afternoon. But not enough to dull the sun too much. High temperatures across the middle of the state included 60F in Birmingham, 62F at Anniston, and 63F at Tuscaloosa. The average high at Birmingham for this date is 54F, the normal low is 34F. Lows this morning are in the upper 30s to lower 40s.
FOR YOUR SUNDAY: Skies will be mostly cloudy, which will limit the mercury to the upper 50s across the northern half of the area. A few showers will reach West Alabama a little after noon, increasing for areas northwest of I-59 through 4 p.m. Showers will increase area-wide through the evening hours, with some more steady rainfall over northwestern sections as a warm front lifts north of the area. Rain could become heavier overnight, mainly for areas along and north of I-20.
BY TOMORROW MORNING: Low pressure will be near Oklahoma City. A major winter storm will be in progress with snow and freezing rain falling north of the low through parts of Kansas, Nebraska, northern Missouri, and Iowa, into parts of Illinois, Indiana, and Ohio. Winter storm watches are already in effect for a wide area, and those watches will be upgraded to warnings later today. Serious warm air advection will be in progress across Alabama, with southerly winds gusting to 25-30 mph at times. With those southerly winds, temperatures will warm into the upper 60s North, with readings near 70F along I-20, and lower to middle 70s over South Central Alabama. Dewpoints will rise into the lower 60s.
STORMS MONDAY AFTERNOON/EVENING: Showers and storms will increase across Alabama Monday afternoon and evening, extending into Tuesday morning. Those juicy dewpoints in the lower 60s along with decent instability across the western half of the area would seem to point to a severe weather threat. But there are several factors going against that possibility: the upper air pattern will be anticyclonic, and the best forcing and lift will be to the north of the state. Therefore, we don't expect severe storms at this time. The rain and weakening storms should be out of Central Alabama around noon as the front stalls to our south. Lows Tuesday morning will be in the lower 50s, with highs on Tuesday in the middle and upper 60s.
WEDNESDAY WARM FRONT: The front will come back north as a warm front late Tuesday and Wednesday. Rain will be on the increase by Wednesday morning. The rain will move out Wednesday night. Wednesday highs will be in the 60s, but it will turn colder Wednesday night behind a cold front. Highs no Thursday will be in the 50s.
END OF THE WEEK AND WEEKEND: Lows Friday morning will be near freezing, with middle and upper 50s by afternoon. High pressure will dominate through Saturday and into Sunday morning. Low pressure will pass to the north of us on Sunday, bringing a chance of showers back to our area. But moisture levels will be low, so rainfall amounts will be small.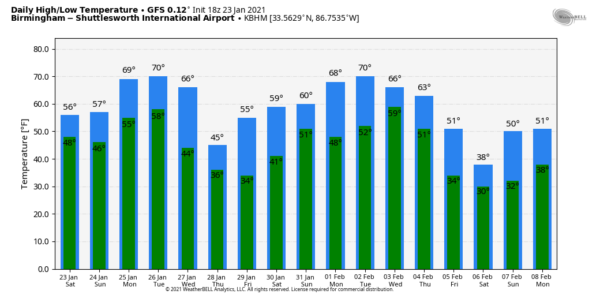 EXTENDED OUTLOOK: Much of the following week will be dry. Rain and storms will return to Alabama by Thursday afternoon and night. The rain will move out Friday morning. Highs will approach 70F early in the week before falling off the table. By Saturday, February 6th, highs may not get out of the 30s.
TWO WEEK RAIN TOTALS: Rainfall amounts will be between 2 and 3 inches across North and Central Alabama over the next 16 days, according to the GFS.
BEACHCAST: Rain will be in the forecast through Wednesday, as well as mild temperatures, along the beautiful beaches of Alabama and Northwest Florida. Highs will fall back into the 60s for the remainder of the week behind the same front that will move through our area Thursday. The next rain chance will come late Sunday into Monday.
Click here to see the Beach Forecast Center page.
DANCING WITH THE STATS: Seattle tied its record low for January 23rd yesterday morning when the mercury reached 28F.
ADVERTISE WITH US: Deliver your message to a highly engaged audience by advertising on the AlabamaWX.com website. The site enjoyed 17.2 MILLION page views in the past 12 months. Don't miss out! We can customize a creative, flexible, and affordable package that will suit your organization's needs. Contact me, Bill Murray, at (205) 687-0782, and let's talk.
WEATHERBRAINS: This week, the panel will entertain Jeff Craven from the National Weather Service, who is in charge of the National Blend of Models. Check out the show at www.WeatherBrains.com. You can also subscribe on iTunes. You can watch the show live at live.bigbrainsmedia.com or on James' YouTube Channel You will be able to see the show on the James Spann 24×7 weather channel on cable or directly over the air on the dot 2 feed.
ON THIS DATE IN 1964: A tornado touched down southeast of Harpersville in Shelby County then tore through the eastern sections of the town around 7 p.m. Ten people died in the twister. Contents of some damaged homes were blown over one-half mile away. One home was moved 200 feet, but remained intact! Follow my weather history tweets on Twitter. I am @wxhistorian at Twitter.com.
Category: Alabama's Weather, ALL POSTS
Bill Murray is the President of The Weather Factory. He is the site's official weather historian and a weekend forecaster. He also anchors the site's severe weather coverage. Bill Murray is the proud holder of National Weather Association Digital Seal #0001
@wxhistorian