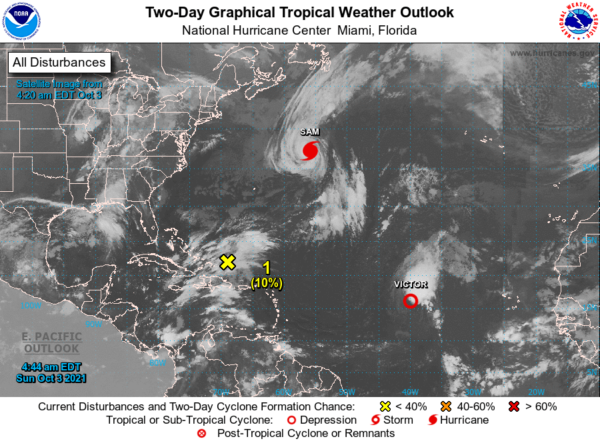 Hurricane Sam has been impressive, to say the least, maintaining its Category Four status for all but 18 hours over an 8 day period that finally ended yesterday afternoon. That puts Sam in the top ten for all hurricanes in the Atlantic for consecutive days at Cat 4 intensity.
Wind max winds slowly diminishing, Sam is located 610 miles northeast of Bermuda, accelerating to the northeast, heading toward the open Atlantic. It brushed the island nation Friday night while it was still a Category 4 hurricane, producing wind gusts to around 35 mph and a few light rain showers.
Top winds this morning are 105 mph, so it is a Category 2 hurricane.
Elsewhere, Victor has been the victim of strong southwesterly shear and lots of dry, dust-laden Saharan air off of Africa. It is expected to be downgraded to a remnant low today.
The NHC is watching an area of disturbed weather east of the Bahamas that is expected to drift northwestward over the week ahead, potentially developing into something subtropical near the U.S. Southeast coast.
Nothing else is threatening to develop into a tropical cyclone over the next five days. Our eyes will be on the western Caribbean in about a week to ten days as an upward pulse of the Madden Julian Oscillation moves into the region, which is climatologically favored for development this time of year.
Bill Murray is the President of The Weather Factory. He is the site's official weather historian and a weekend forecaster. He also anchors the site's severe weather coverage. Bill Murray is the proud holder of National Weather Association Digital Seal #0001
@wxhistorian