Saturday was an absolutely perfect day across Alabama. With bright blue skies as a gorgeous backdrop, highs yesterday included 78F at Tuscaloosa and Montgomery, 76F at Anniston, and 75F at Birmingham, and Auburn. Today will be a warmer day, with highs between 79-83F. Skies will be partly cloudy with winds becoming gusty out of the southeast by late afternoon. Tonight will feature a breezy southeasterly wind with milder lows in the lower 60s ahead of our next storm system.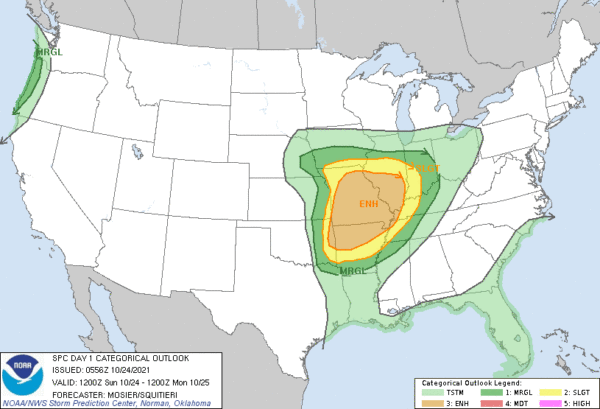 THAT NEXT STORM SYSTEM is a piece of energy breaking away from the big trough over the northeastern Pacific, extending into the Rockies. That trough will shoot eastward over the next 24 hours. The associated surface low is over Central Kansas this morning. It will push northeastward with the trough and will be over northern Missouri by tomorrow morning. In the meantime, the warm front will produce heavy rains over the Midwest, and Flash Flood Watches are in effect as 3-4 inches of rain or more are possible. In that warm sector of the cyclone, severe weather, including the possibility of a few strong tornadoes exists this afternoon and evening across parts of Missouri, Arkansas, Illinois, and extreme northeastern Oklahoma. The SPC had an Enhanced Risk area on their Day Two Severe Weather Outlook. Could they increase it to a Moderate Risk later? We will see. The line of storms will push into western Tennessee and northern Mississippi later tonight, where a Marginal Risk of severe is outlooked. The storms will be weakening as it pushes into Northwest Alabama early on Monday, and severe weather is not expected in our state.
MONDAY DUD: The line of storms will be pushing into Alabama as the time of day when severe weather is usually at its lowest ebb. Despite high moisture levels, the forcing will be lifting out to the northeast before the system can recover in the afternoon. Severe weather is expected to our northeast, over areas from West Virginia and Virginia through eastern Kentucky, into the Carolinas and northeastern Georgia. Skies should start out cloudy, but you will see increasing sunshine through the afternoon hours. Highs will be in the 70s to near 80F. Skies should clear for the most part Monday night, with lows in the upper 40s to lower 50s. Winds will remain gusty into the evening hours.
FOR YOUR TUESDAY: High-pressure ridging will give us a fine day on Tuesday, It will be cooler, with highs in the lower 70s. Skies will be partly cloudy through the day and into the evening, when lows will be in the lower 50s.
WEDNESDAY SEVERE THREAT: By Wednesday, a strong trough of low pressure in the upper atmosphere will move out of the Rockies and into the Central Plains. A strong surface low will be passing from near Texarkana to near Memphis on Wednesday into early Thursday. Rain will move into western Alabama late Wednesday afternoon, with a fairly steady rain Wednesday night. Heavy rain will be possible over South Central Alabama, but perhaps more importantly, severe weather will be a threat generally south of the US-80/I-85 Wednesday afternoon and evening. We will be watching for a possible of a few tornadoes during the event. Damaging winds and hail will be threats as well.
THURSDAY: The surface low will be near Memphis, with a big cutoff upper low forming just to our west. Rain showers will remain likely during the morning, and be a part of the forecast into Friday morning. Highs on Thursday won't get out of the 60s. Lows Thursday night will be in the upper 40s.
FRIDAY: The upper low will be centered over Alabama, giving us a dreary, cool, showery day. Temperatures will struggle to get out of the 50s. It may make for the lowest high temperatures we have seen since early April. Rain chances will stay with us through the overnight hours. Lows will be in the middle and upper 40s.
WEEKEND OUTLOOK: Showers may linger through much of Saturday. It will remain cool, with highs in the lower 60s.
LONG RANGE: Another system rolls in here around November 4th-7th, with rain and storms. Severe weather looking possible that Sunday the 7th.
TROPICS: The Atlantic has been strangely quiet since Victor left the board in early October. That may change in the next few days as a hybrid system may form off the coast of the Carolinas by Monday or Tuesday. With blocking high pressure to the north and warm water around it, the system could pose a threat to New England. Could we see 80 mph winds and dangerous storm surge across Massachusetts? We will be watching. In the eastern Pacific, Hurricane Rick will make landfall later today near or west of Acapulco.
GULF COAST WEATHER: Great week along the beautiful beaches of Alabama and Northwest Florida. Of course, even into a beautiful week, a little rain must fall. It will do so on Monday, late Wednesday night, and Thursday it appears. Highs will be in the 80s through Wednesday, 70s Thursday, and 60s Friday and Saturday. For real!
DANCING WITH THE STATS: The high of 91F at Tampa on Saturday was a new record for the date.
ADVERTISE WITH US: Deliver your message to a highly engaged audience by advertising on the AlabamaWX.com website. The site enjoyed 27 MILLION page views in the past 12 months. Don't miss out! We can customize a creative, flexible, and affordable package that will suit your organization's needs. Contact me, Bill Murray, at (205) 687-0782, and let's talk.
WEATHERBRAINS: Great show coming up Monday night with the Producer and Director of the movie 13 Minutes. There is even a prize for you if you sign up for our new "Brainy Bunch" newsletter. Check out the show at www.WeatherBrains.com. You can also subscribe on iTunes. You can watch the show live at: http://live.bigbrainsmedia.com/ You will be able to see the show on the James Spann 24×7 weather channel on cable or directly over the air on the dot 2 feed.
ON THIS DATE IN 2005: Category Three Hurricane Wilma made landfall on the Southwest Coast of Florida just south of Marco Island and cut like a buzzsaw through the southern part of the state. It was the eighth hurricane to strike Florida since 2004. The Florida Keys received a battering from storm surge caused by Wilma. It was the fourth time that the island chain had been evacuated during the 2005 hurricane season. Less than 10 percent of the 78,000 residents in the Keys actually evacuated, disappointing emergency officials there. The storm left six people dead and six million people in the dark. A total of 25 people died during the hurricane's rampage across the Yucatan and Florida. It was the most damaging storm to hit Fort Lauderdale since 1950. Wilma caused $14.4 billion in damage in Florida. Follow my weather history tweets on Twitter. I am @wxhistorian at Twitter.com.
Category: Alabama's Weather, ALL POSTS, Severe Weather
Bill Murray is the President of The Weather Factory. He is the site's official weather historian and a weekend forecaster. He also anchors the site's severe weather coverage. Bill Murray is the proud holder of National Weather Association Digital Seal #0001
@wxhistorian