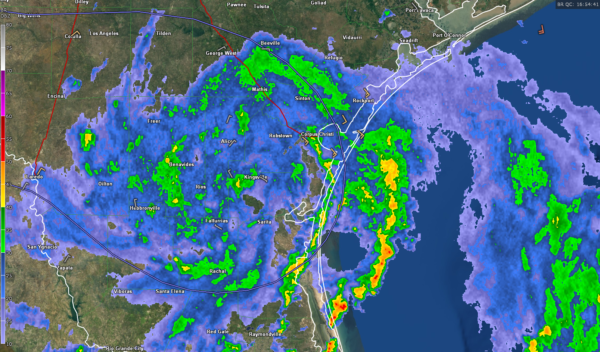 The weak low-pressure system over the western Gulf showed increasing signs of organization as it approached the lower Texas coast near Corpus Christi early this morning. In fact, it very nearly became a tropical depression over the past few hours.
The center of the system is just south of Kingsville, Texas as we approach noon. Moderate to occasionally heavy rain cover much of South Texas between Port OConnor and Brownsville. The beneficial rains are falling as much of South Texas is in extreme drought, which is good news to have the rains without the winds. 2.38 inches of rain has fallen so far this morning at the Corpus Christi Naval Air Station and it looks like much more is on the way. QPF maps are calling for a swatch of 2-3 inch rain across the region.
Winds have been gusty in the Port Aransas/Corpus Christi area this morning, gusting to 34 mph at KRAS and 32 mph at KNGP.
The center is moving steadily inland and will be in Old Mexico by early tomorrow.
Still waiting on our fourth named system of the year. There is a tropical wave over the eastern Caribbean that shows some potential for tropical development as it moves into the western Caribbean later this week. It probably will end up in Mexico south of Texas if it does develop. The GFS is showing a strong tropical wave moving off the coast of Africa around the 24th. That could signal the beginning of an active September.
Bill Murray is the President of The Weather Factory. He is the site's official weather historian and a weekend forecaster. He also anchors the site's severe weather coverage. Bill Murray is the proud holder of National Weather Association Digital Seal #0001
@wxhistorian