Tropical Storm Nicole continues to steadily intensify tonight. Top winds at 6 p.m. were 65 mph, same as on the 3 p.m. CST advisory, but the pressure dropped 6 MB to 984 MB according to NOAA Hurricane Hunters. The last fix also read 984 MB.
The center is about 370 miles east southeast of Fort Pierce tonight.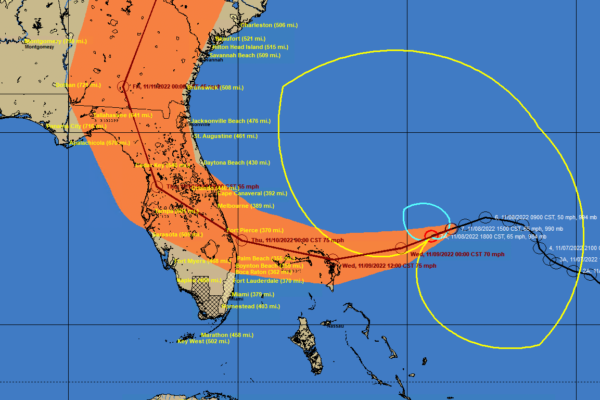 The center of Nicole is expected to reach the coast between Boca Raton and New Smyrna Beach after midnight tomorrow night. The location of the center at landfall is important for the worst impacts, including hurricane-force, sustained winds and gusts, and the highest storm surge, but the extent of the tropical storm force winds is HUGE, covering over 400 miles north to south. Tropical storm-force winds will begin arriving in eastern Florida after midnight tonight. By 7 p.m. tomorrow evening, tropical storm force winds could be being experienced across the entire Florida Peninsula, perhaps with the exception of the very far southwest corner over the Everglades.
By Thursday morning, tropical storm-force winds may be felt as far west as Panama City. A further west arc could push them to Destin. A more easterly track could keep them east of Panama City.
Currently, winds are NE 25 G 36 at St. Pete on the West Coast. Melbourne has NNE winds at 24 G 37 mph. Daytona has gusts to 31 mph and they are 430 miles from the center!
Peak wind gusts will be at or a little above hurricane force Wednesday night into Thursday across eastern Florida from Broward County all the way up to Orlando and Titusville. Wind gusts could reach 65-75 mph as far west and north as Okeechobee, Bartow, Lakeland, and Daytona Beach. Wind gusts could reach 55-65 mph as far north as Cross City and St. Augustine.
Some of the GFS Ensemble members do carry the storm further west over the eastern Gulf, which could increase winds in the eastern Panhandle.
It will be breezy in Alabama, starting a little tonight, and again tomorrow. Winds will 7-14 mph with occasional gusts to 25 mph. By tomorrow night and Thursday, winds will be gusting to 30-35 mph.
There could be light rainfall over eastern Alabama, generally less than 3/4 of an inch. Here is the QPF from the Weather Prediction Centers through Friday evening.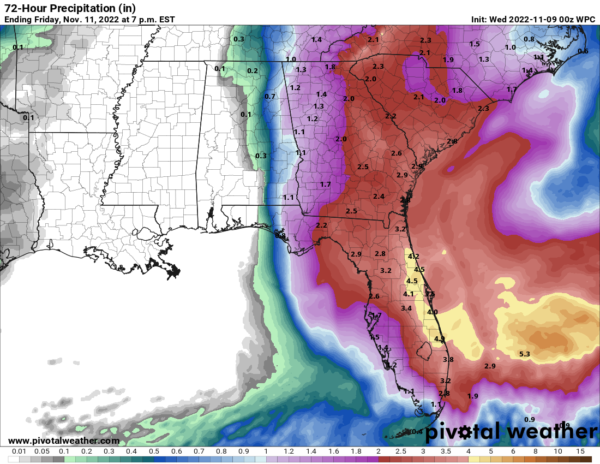 Only three November hurricanes have hit the United States. The Yankee Hurricane of 1935 hit Miami on November 4th. It was so-called because it came in from the east-northeast, much like Nicole is moving now. Hurricane Kate (1985) holds the distinction for latest U.S. hurricane landfall, occurring on November 21st near Mexico Beach. There was also an 1861 hurricane landfall on November 2nd. Nicole could be the fourth in history and 3rd since 1900.
Category: ALL POSTS
Bill Murray is the President of The Weather Factory. He is the site's official weather historian and a weekend forecaster. He also anchors the site's severe weather coverage. Bill Murray is the proud holder of National Weather Association Digital Seal #0001
@wxhistorian