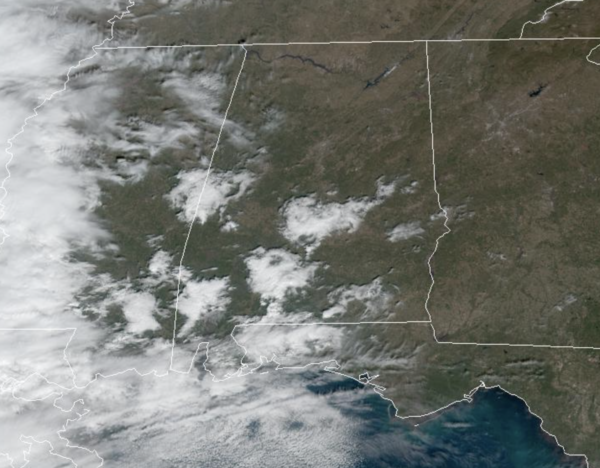 Clouds are on the increase today as a very dynamic weather system will bring rain, wind, and storms to Alabama late tonight into early tomorrow. Temperatures this afternoon will reach the low 50s for much of North/Central Alabama. A few showers have been ongoing this morning, and these will begin to increase through the evening hours.
TONIGHT: A potentially significant severe weather event could unfold across South Alabama tonight. The SPC has defined an "enhanced risk" (level 3/5) of severe thunderstorms for the southwest corner of Alabama and the Florida Panhandle, a "slight risk" (level 2/5) as far north as Linden, Greenville, and Dothan. A "marginal risk" extends as far north as Tuscaloosa, Bessemer, and Colombiana, but severe storms are not expected over the northern half of the state.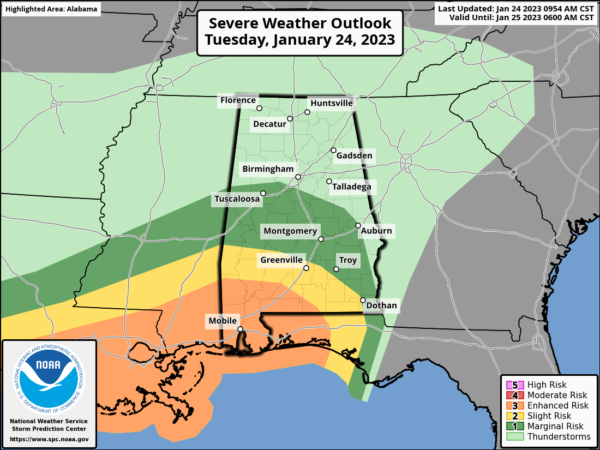 THREATS: Storms across Southwest Alabama, and along the Gulf Coast tonight could produce damaging winds up to 70 mph and tornadoes. A few strong tornadoes (EF-2 or higher) are possible as well. Some hail could fall from stronger storms. The main tornado threat is in the enhanced risk, including Mobile, Baldwin, Washington, Clarke, Monroe, Conecuh, and Escambia counties.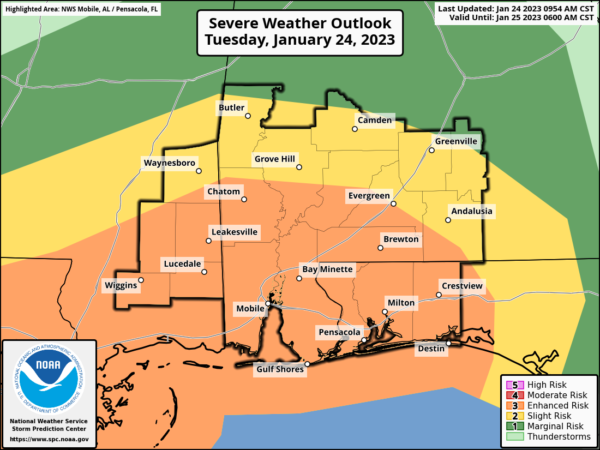 Down that way, it all depends on the amount of instability that will move onshore as the overall dynamics with this system are incredibly high. It could be low impact event, or very high impact event. For North/Central Alabama, there will be basically no surface based instability, which will prevent a tornado threat there.
GRADIENT WIND: Gradient winds (not related to thunderstorms) are a concern statewide. Winds could gust to 40 mph in spots tonight, maybe 50 mph on ridges. A wind advisory is in effect for most of the state, with a rare high wind warning is in effect across Southwest Alabama where non-thunderstorms winds could exceed 50 mph at times. Statewide, a howling wind will make it a loud night.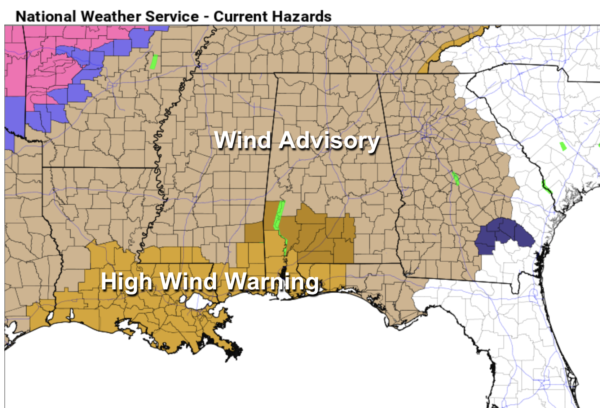 TIMING: The main window for the wind, rain, and storms will come from around 11PM tonight through 6AM tomorrow morning. For those of you in Southwest Alabama, be sure and have a reliable way of hearing warnings late tonight and during the pre-dawn hours tomorrow morning. NEVER rely on a siren! A NOAA Weather Radio is the baseline, and be sure and have Wireless Emergency Alerts (WEA) enabled on your phone. If you live in a mobile home, know the location of the nearest shelter, or business that is open 24/7 that can serve as a safe place. And have transportation available.
RAIN: Rain amounts will be around one inch, with isolated heavier amounts possible. For now flooding issues are not expected. Rain will end from west to east very early tomorrow morning, but clouds will likely linger much of the day with temperatures in the 50s.
THURSDAY/FRIDAY: Colder air will drop into Alabama Thursday. A few snow flurries are possible over Tennessee Valley, but if we see a snow flake or two temperatures will be above freezing and there won't be any impact. The high Thursday will be only in the lower to mid 40s over the northern half of Alabama. Friday will feature a good supply of sunshine with seasonal temperatures, low to mid 50s.
THE ALABAMA WEEKEND: Saturday will be dry with highs in the 50s and 60s, but a disturbance has potential to bring rain back into the state Sunday. Highs on Sunday will be in the 50s. Stable air on Sunday means no severe storms.
INTO NEXT WEEK: A decent part of the day Monday will be dry, but expect periods of rain Tuesday through Thursday. Much colder air arrives by the end of the week; too early to know how cold, and if there will be any chance of wintry mischief as the cold air arrives.
BEACH FORECAST CENTER: Get the latest weather and rip current forecasts for the beaches from Fort Morgan to Panama City on our Beach Forecast Center page. There, you can select the forecast of the region that you are interested in visiting.
WORLD TEMPERATURE EXTREMES: Over the last 24 hours, the highest observation outside the U.S. was 109.6F at Augrabies Falls, South Africa. The lowest observation was -63.9F at Verhoyanskij Perevoz, Russia.
CONTIGUOUS TEMPERATURE EXTREMES: Over the last 24 hours, the highest observation was 88F at numerous locations across Florida. The lowest observation was -13F at Angel Fire, NM.
Category: Alabama's Weather, ALL POSTS
Mobile, Alabama Television Meteorologist and long time Contributor on AlabamaWX. Stormchaser. I did not choose Weather, it chose Me. College Football Fanatic.
@Ryan_Stinnet