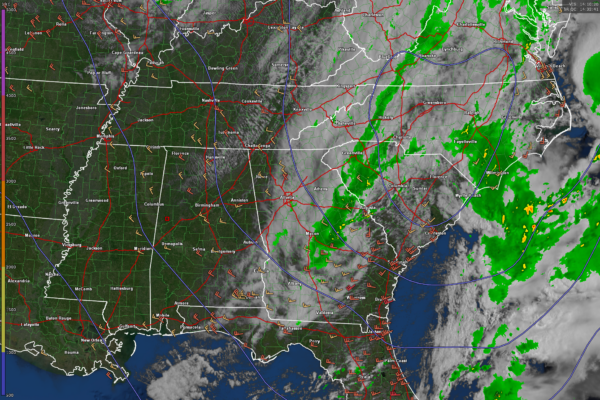 The surface low that brought the rain to Alabama overnight is now over Central South Carolina. All of the rain was out of our state by a little after 9 a.m.
1.39 inches of rain at BHM overnight, making 6.87 for the month by my calculations, or 2.10 inches above normal. Meanwhile, here just north of I-459 in southern Jefferson County, I picked up 0.69″ last night, making my monthly total just 4.39″. This wide range in results is typical across much of Central Alabama, with areas along and just north of I-59 picking up well above normal amounts, while either side picked up less. Parts of Northwest Alabama picked up very little rain in this event: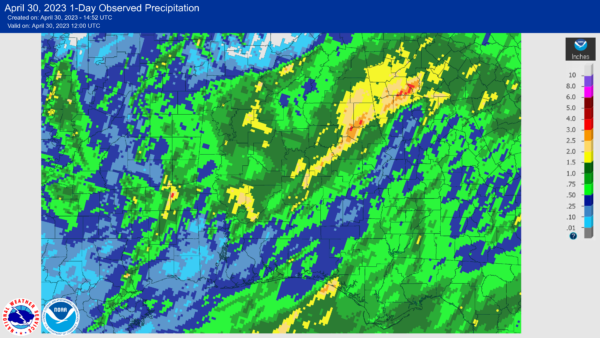 Looks like most of the state will pick up at least a quarter of an inch of rain next Friday, with some amounts approaching 0.75″ over the northern half of the state.
Clouds are still pretty thick over Southeast Alabam south of a line from Phenix City to Florala, with clearing skies just behind this line. Most of Central Alabama is at worst partly cloudy now with some pretty stratocumulus clouds dotting the sky. There is a pretty thick field of stratocumulus over the Tennessee Valley, but even there, some blue sky is peeking through.
This hour, temperatures were in the 60s mostly, with a few 50s still over the north. Winds are gusting to 20-25 mph at many locations, which is below wind advisory criteria, but you will notice the breeze.
Highs this afternoon will remain in the 60s up north, with lower 70s across much of Central ALabama. Everyone will be in the 40s overnight, except for those notoriously colder locations in North Alabama which may drop into the upper 30s.
Still can't rule out a light shower zipping by late this afternoon in the northwesterly flow, but they will be inconsequential. A disturbance streaking by in the morning might bring a light shower to South Central Alabama but those too will be inconsequential.
Monday will feature plenty of sunshine with a fresh northwesterly breeze. Northern locations may struggle to 70F. Not quite as cold Monday night but no real warming trend til Thursday.
Have a great Sunday! Tweaking the forecast now and will have an afternoon update for you later.
Category: Alabama's Weather, ALL POSTS
Bill Murray is the President of The Weather Factory. He is the site's official weather historian and a weekend forecaster. He also anchors the site's severe weather coverage. Bill Murray is the proud holder of National Weather Association Digital Seal #0001
@wxhistorian