Want to brave the cold and watch for "shooting stars"? Look to the southern sky after midnight…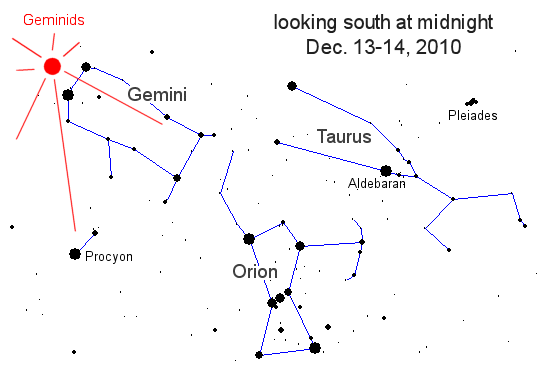 The Geminid meteor shower, which peaks this year on Dec. 13th and 14th, is the most intense meteor shower of the year. It lasts for days, is rich in fireballs, and can be seen from almost any point on Earth.
It's also NASA astronomer Bill Cooke's favorite meteor shower—but not for any of the reasons listed above.
"The Geminids are my favorite," he explains, "because they defy explanation."
Most meteor showers come from comets, which spew ample meteoroids for a night of 'shooting stars.' The Geminids are different. The parent is not a comet but a weird rocky object named 3200 Phaethon that sheds very little dusty debris—not nearly enough to explain the Geminids.
"Of all the debris streams Earth passes through every year, the Geminids' is by far the most massive," says Cooke. "When we add up the amount of dust in the Geminid stream, it outweighs other streams by factors of 5 to 500."
This makes the Geminids the 900-lb gorilla of meteor showers. Yet 3200 Phaethon is more of a 98-lb weakling.
3200 Phaethon was discovered in 1983 by NASA's IRAS satellite and promptly classified as an asteroid. What else could it be? It did not have a tail; its orbit intersected the main asteroid belt; and its colors strongly resembled that of other asteroids. Indeed, 3200 Phaethon resembles main belt asteroid Pallas so much, it might be a 5-kilometer chip off that 544 km block.
See more from Spaceweather.com…
Category: Hodgepodge
James Spann is one of the most recognized and trusted television meteorologists in the industry. He holds the AMS CCM designation and television seals from the AMS and NWA. He is a past winner of the Broadcast Meteorologist of the Year from both professional organizations.