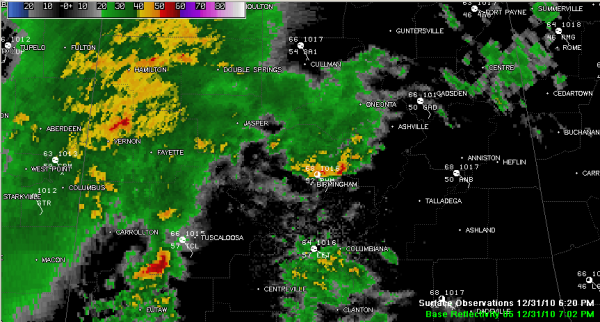 Storms are intensifying quickly tonight in the Birmingham area, but they are not severe. Another strong storm was approaching Tuscaloosa.
An apparent tornado has caused quite a bit of damage in the Jackson area tonight. The NWS reports that it is difficult for them to get information with lines down and busy signals.
There is a tornado warning right now for Scott County in central Mississippi. Strong indications of a tornado just northeast of Forest. This possible tornado will pass near or just north of Decatur. This storm is 60 miles west of the Sumter County border. It should reach Alabama by about 10 pm.
The good news is the most unstable air is having a hard making it into Alabama. Hopefully that trend will continue and the event will transition into more of a damaging wind with squall line event with no large tornadoes. There still could be isolated tornadoes with the squall line.
The main activity should get into West Alabama just after midnight, but may not reach the Birmingham area until 3 or 4 a.m. or even a little later. It will be a long night.
Heavy rain will be a big threat, especially if the eastward motion of the storms slows and cells begin to train over the same areas over and over. A flash flood watch is in effect for all of North and Central Alabama.
Dr. Tim will have a mesoscate analysis before 7:30 p.m.
Some reports from the Jackson area…
BYRAM
…I-55 at Byram was closed.
FLOWOOD
…damage on the west side of Airport Road
…58 mph wind gust at Jackson Airport
…tornado reportedly crossed the runway according to the FAA in Memphis…the Jackson tower staff was in their safe shelter
…no damage to NWS building…at one point the staff was ready to hand control to the NWS Huntsville and go into shelter
PEARL
…Roof damage to the Kroger store
…Tinseltown theatre had roof damage
TERRY
…numerous reports of tornado
RIDGELAND
…tornado reported 1 miles south of Ridgeland at 5:22
STAR
…debris ball was reported on the JAN radar over Star
…60-65 mph winds…numerous tree limbs down
Category: Alabama's Weather, Severe Weather
Bill Murray is the President of The Weather Factory. He is the site's official weather historian and a weekend forecaster. He also anchors the site's severe weather coverage. Bill Murray is the proud holder of National Weather Association Digital Seal #0001
@wxhistorian