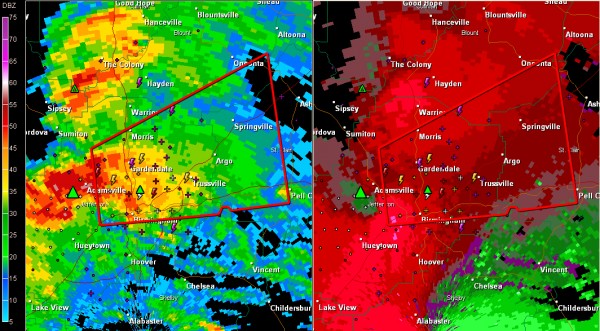 The likely tornado in western Jefferson County is passing near of just south of Adamsville, possibly near Crumley's Chapel.
It has a hook echo, possible debris ball and definite TVS on radar.
It will pass near Forestdale and Coalburg.
Then near Walkers Chapel and Fultondale.
It will get into the heavily populated areas of Tarran City, Centerpoint and Pinson.
Folks just to the south should be alert in case it turns right from the Norwood area to the Airport to Roebuck and points north.
Folks from Springville down to Trussville, including Argo need to be alert as well.
DAMAGE REPORT
From John Talbot…reports lots of damage around Smithville Church on Toadvine Road. Power is out in the Oak Grove area.
Category: Alabama's Weather, Severe Weather
Bill Murray is the President of The Weather Factory. He is the site's official weather historian and a weekend forecaster. He also anchors the site's severe weather coverage. Bill Murray is the proud holder of National Weather Association Digital Seal #0001
@wxhistorian