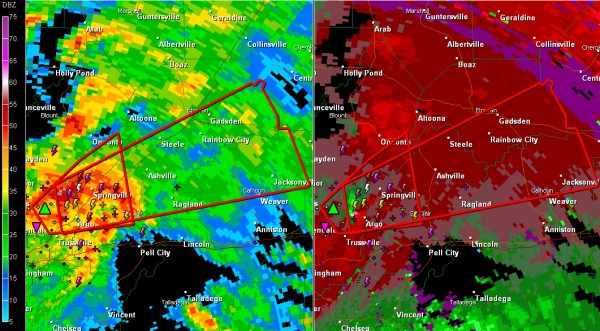 The NWS is calling it a large and extremely dangerous tornado.
People trapped in house on 3rd St NW in Center Point.
Also from Center Point: extensive damage with multiple trees and power lines down in center point. possible tornado.
Tornado is now out of Jefferson County.
WFUS54 KBMX 231015
TORBMX
ALC009-015-055-073-115-231115-
/O.NEW.KBMX.TO.W.0008.120123T1015Z-120123T1115Z/
BULLETIN – EAS ACTIVATION REQUESTED
TORNADO WARNING
NATIONAL WEATHER SERVICE BIRMINGHAM AL
415 AM CST MON JAN 23 2012
THE NATIONAL WEATHER SERVICE IN BIRMINGHAM HAS ISSUED A
* TORNADO WARNING FOR…
SOUTHEASTERN BLOUNT COUNTY IN ALABAMA…
NORTHERN CALHOUN COUNTY IN EAST CENTRAL ALABAMA…
SOUTHERN ETOWAH COUNTY IN NORTHEAST ALABAMA…
NORTHEASTERN JEFFERSON COUNTY IN ALABAMA…
NORTHERN ST. CLAIR COUNTY IN ALABAMA…
* UNTIL 515 AM CST
* AT 412 AM CST…STORM SPOTTERS AND THE NATIONAL WEATHER SERVICE
WERE TRACKING A LARGE AND EXTREMELY DANGEROUS TORNADO NEAR CLAY…
OR NEAR TRUSSVILLE. DOPPLER RADAR SHOWED THIS TORNADO MOVING
NORTHEAST AT 55 MPH.
THIS IS A TORNADO EMERGENCY FOR CLAY…SPRINGVILLE…ARGO…TAKE
COVER NOW.
* LOCATIONS IMPACTED INCLUDE…
SPRINGVILLE…ODENVILLE…MARKTON…RAINBOW CITY…GADSDEN…
JACKSONVILLE…HOKES BLUFF…MARGARET…BRANCHVILLE AND ASHVILLE.
THIS INCLUDES…
INTERSTATE 59 EXIT NUMBERS 143 THROUGH 183…
PRECAUTIONARY/PREPAREDNESS ACTIONS…
TORNADOES ARE DIFFICULT TO SEE AND CONFIRM AT NIGHT. TAKE COVER NOW.
&&
TO REPORT SEVERE WEATHER…
CALL 1-800-856-0758.
LAT…LON 3410 8580 3401 8574 3397 8574 3397 8570
3379 8562 3378 8562 3363 8659 3379 8662
3412 8584 3411 8583 3413 8581 3412 8579
TIME…MOT…LOC 1015Z 245DEG 46KT 3371 8653
$$
17
Category: Alabama's Weather, Severe Weather