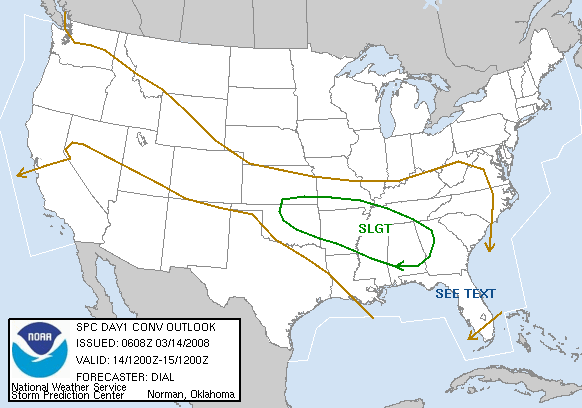 SPC has placed north and central Alabama in a slight risk for severe weather today and tonight. To read the outlook, click here.
A series of weather systems will bring the possibility for thunderstorms to Alabama through tomorrow, but there are some complicating factors with the system, and the models are still in disagreement.
Now through 2 pm: Scattered showers and thunderstorms developing to our west early this morning will affect parts of the state today, but those should not be severe, as the atmosphere over Alabama is not very unstable yet. Those storms will likely move out of the area by afternoon, possibly allowing some sunshine, according to the NAM model. If the GFS is right, cloudy skies with scattered rain will continue into the afternoon, limiting any heating and keeping the air fairly stable.
2 pm through 4 am: How quickly the early storms move out, and how much sunshine we get this afternoon will determine if storms develop late this afternoon or this evening. If the sun comes out, the air will be very unstable since the air is very cold aloft (CAPE near 2000 J/kg possible), so any left over boundaries (miniature cold fronts) from morning rain may provide enough lift to ignite some scattered storms this afternoon or this evening.
And, with wind shear, if storms form, they would be severe. This is a tough forecast, since the atmosphere may be favorable for large, rotating storms, but there is no large-scale front or disturbance to trigger the storms. We'll have to watch this closely. Below is the NAM forecast lifted index (anything below -4 is very unstable, -8 is extremely unstable). If this model verifies, things could get rough late today. The GFS shows much more stable air.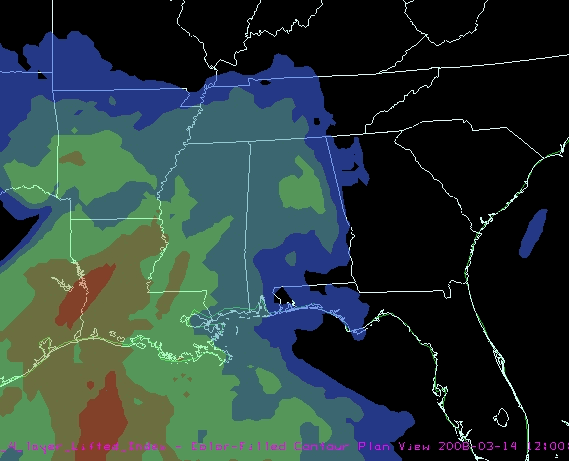 After 4 am: The wind shear increases quite a bit by Saturday, but the models also show a warm cap coming in aloft, which would limit storms mainly to extreme north Alabama and Tennessee, ending most storms around here. The cap could be weak enough to allow storms with large hail Saturday morning, mainly over NE Alabama. The map below shows the CAP strength every 3 hours, starting at 6 pm today. Any number greater than zero means a cap is in place to suppress storms, and anything above about 2 or 3 C would prevent almost all storms.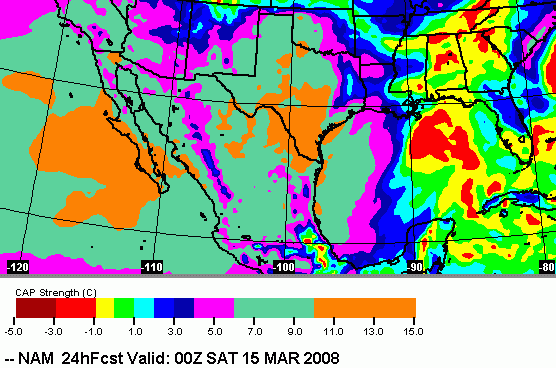 This is a complex weather system, with many possibilities. It would be a good idea to keep an eye on the weather this afternoon. We'll know more about which model is right, and if any threat exists during the evening, by then.
Category: Uncategorized