See Brian Peters discussion for the latest on Alabama's weather… this is a post written for those in the path of Sandy.
*This is a dangerous, life threatening storm. Irene was needlessly hyped up by the national media last year, unfortunately, and I have great fear people won't pay attention in to this storm. Those in the path MUST pay attention. Irene is not in the league as this one.
Here is a look at the storm this morning via visible satellite…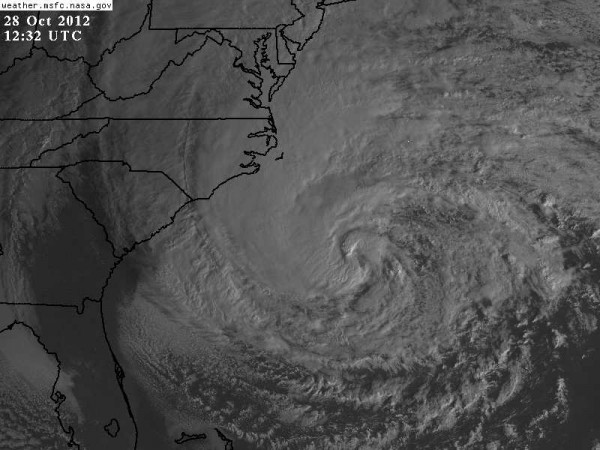 *Don't let the Saffir-Simpson scale rating of Hurricane Sandy fool you. This morning it is a category one hurricane with sustained winds of 75 mph. But, the wind radius is huge, and will grow even larger. Tropical storm force winds extend out 520 miles from the center (which is now 250 miles S/SE of Cape Hateras, NC), with hurricane force winds out to 105 miles from the center of the storm. This will impact millions of people due to the size of the circulation. Sandy is forecast to move into the New Jersey coast tomorrow evening with a central pressure under 950 mb. We have seen model runs with a pressure as low at 933 mb at the time of landfall. Below is model output from the primary American model (the GFS), valid at 8:00 p.m. EDT tomorrow…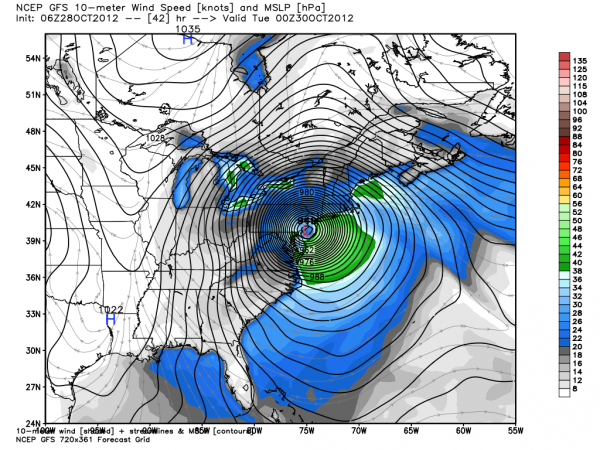 This morning tropical storm force winds extend just about all the way from the North Carolina coast to Bermuda.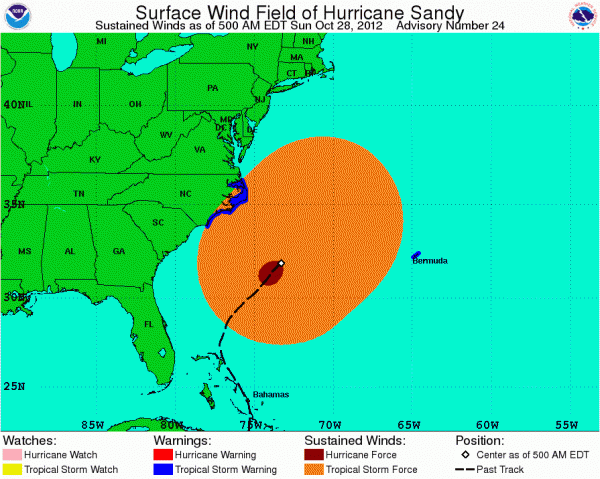 *Sandy will be making a transformation into a cold core, nor'easter type system as it moves inland. Basically a "Perfect Storm 2". The 1991 Perfect Storm featured most of the really serious impact offshore; this one will unfortunately feature high impact over land. A cold core system is large, they can be slow moving, and can be bring a direct threat to life and property. I have great fear we have worried too much about naming this thing; we simply have to do an effect job of forecasting and communicating the danger. It will effect the most populated part of our nation.
And, the NWS decision not to issue tropical storm and hurricane warnings, regardless of the intensity of Hurricane Sandy, I believe is detrimental and will lead to public apathy.
*The Wind Watch 3 model suggests waves/swell 22-32 feet near coast, and 42-46 feet east of center prior to landfall.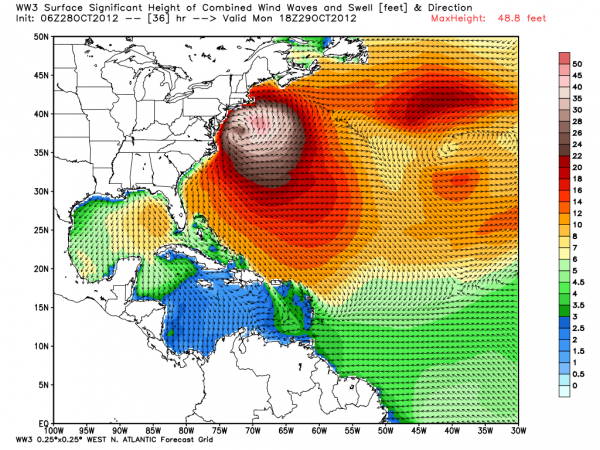 Coastal flooding along and north of the point of landfall will be severe, most likely. There will be extremely dangerous storm surge flooding to the Long Island Sound and New York Harbor. Low lying areas could be inundated, including large areas of southern Queens, southern Brooklyn, the lower east and west sides of Manhattan, and the perimeter of Staten Island. Officials in Suffolk County have ordered a mandatory evacuation of Fire Island. I was very disappointed in Mayor Bloomberg's talk last night; I don't think he understands what he is dealing with. He called for no evacuations in NYC. See this map for hurricane storm surge zones in NYC.
*Inland flooding will be a problem as well. Highest rain totals, 5 to 9 inches, should be over Maryland and Delaware. Some flooding will be possible around Washington/Baltimore.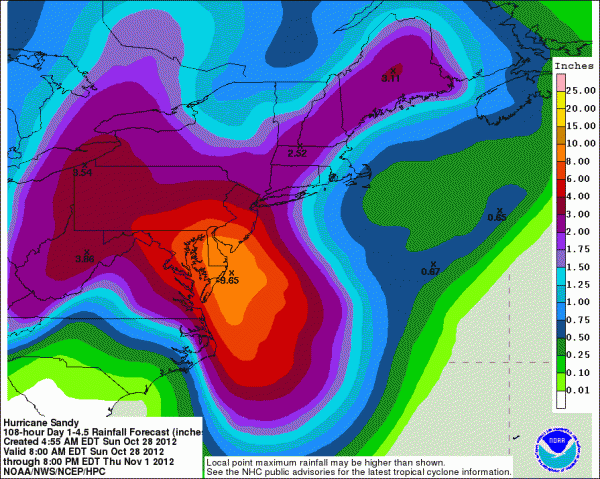 *Winds will be extreme over much of the Northeast U.S. for over 24 hours. Below is the forecast winds at 900 mb near landfall; this is around 1,500 feet, near the top of the tall skyscrapers in NYC…
Winds in the 75-100 mph range are likely at that level. It is very possible some windows in high rise buildings will be blown out.
*I expect millions of power outages across the Northeast U.S. It will be many days, perhaps weeks before all power is restored. People need to be prepared for this in states like NY, NJ, PA, MD, DE, MA, RI, CT, VT, NH, ME, and the District of Columbia. Have vehicles filled with gas, plenty of non perishable food and water. Be sure you have all the medicine you need for your family.
I do think many will still be without power on election day.
*Travel will be difficult, if not impossible. New York Governor Andrew Cuomo issued an order telling the Metropolitan Transportation Authority to prepare for possibly shutting down all service on subways, buses and commuter rail lines. A decision on whether to cut off service is to be made later today. This is the largest transportation system in North America.
Air delays will be long and severe beginning tonight. Including IAD, DCA, PHL, EWK, JFK, LGA, BOS. Don't even think about flying up there tomorrow or Tuesday. And, of course, this will lead to issues over the entire continental U.S.
SNOW: On top of everything else, check out the RPM forecast snow totals: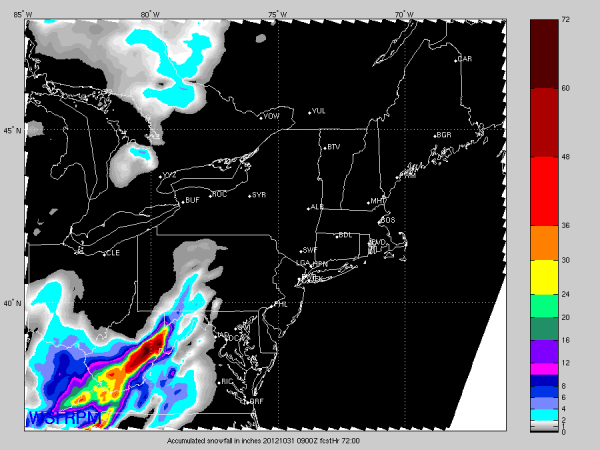 Yes, that is over 5 feet for the mountains of West Virginia, with winds expected to exceed 50 mph at times with higher gusts. And, see the southeast U.S. map below… snow is likely down into the mountains of NE Georgia and East Tennessee…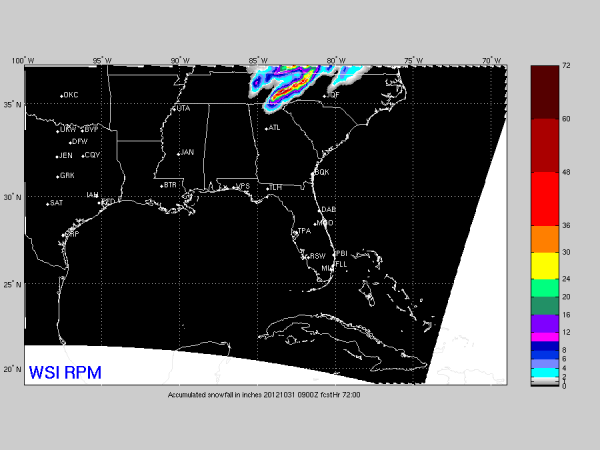 BOTTOM LINE: If you are in the area that will be impacted by Sandy, please listen to your local emergency management officials and do what they say. If there is an evacuation order, then you need to leave. This is a serious storm and should be treated with urgency. And, understand the exact point of landfall could change over the next 24 hours.
You can follow me on social media for updates, and of course we will keep the blog updated with fresh information.
CONNECT: You can find me on all of the major social networks…
WEATHERBRAINS: We will do a special, live WeatherBrains tonight at 7 p.m. CDT/8 p.m. EDT. You can watch it here.
Category: Tropical
James Spann is one of the most recognized and trusted television meteorologists in the industry. He holds the AMS CCM designation and television seals from the AMS and NWA. He is a past winner of the Broadcast Meteorologist of the Year from both professional organizations.