Late tonight, we are tracking some strong gusty winds on the back side of the area of rain moving across Central Alabama.
…Winds gusted to 37 mph at the Birmingham Airport at 10:44.
…Winds gusted to 52 mph atop the Daniel Building at the 3340 Downtown Skycam
…Winds gusted to 37 mph at the 3340 Trussville Skycam
…Winds gusted to 45 mph at the 3340 Inerness Skycam
…Winds gusted to 32 mph at the Tuscaloosa Skycam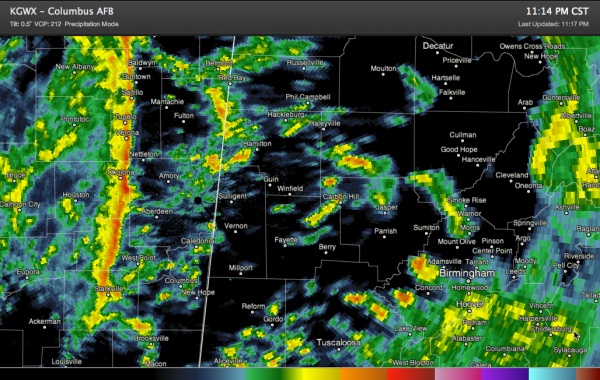 A line of heavy showers is pushing through eastern Mississippi at this hour. It is approaching the Columbus MS area. It will move into Franklin, Marion, Lamar and Pickens Counties. It should arrive in those counties between midnight and 12:30 a.m.
The showers are low topped, with little if any lightning. In fact, the Birmingham radar can barely see them. Tops per the Columbus MS radar are only 20,000 feet max. Winds did gust to 41 mph with this feature as it passed Greenwood MS a few hours ago.
Category: Alabama's Weather, Severe Weather
Bill Murray is the President of The Weather Factory. He is the site's official weather historian and a weekend forecaster. He also anchors the site's severe weather coverage. Bill Murray is the proud holder of National Weather Association Digital Seal #0001
@wxhistorian